Discover the neighborhoods of Zermatt
---
5-star hotels in Zermatt
---
Amazing place! Everything you need to destress and enjoy the lovely area. Out of the way but only 10 to 15 min walk to town. Beautiful view of the Matterhorn and a waterfall. Helpful and nice host. Very close to the gondola to ascend the mountain. Playground across the street would be perfect for little ones.
---
luxurious traditional hotel with a perfect location to enjoy the nature. hotel located between mountains on a hill where you can feel the cold & enjoy an amazing view. hotel staff are nice & well trained. nice lobby with normal size. rooms are medium, but clean & well furnished. breakfast hall is so large where you can find a wide menu selection, different choices of h...
---
We thoroughly enjoyed it. BUT we were ill informed about the arrival process and the self catering aspect
---
Nice, clean & spacious room. There is a fully functional kitchen with a complete set of cooking utensils. I enjoyed my stay.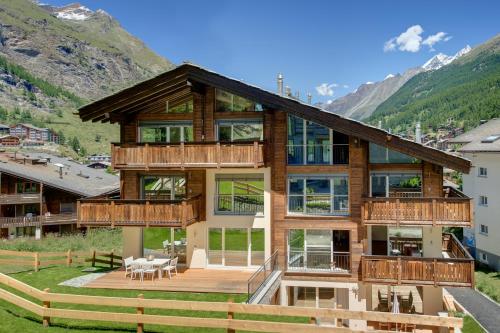 ---
The self-checking was easy to follow, but the taxi services from the train station to the apartment were expensive (so is everything else) but are regulated. The apartment is perched up a hill, but it wasn't too difficult without the luggage. The apartment was exceptionally clean and modern, and the view back down the valley was surperb. There are many spaces for our k...
---
Zermatt's best hotels with breakfast
---
Explore more travel vacation rentals
Find the Perfect Type of Accommodation
---
More about Zermatt
Although it may seem daunting to visit a mountainous, car-free village in upper Switzerland, Zermatt is friendly to even first-time tourists, and a great place to experience some incredible views of snow-covered mountains and rivers and lakes mingling with the city's impressive accommodations and restaurants. Getting into Zermatt is best done via rail, and from the
Zermatt Railway Station
, it's easy to either catch a cable car electric bus to the hotels. Or, start the adventure right away and hike down to the village.
There are several mountains in Zermatt, so hikers and mountaineers will not be short of a peak to climb. The most experienced will certainly head to the
Matterhorn
, Zermatt's most famous attraction. The even more experienced mountaineers will also tackle the peaks of Monte Rosa, which is said to be the highest point in Switzerland. This climb will take days of planning and physical preparation, and Zermatt is the perfect place to plan such a trip.
Biking, hiking, walking, and exploring the ins and outs of an old village are what await most travelers to Zermatt. It's most definitely a refreshing place to visit, especially given all of the cars that seem to crowd many parts of the world. Also, because the city is a popular vacation destination especially among outdoor sports enthusiasts, there are plenty of hotels and guesthouses from which to choose.
There's a lot more to see and do in Zermatt, and the best way to discover what else this city has to offer in terms of attractions, landmarks, and hotels is by exploring the interactive map on this page.