11 best hotels in East Los Angeles
Our top picks
Lowest price first
Nearest to
Best reviewed
4-star hotels in East Los Angeles
---
great, the location was awesome. I was able to get on and off freeway quite easy. The area was safe and clean. The room and hotel was safe and clean and the staff was quite nice.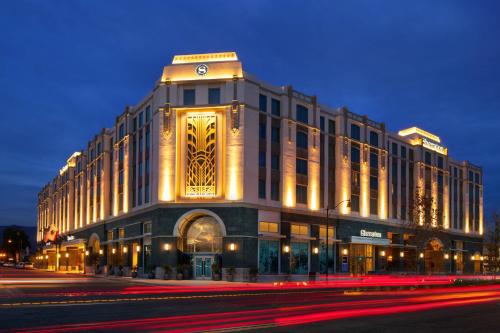 ---
worst hotel we have stayed in!!!! First, the hotel is brand new, the room is full of new paint fume with no window to be able to be open. The smell sure will make you feel dizzy. Especially do not stay there if you are travelling with any kids. Second, the counter staff are all under trained. False fire alarm when on from 6am to 7am with fire fighter on site in w...
---
Luxury hotels in East Los Angeles
---
although the motel is not big, it includes a small refrigerator, TV, AC, and if you asked about the hair dryer, they also had it. clean room everyday, very nice staff. location close to downtown, little tokoyo and China town. free wifi and parking
---
In and around East Los Angeles
---
More about East Los Angeles
Discovering the Fun Facts of East Los Angeles
East Los Angeles is a vibrant and diverse neighborhood located in the eastern part of Los Angeles County. This area is known for its rich history, cultural landmarks, and lively community. Did you know that East Los Angeles is home to the oldest high school in Los Angeles, the James A. Garfield High School, which was founded in 1925? Another fun fact is that East LA is the birthplace of the lowrider car culture, which originated in the 1940s and has since become a symbol of Chicano identity and pride.
Top Reasons to Visit East Los Angeles
There are plenty of reasons to visit East Los Angeles, whether you're a history buff, a foodie, or simply looking for a fun and authentic experience. One of the top attractions in the area is the iconic Chicano mural art, which can be found throughout the neighborhood and showcases the rich cultural heritage of the community. East LA is also home to some of the best Mexican food in the city, with delicious dishes like tacos, burritos, and tamales that are sure to satisfy your cravings. Another reason to visit East Los Angeles is the annual East LA Art Walk, which takes place every summer and features local artists, musicians, and performers. This event is a great opportunity to explore the vibrant arts scene of the area and connect with the local community. And if you're a sports fan, you can catch a game at the East Los Angeles College Stadium, which hosts football, soccer, and track and field events throughout the year.
How to Go to East Los Angeles and Explore the Area
Getting to East Los Angeles is easy, as the neighborhood is well-connected to the rest of the city by public transportation and major highways. If you're flying into Los Angeles, you can take a taxi or shuttle from the airport to your hotel in East LA, or rent a car and drive yourself. The neighborhood is also served by several Metro bus lines, including the 68, 260, and 762, which can take you to popular destinations like the East Los Angeles Civic Center, the Whittier Boulevard Shopping District, and the Atlantic Times Square. Once you're in East Los Angeles, there are plenty of ways to explore the area and get a feel for the local culture. You can take a walking tour of the Chicano murals, visit the historic landmarks like the Garfield High School and the Boyle Heights History Museum, or simply wander through the streets and soak up the lively atmosphere.
Fun Things to Do in East Los Angeles for a Memorable Trip
East Los Angeles offers a wide range of activities and attractions that are sure to make your trip a memorable one. One of the must-see destinations in the area is the Self Help Graphics & Art, a community-based arts center that showcases the work of local artists and hosts workshops, exhibitions, and events throughout the year. You can also visit the Boyle Heights Farmers Market, which features fresh produce, artisanal crafts, and live entertainment every Friday evening. For a taste of the local cuisine, head to the El Mercadito, a bustling marketplace that offers a wide range of Mexican food, drinks, and souvenirs. And if you're looking for some outdoor fun, you can hike the trails of the Ernest E. Debs Regional Park, which offers stunning views of the city skyline and the San Gabriel Mountains.
Why Book Your East Los Angeles Hotel with Agoda.com
When it comes to finding the perfect hotel in East Los Angeles, Agoda.com is your best bet. With a wide range of affordable and comfortable accommodations to choose from, you can easily find a hotel that suits your needs and budget. Whether you're looking for a cozy motel or a luxurious resort, Agoda.com has you covered. One of the benefits of booking your hotel with Agoda.com is the convenience and ease of use of the website. You can easily search for hotels by location, price, and amenities, and compare different options to find the best deal. And with Agoda.com's secure booking system, you can rest assured that your personal and financial information is safe and protected.
The Best Season to Visit East Los Angeles and Enjoy the Outdoors
The best time to visit East Los Angeles depends on your preferences and interests. If you're looking for warm and sunny weather, the summer months of June to August are a great choice, with average temperatures in the mid-70s to low-80s. This is also the peak tourist season, so be prepared for crowds and higher prices. If you prefer cooler temperatures and fewer crowds, the spring months of March to May are a good option, with average temperatures in the mid-60s to low-70s. This is also the time when the wildflowers of the nearby hillsides are in full bloom, creating a stunning natural spectacle. For outdoor enthusiasts, the fall months of September to November are ideal, with mild temperatures and clear skies that are perfect for hiking, biking, and other outdoor activities. And if you're a fan of holiday festivities, the winter months of December to February offer plenty of fun events and celebrations, including the East LA Christmas Parade and the Chinese New Year Festival.
Expert Tips for Travelers Planning a Trip to East Los Angeles
If you're planning a trip to East Los Angeles, here are some expert tips to help you make the most of your visit: - Be respectful of the local culture and customs, and try to learn some basic Spanish phrases to communicate with the locals. - Wear comfortable shoes and dress in layers, as the weather can be unpredictable and you may do a lot of walking. - Use public transportation or ride-sharing services to get around, as parking can be difficult and expensive in some areas. - Be aware of your surroundings and avoid walking alone at night, especially in less crowded areas. - Try the local food and drinks, but be cautious about street vendors and always check the cleanliness and hygiene of the establishments. - Book your hotel in advance, especially during peak season, to ensure availability and get the best deals.
Where to Stay in East Los Angeles for a Comfortable and Convenient Stay
East Los Angeles offers a wide range of accommodations for travelers of all budgets and preferences. Some of the top hotels in the area include the Diamond Bell Inn & Suites, which offers comfortable rooms and suites with free Wi-Fi and parking, and the Motel 6-Bellflower, which features modern rooms and a convenient location near the freeway. Other popular options include the Starlight Inn South El Monte, which offers affordable rates and easy access to local attractions, and the Friendly Hills Inn, which features a charming and cozy atmosphere and a complimentary breakfast. For a budget-friendly option, the Motel 6-Rosemead, CA - Los Angeles offers clean and basic rooms with free Wi-Fi and parking.
What to Eat in East Los Angeles and Satisfy Your Cravings
East Los Angeles is a food lover's paradise, with a wide range of delicious and authentic Mexican dishes to try. Some of the top local specialties include tacos, burritos, tamales, and pupusas, which are all available at the many street vendors, food trucks, and restaurants in the area. For a classic taste of East LA, head to the El Tepeyac Cafe, which is famous for its giant burritos and hearty Mexican plates. Other popular options include the La Azteca Tortilleria, which offers handmade tortillas and delicious tamales, and the Guisados, which serves up a variety of flavorful stews and tacos. And for a sweet treat, try the churros from the Churros Calientes, which are crispy and sugary on the outside and soft and warm on the inside. Whatever your cravings, you're sure to find something delicious in East Los Angeles.
How to Travel Around East Los Angeles and Get the Most Out of Your Trip
To get the most out of your trip to East Los Angeles, it's important to have a plan and know how to get around. As mentioned earlier, public transportation is a convenient and affordable option, with several Metro bus lines serving the area. You can also use ride-sharing services like Uber or Lyft, or rent a car and explore the neighborhood at your own pace. If you're interested in exploring the nearby areas, you can take a day trip to the nearby cities of Pasadena, Alhambra, or Monterey Park, which offer plenty of attractions and activities. And if you're up for a longer adventure, you can drive to the nearby mountains or the beach for some outdoor fun. Overall, East Los Angeles is a vibrant and exciting neighborhood that offers plenty of opportunities for exploration and discovery. Whether you're interested in history, culture, food, or outdoor activities, you're sure to find something that suits your tastes and preferences. And with Agoda.com's wide range of affordable and comfortable accommodations, you can rest assured that your trip will be a comfortable and convenient one.