10 best hotels in Addis Ababa
Our top picks
Lowest price first
Nearest to
Best reviewed
See all
Ambassador Hotel
Bole,Addis Ababa - View on map
"Initial suite was unavailable, so they tried to downgrade my friend and I. Then they tried to move us into one suite. Both times not offering any refund or discount. One room ended up having very wet carpet and smelt terrible. So many things within the rooms not working. Every order of food took a really long time and was poor quality. Staff didn't take responsibility for any of the issues. The worst place I've stayed in a long time. There are many better options that are also cheaper in the area. Avoid at all costs. (Location is decent)"
Show more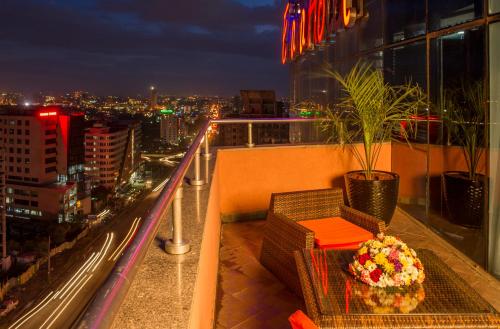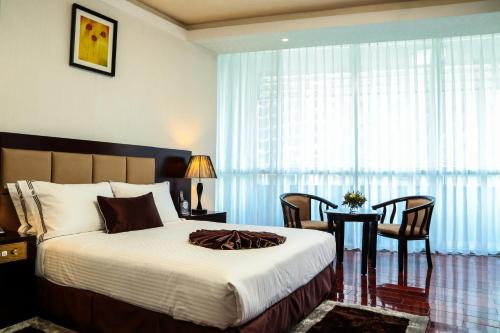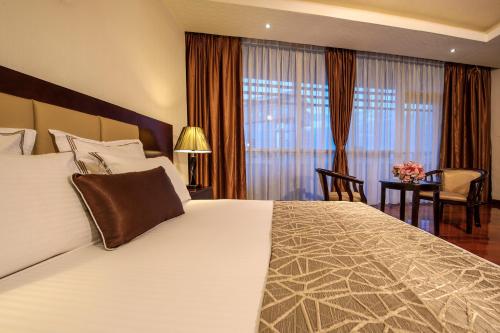 See all
Eliana Hotel
Addis Ababa,Addis Ababa - View on map
"I shall stay in this hotel again in next trip."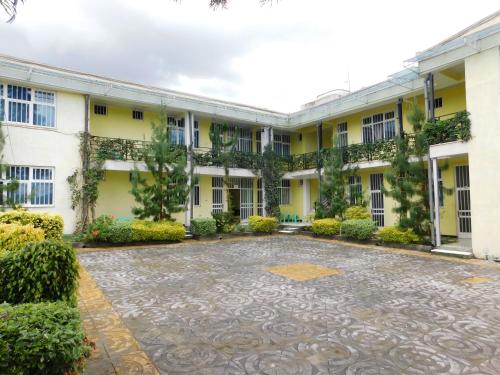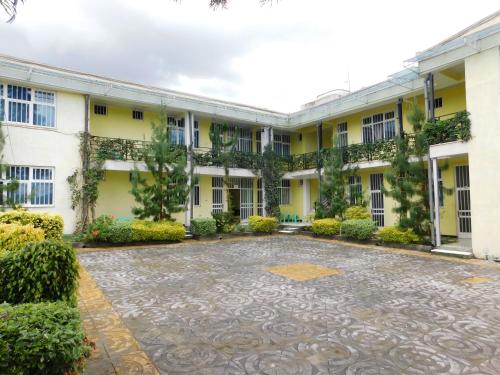 See all
See all
See all
Best Western Plus Addis Ababa
Bole,Addis Ababa - View on map
"It is located in the center of Addis Ababa. Supermarket, cinema and several malls around. The problem is the hot water is sometimes hot and sometimes cold. The room service enter the room without permission."
Show more
See all
Mad Vervet Hostel
Bole,Addis Ababa - View on map
"So glad I decided to stay at this hostel when I arrived in Addis. I booked for 2 nights but extended and stayed for a week mainly because I met so many amazing people at the hostel bar, guests and locals who definitely made my time in Addis. The staff here are honestly the best, so friendly, genuine and willing help you out with anything! Beza <3 The hostel itself is chilled, massive kitchen and common area. There is 24 hour security and always felt safe here. I'll be back again!"
Show more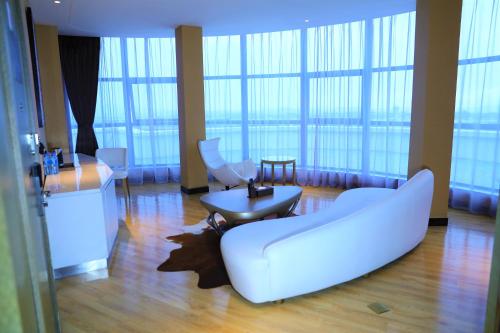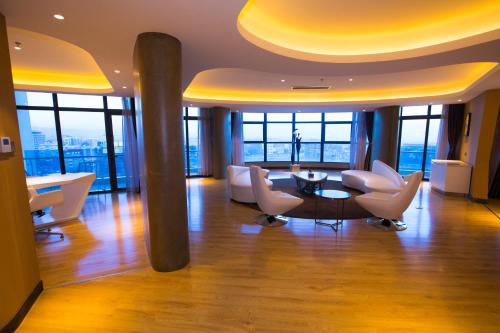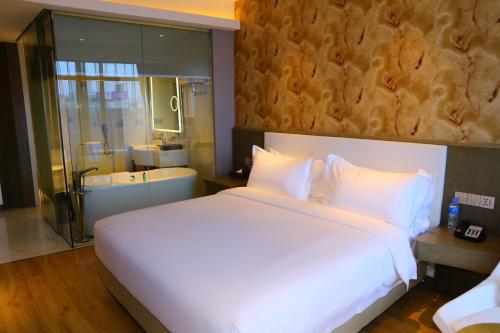 See all
See all
Elgel Hotel and Spa
Nefassilk Lafto,Addis Ababa - View on map
"Staff were great and very very helpful, food was excellent."
See all
Oasis Apartment Hotel
Bole,Addis Ababa - View on map
"The amazing staff at oasis helped me recharge my phone balance, ordered me taxis, and gave me general advice on Addis Ababa."
See all
Capital Hotel and Spa
Bole,Addis Ababa - View on map
"very comfortable,very new hotle,very skilled and freindly staff,it's near main road,have convenient communications.anyway,it's a good business hotel in addis."
Show more
Fast facts about Addis Ababa, Ethiopia
| | |
| --- | --- |
| Accommodations | 314 properties |
| Popular hotel | Miracle Hotel |
| Popular area | Bole |
| Nightly rates from | A$10 |
| Airport | Addis Ababa Bole International Airport |
Discover the neighborhoods of Addis Ababa
---
5-star hotels in Addis Ababa
---
very nice hotel in addis ababa
chor
, Hong Kong SAR, China
---
They changed me more than the price was listed online I booked online then I god charged 5...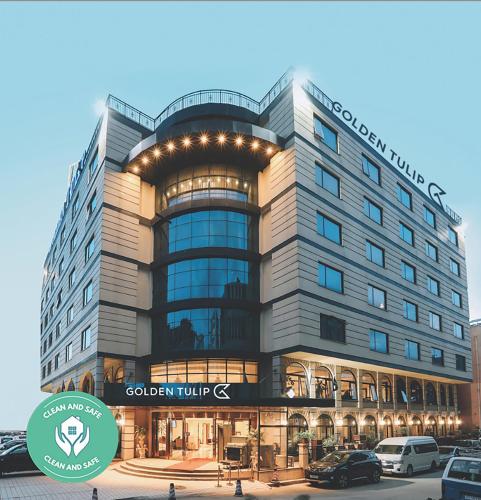 ---
Addis Ababa is under a building frenzy and this leads to a lot of urban chaos. However, ent...
---
its really was the best stay in this hotel and next time will be my choice.
---
Super expensive ...not worth the money at all...
dean
, Hong Kong SAR, China
---
very comfortable,very new hotle,very skilled and freindly staff,it's near main road,have co...
---
The Radisson was very modern and clean, with fantastic staff (so friendly). Of course the ...
---
Staff are very friendly but not well trained. When you ring from the room and request for s...
---
Traveler impressions of Addis Ababa
You can "do" most of Addis in a day or two, but Hilton is a nice place to relax for onward journeys.
I met some amazing people while I was here in Addis Ababa. The people were very friendly and excited to meet me.
There is a lot to see in Addis and envirement. Entoto-mountain, churches, musea but also just walking and talking with the people.
Great city where people are very affable and friendly. the culture is is moderately friendly. one can comfortably spend 4 to 7 days pleasantly.
Not the dirtiest city in Africa, but far from "clean." There are few things to see. One day is enough to see it all.
If I were to spend more time in Ethiopia simply for vacation, I would spend it in the smaller towns with more historical sites.
---
Addis Ababa's best hotels with breakfast
---
Explore more travel vacation rentals
Other popular destinations in Ethiopia
---
More about Addis Ababa
Addis Ababa is the largest of Ethiopia's cities and serves as the country's capital. It is an excellent destination for business and leisure. More than 120 international missions and embassies are set up here, including the headquarters of the African Union and the UN Economic Commission for Africa, making Addis a hub for international diplomacy. The busiest airport in East Africa,
Bole International Airport
, connects the capital city to inter-Africa destinations and the world.
Addis Ababa has seen its fair share of turmoil in recent times, but it has risen above and now eagerly welcomes travelers with eager curiosity and friendly hospitality. Ethiopian cuisine, coffee, and culture dominate the itinerary of any traveler – whether they be there for the business or to take in the country's 13 months of sunshine. The Ethiopian calendar is related to the country's ancient culture, one that dates back to 3 million years ago. The Ethiopian National Museum is excellent for those looking to explore that culture and its history. Here can be seen a replica of Lucy, an early hominid, as well as artifacts that span thousands of years. A more local look at the culture can be had at the Addis Ababa Museum. Some historical religious sites worth exploring include the
Lalibela
and Anwar Mosque, the latter of which is found in the largest market of Africa – the Mercarto. From the side streets to the major sights, Addis Ababa hosts a range of attractions and activities that make for unique and memorable experiences.
Be sure to check out the interactive map of Addis Ababa for information on hotel locations, attractions, and must-see destinations.