10 best hotels in Auckland
Our top picks
Lowest price first
Nearest to
Best reviewed
See all
ibis Budget Auckland Airport
Auckland Airport,Auckland - View on map
"Just needed a hotel as we were departing the following day from Auckland. Pros - The Staff were fantastic and assisted us by booking us in early, extremely helpful. - Rooms were very clean and tidy - Restaurant next door has a very good selection of food and drink. Highly recommend. - The yellow bus drops off from airport to hotels in area, about $12 return. Have coins or credit card. Cons - Cost, I'm guessing due to location I paid £74 a night. May have been the best deal ? But willlook next time at other local hotels that the The Yellow bus stop off at e.g Gateway Hotel, Holiday Inn,Kiwi Hotel,Naumi Hotel,Sudima Hotel and THL Campers. - Internet, this was a major issue for me as you only were aloud 2 hours and if you closed your browser down early you lost the remaining mins. Of course you can buy extra time but this is 21st Century and every hotel I've been in has 24 hour internet. Next time I will look at other hotels above."
Show more
See all
Ascotia Off Queen
Auckland City Center,Auckland - View on map
"This hotel just off upper Queen Street is a real gem. Its fresh and clean with a modern decor in the bedroom and shower room. The staff are friendly and very professional. I booked online through Agoda and there were no problems when I arrived. Checkout time is 10am and there is a storage room to stow your bags if you need to catch a flight at a later time. There was an upgrade going-on in the hotel during the 6 days that I was there involving one of the lifts, but this was being carried out with no disruption to the guests as far as I could see. I only had 1 breakfast at the restaurant because there are so many other options for snacking and dining-out in this part of Auckland. The Continental breakfast was ok and reasonably priced. The hotel is about 1 minutes' walk from the Air Bus stop, so really convenient if you're flying in to Auckland. Its location just off upper Queen St, is close to the main bus routes running along Queen St and Karangahape Rd. Its about a 10min walk above the harbour and Britomart Station. From the hotel I could easily walk to Parnell, New Market, Grey Lynn, Ponsonby Rd, Auckland Uni, Auckland War Memorial Museum etc... The hotel building is an odd shape and the rooms are arranged around a central core....this meant no parallel walls in the bedroom... a bit disconcerting at first.. and meant that placement of the TV screen on the wall waat a bit of an angle to the viewer (but not a major problem). Value for money, this hotel would be hard to beat if you just need a place to sleep and shower."
Show more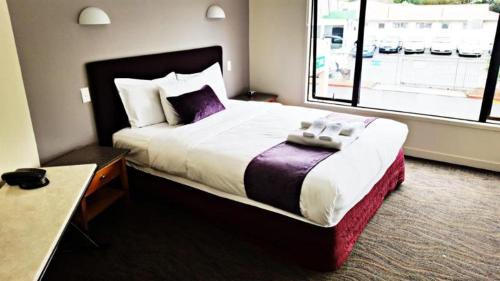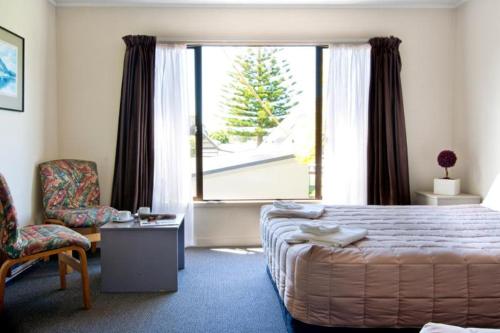 See all
Auckland Airport Kiwi Hotel
Auckland Airport,Auckland - View on map
"Great place if you have a stay over in Auckland. With taxi's into the centre of Auckland about the same price as a nights stay at Kiwi, it makes total sense to stay near the airport, especially as Auckland city is pretty poor. Airport pick up & drop off make your stay complete & if you're up early enough breakfast is a bonus. The rooms are large and clean and everything is well put together. Only negative is the daily charge to leave bags - $5 per bag per day. Which is out of order. Let's not mention, NZ's virtually non existing free internet access. Woops, I just did. All in all though, an excellent hotel experience for 1 night max."
Show more
See all
QT Auckland
Auckland City Center,Auckland - View on map
"I look forward to coming here again. It was so perfect and comfortable and I didn't want to leave! All the amenities we loved and being able to watch our shows on tv was so easy! Will definitely be back. Thank you! "
Show more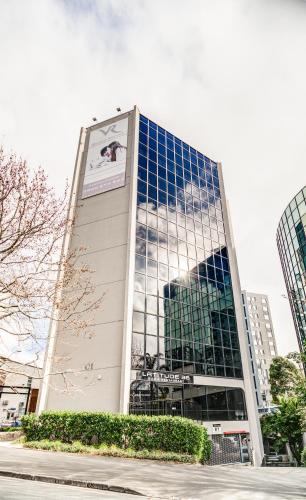 See all
VR Queen Street Hotel & Suites
Auckland City Center,Auckland - View on map
"That is what we were told by the concierge on our first night and we could not disagree. Nothing was too much trouble, there was always a smile and a friendly greeting. The lobby and lift always had lovely scents, the rooms were quiet, the air conditioner/heater worked brilliantly and whatever we wanted from extra towels to a pot to green tea was promptly produced. We did not know about the hilly nature of Auckland before arriving and so having the hotel located on the top of one of the hills meant much exercise but that was okay as the hotel was very central and close to many amenities - restaurants, buses, parks, etc. We would have liked a toilet roll holder that was more secure so that the roll did not fall off and perhaps a new carpet would have been nice as the one in our room could have been cleaner and with no pulled threads. But we would definitely recommend the hotel."
Show more
See all
Copthorne Hotel Auckland City
Auckland City Center,Auckland - View on map
"The best bed we've ever slept in in any hotel we've stayed at, very soft and comfortable, slept all through the night. Extremely and genuinely friendly and helpful staff. Hotel a little tired, but exceptionally clean. Location good if you don't mind a short walk to the city and wharf. Great price and will definitely stay there again."
Show more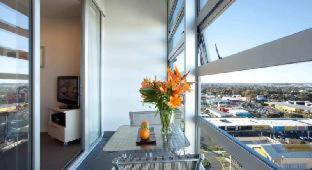 See all
Proximity Apartments Manukau / Auckland Airport
Manukau,Auckland - View on map
"my wife and i have stayed in many hotels, motels around nz, australia and the pacific and we have found this to be the best for price and location. the high rise building gave you that feeling of space, you were not cramped up in a small area. we have made this our hotel whenever we are in auckland. close by are the motorways to auckland city, airport and west auckland."
Show more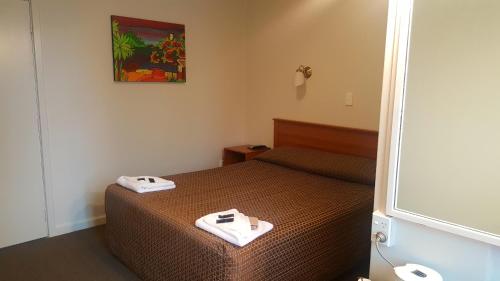 See all
Kiwi International Hotel
Auckland City Center,Auckland - View on map
"This hotel was perfectly adequate for our 2 day post cruise stay. This hotel is defiantly in the budget category and basically its one of those " what you pay for is what you get " deals similar to Ibis and Formulae 1 chains. However that being said the staff were helpful and welcoming and the rooms were clean but basic and the food was basic but was good value for the price paid. The lift was a VERY antiquated type*Think of the movie Thoroughly Modern Millie* (My partner was worried we would be stuck as it was very shuddery and bumpy when we stayed.) So if your looking for a good clean SHORT STAY BUDGET hotel in Auckland this will serve your needs however if your after a vacation hotel i would chose another more upmarket hotel in Auckland for your stay"
Show more
See all
Auckland Airport Lodge
Auckland Airport,Auckland - View on map
"We appreciated the courtesy airport transfers greatly, especially that we were picked up promptly after we 'phoned just after midnight . We were concerned, when choosing, that we would be disappointed as there was so many places to choose from and found it very difficult to choose- within our price range- and you can never be sure that you have made the best choice and obtained value for money. For accommodation that caters for, basically, one night stays we found this a surprisingly friendly and caring facility. Staff member Josh deserves a "mention in dispatches" for his great service. We will happily stay here again should we need a stopover in Auckland. I understand that you can park your car here whilst away at no charge-unsure of the minimum stay required to secure this benefit."
Show more
See all
Airport Garden Inn Hotel
Auckland Airport,Auckland - View on map
"I've stayed in many hotels throughout Auckland, some were expensive and some were at the cheaper end of the market. This hotel is quiet and the rooms are really good, the pillows and bed are very comfortable. The only negative thing is that the bathrooms are not updated, but they are useable and everything works well. The room had a good selection of channels on the TV in my room. You can make a tea/coffee or use the microwave to heat food, but they don't have any plates or cutlery to use. "
Show more
Fast facts about Auckland, New Zealand
| | |
| --- | --- |
| Accommodations | 1,773 properties |
| Popular hotel | Kiwi International Hotel |
| Popular area | Auckland City Center |
| Nightly rates from | A$10 |
| Airport | Auckland Airport |
| Reasons to visit | Shopping, Sightseeing, Nature |
Auckland's best hotels with breakfast
---
Explore more travel vacation rentals
Find the Perfect Type of Accommodation
---
More about Auckland
Auckland's lush landscape, stunning skyline, and temperate climate make it an important part of a New Zealand vacation.
The city is home to many notable museums, one of them being the
Auckland Art Gallery Toi o Tamaki
, housed in an impressive landmark building in the heart of the city. Like any modern metropolis, Auckland features many more cultural attractions as well as unique destinations like
Kelly Tarlton's
, where visitors can experience an exciting aquatic adventure in the Antarctic Encounter and Underwater World.
Auckland is intensely multicultural, and there are more Polynesians living here than anywhere else in the world. New Zealand's indigenous Maori are also strongly represented in Auckland and vestiges of Maori culture are evident all over the city.
Travelers looking to escape the city center will find quiet cottages along the coast of Auckland in the western suburbs. While here, charter one of the many sailboats lining the harbor and explore dozens the many offshore islands.
Takapuna Beach
is a great destination outside the city, great for swimming and shopping.
Auckland is served by
Auckland International Airport
, and hotels close to the airport are especially convenient for business and short-term travelers.
Find out where the hotels, attractions, and must-see destinations of Auckland are located by exploring the interactive map on this page.