4-star hotels in Burnie
---
Great place to stay in burnie
---
We would not hesitate to book this apartment again upon a return to Burnie. Just a block left and you're on the beachfront, and a block behind and you're in the CBD. Perfectly secure for young girls on a holiday. The fully equipped kitchen came with little bonuses like cling wrap, Alfoil, salt & pepper shakers, not just soap, tea and coffee like you usually find in r...
---
Our boat from Melbourne was 2 hours late into Devonport. By the time we got to the Beach Hotel it was 9.30pm. The staff had to wait for us and they did it with a smile and friendly faces. Lovely location and highly recommended.
---
Paid $219.72SGD for one night I was called by the iKon Hotel a few days before arriving to determine what time we would be arriving to ensure someone would be there to check us in. So the iKon is not a 24 hour a day manned hotel so that's important to know. But we arrived on time and parked in the little car pack along the side and behind the hotel that is reserved fo...
---
We were able to check in easily after hours. To our nice surprise, the place is very nicely decorated with lovely antique furniture. Very plosh. Even has a kitchen with full cooking facilities. Location is excellent, although the car park entrance can be easily missed, would help if some signs are available. Will definitely recommend friends to this place!
---
It's a beautiful, very cosy & comfy place to stay ! Enjoy the garden with fresh herbs & tomatoes. Extremely helpful & nice owners (living just 2 houses away). I'll stay here again any time !
---
Nice accommodation. Our daughter loved the stairs. Beds were comfortable. We arrived off Spirit of Tasmania late and in the dark so it was a bit of a nightmare to fine. A light wouldve been helpful to show number and doorway. Parking is away on the other side of the property and theres no parking out the front which is a bit of a drama when loading and unloading.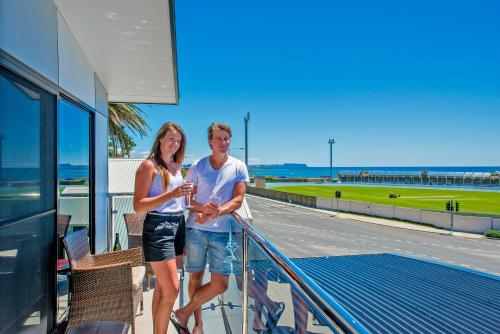 ---
The apartment is wonderfully furnished with a great view of the sea which is just across the road. Additionally, the visitor centre is just a stone away from the apartment. We spent one of the nights penguin spotting along the beach across the apartment. It was an awesome experience!
---
5-star hotels in Burnie
---
Rocked up late and found this lovely Deco home, booked a night from the driveway and checked in two minutes later. So easy, and such a friendly reception! Room is extremely clean and comfortable. When they say it's the Marilyn Monroe suite they aren't kidding - she's everywhere!!! It's nice to see someone go to so much effort to decorate a guest room! Breakfast was se...
---
Traveler impressions of Burnie
We were there on a Sunday, could not find a coffee shop that was open, drove in and out of a shopping centre, and was made pay one dollar parking thought that was most unfair.
---
Discover the neighborhoods of Burnie
---
Find the Perfect Type of Accommodation
---
More about Burnie
To provide our customers with unbeatable rates at hand-picked hotels, Agoda.com represents a full range of hotels from 5-star resorts to budget-priced properties in Burnie. Choose from our selection of over 35 hotels. We offer lots of promotions such as early bird offers and last minute deals. Many areas, each with a distinctive atmosphere, are just waiting to be discovered across the city. Burnie has many attractions to explore with its fascinating past, intriguing present and exciting future. There are so many things to do, you may want to stay an extra week or so to experience them all. Book your next trip to Burnie with Agoda, backed by our low price guarantee.