Hotels and more in Cairo
Our top picks
Lowest price first
Nearest to
Best reviewed
Fast facts about Cairo, Egypt
| | |
| --- | --- |
| Accommodations | 824 properties |
| Popular hotel | Steigenberger Hotel El Tahrir |
| Popular area | Downtown |
| Nightly rates from | A$8 |
| Airport | Cairo International Airport |
| Reasons to visit | Museum & arts, Sightseeing, Culture |
Discover the neighborhoods of Cairo
---
4-star hotels in Cairo
---
I had sooooooo much trouble looking for the hotel. The local taxi drivers (not just one of them but a few of them) have no idea where the hotel is... One of them kept telling me that there is only two hiltons in Cairo, and we had to go to all two of them before we've finally arrived at the right one, the Cairo World Trade Centre Residence. When we arrived at the other ...
---
Connection to Citystar Mall thru the basement. Check-in to one bedroom apartment, which can accommodate 4 adults. The apartment is big, provide comfortable bed but improvement required on the sofa bed. Complete cooking utensils provided in the apartment. Free laundry in the basement is very helpful. Breakfast is just ordinary but is sufficient and can bring the breakfa...
Samsulbahri
, Brunei Darussalam
---
We stayed at the Steigenberger Tahrir for round about one month. The hotel is very clean. It`s located close to the National Museum. The restaurant is of very high quality. The breakfast is really really good. The staff was always friendly and professional. Especially Mr.Mokhtaar was Super-Nice and very supporting and friendly during our whole stay. We can absolutely ...
---
Its a great hotel, very nice staff and helpful. The beds are very comfortable and the view Is amazing to wake up to. Breakfast taste very good
---
I stayedthere during my one day layover, from 5 am to 12:00 am. Shortly after I got off the plane (even before going through passport control), I met a hotel employee holding a paper saying my name. I was surprised cause I was not really sure if someone would actually come to pick me up, let alone before even entering Egypt. With the help of that hotel employee, I went...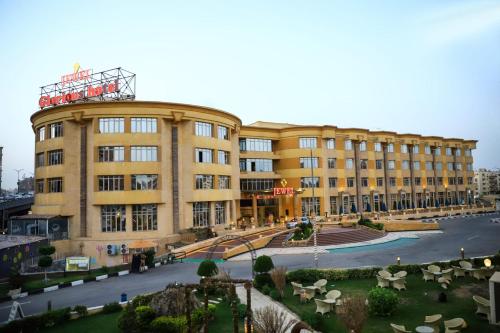 ---
I have to say Mr Wael is the best, he always did more than I asked for. Other staff were also very nice and helpful. Location is a bit far from city center, but not so far by taxi to City star- a big shopping mall which offers many options for eating. Shower room is tooo small, like 50*50cm, even difficult to stand in for people thin like me. Cleaning staff could had ...
---
Islam ‭01222174624‬ ‭01289962299‬ Wrote this Even with no money I never stayed in a cheap hotel ever.. like you picked..
---
The staff and owner are very accommodating and friendly. The location is very safe and convenient. The atmosphere that the marble tiles give really add a special feel. The rooms are spacious and have everything you need. I'll also mention the great antique building. Cairo heart is very clean, bed and pillows are comfortable with beautiful bedding. Ice cold bottles of w...
---
Traveler impressions of Cairo
Great city to visit in the Arab world. Once does not understand the region unless he/she visit Egypt.
Never miss the Giza pyramids and Sphinx area Islamic old Cairo with Mohamed Ali mosque/citadel is not to be missed Egyptian Museum is also an attraction worth visiting
is the capital of Egypt and the largest city in the Middle-East and Africa. you have to visit pyramid, Al-Azhar Park, Egyptian Antiquities Museum, Mohamed Ali Mosque and Khan Al-Khalili st.
Messy,riot,striking,...... Too bad to have a city like that will never plan to visit again unless you are superb interest into pyramid until can give up your own security.
Cairo is a very dirty city in terms of traffic and cleanliness. it is also over populated. it is usual like and other tourist city people here try to make the most money from tourists by over charging for sight seeing.
City show which features the beauty and modernity and history, the people of Cairo kind in general, you can enjoy local excursions and nightlife, many cafes and restaurants, and most of them with beautiful sites, and good services.
I am very pleased.I am very pleased.I am very pleased.I am very pleased.I am very pleased.I am very pleased.
Now is the best time to visit Cairo (or anywhere in Egypt!) there are no tourists so no queues for any of the attractions.
Cairo is an amazing city, I love the people helpful and friendly ... I am fascinated flavorful food, unfortunately Cairo need more government influence to make it more attractive to tourism, there are a lot of garbage near the biggest attractions and a bit run the fronts of the buildings .
Cairo is an amazing city, I love the people helpful and friendly ... I am fascinated flavorful food, unfortunately Cairo need more government influence to make it more attractive to tourism, there are a lot of garbage near the biggest attractions and a bit run the fronts of the buildings .
cairo is a ver big city, full of adventures and history. the city never sleeps. the city mall is a heaven for shoppers, from high street shops to egyptian brands.
Is a ver busy city, shops are hardly closed. The roads are busy 24 hrs.good for shopping. Monuments, museums, malls and many historical site for tourist.
If you are going on your own, you need to be prepared for hassle by a lot of people along the way. It starts from the airport.
Personally I did not like Cairo. It just felt like a very hostile environment. Some Taxi drivers tried to rip me off.
We had a wonderful time even though we were there only for 3 days. It is a magical place, especially Giza and the Pyramids.
We didn't get to see much of Cairo as we were only there for 2 days during the election. We spent a day visiting the pyramids, the following day we went to the Museum of Egyptian Antiquities and we chilled at the hotel at the El Tahrir Square was getting busy due to the elections.
---
Cairo's best hotels with breakfast
---
Explore more travel vacation rentals
More about Cairo
Cairo was founded more than a millennium ago, a figure that might impress tourists if it weren't for the unfathomably ancient icons looming to the west. Gateway to the
Pyramids of Giza
and one of the most ancient kingdoms on earth, Cairo offers a mix of historic sightseeing and modern luxury, all within reach of the Bedouin heartland, famous for tireless hospitality and vibrant traditions.
When they're not pondering the ruins at Giza, tourists are most likely to be found in Downtown Cairo. Cairo accommodation in this area ranges from bargain guesthouses to trend-setting luxury hotels, and guests staying in the city enjoy excellent museums, lively marketplaces, and good metro service. The adjoining Garden City is the region's most exclusive commercial district.
Strolling through the heart of the city is as much about marveling at Cairo's modern advances as it is about delving into its eclectic culture. Throughout history, Cairo has been occupied by the Romans, the Turks, the French, and the British, among others. These vastly different cultures have each left their own legacy, and Cairo's museums and architecture are richer for it.
Across the Nile from Cairo are Mohandeseen and Dokki, upscale districts that lure tourists with excellent shopping, dining, and entertainment. This is also where to find some of the most convenient hotels in Cairo, with access to both the city center and the Pyramids of Giza.
Cairo International Airport
serves as the gateway to this ancient city of wonder.