4-star hotels in Galapagos
---
Our rooms and ocean view were top-notch. Modern facility. Rooms felt open & airy. Open spaces. Nice breakfast in the morning that changed daily. Always had fresh, purified cold and hot water available on every floor & bottled waters throughout the rooms. Most to put away, the staff was top-notch. My husband and I have stayed at some of the nicest hotels in the wor...
---
Lovely place, staff very helpful
---
A more of hostel than a hotel. Helpful staff, location not near the center of the island , you will have to walk 10-15 minute. Still safe area. Facilities are very simple a more of hostel than a hotel. You will have to pay in cash - no credit card accepted. Internet is very slow and will not work 90% of the time. There is a crossfit Gym in front of the hotel which is o...
---
Middle of town, just far enough from the Sea Lions in the Harbour to not hear them at night (they're loud!) , basic accomm but perfect for the location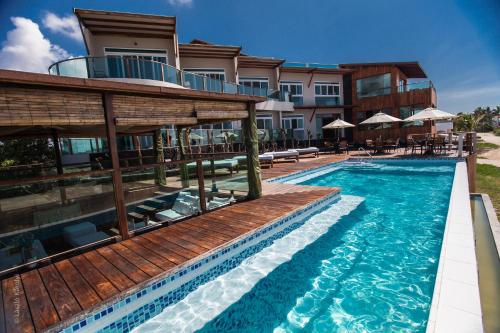 ---
Pros Many many iguanas crossing right in front of hotel constantly Views of beach, ocean and sunset are exquisite 3 minute walk to town 15 minute walk to harbour One can enjoy breakfast on the terrace over looking marine iguanas swimming amongst many flamingos, heron and Pelicans Breakfast included custom omelettes, a large variety of fresh fruit, different breads, a ...
---
It was small but beautiful hotel at the center of Santa Cruz, serving with good hospitality with clean, cozy and spacious room. There was no toothpaste like any other hotel in Ecuador.
---
5-star hotels in Galapagos
---
In all of Ecuador and Peru this was the worst hotel we have booked so far. For the money (we booked a double room) expect a small, basic room, kind if modern with no frills. Nw we don't ind no frills but in Ecuador you can do get similar for less money, or much more for a similar price! Our room had a sewage smell permeate through it our entire stay coming from th...
---
Very relaxing stay and the staff were super helpful. Nice and clean rooms and surroundings. The path from the pier to the hotel can be a little dark in certain areas at night so more lights may be better. Nevertheless, didn't once feel that it was unsafe even when walking around at night.
---
hotel has good view and very clean. I think best hotel in galapagos
---
Discover the neighborhoods of Galapagos
---
Find the Perfect Type of Accommodation
---
More about Galapagos
To provide our customers with unbeatable rates at hand-picked hotels, Agoda.com represents a full range of hotels from 5-star resorts to budget-priced properties in Galapagos. We offer a wide range of hotels to help you find the best place to stay in Galapagos. Many areas, each with a distinctive atmosphere, are just waiting to be discovered across the city. Galapagos has many attractions to explore with its fascinating past, intriguing present and exciting future. There are so many things to do, you may want to stay an extra week or so to experience them all. Save time and money with our customer-friendly booking engine that guarantees you the lowest price on hotels.