Fast facts about Harbin, China
| | |
| --- | --- |
| Accommodations | 586 properties |
| Popular hotel | Hanting Hotel Harbin Railway Station Square |
| Popular area | Daoli |
| Nightly rates from | A$8 |
| Airport | Harbin Taiping International Airport |
| Reasons to visit | Sightseeing, Skiing |
Discover the neighborhoods of Harbin
---
5-star hotels in Harbin
---
staying here was the icing on the cake for a perfect holiday. this was our first time staying with the shangri la and we loved it. it was very obviously the best hotel option in harbin, head and shoulders above the other accommodation options. worth the price difference given the spectacular views you get (be sure to book a superior room for a guaranteed view) as fo...
Catherine
, United Kingdom
---
It's a bit far from down town. The traffic in Harbin is pretty bad no matter what time it is. So a taxi ride can be like more than 10 mins to down town. Otherwise everything was great. Spacious room, breakfast changed everyday, various tv channel, towels were fluffy.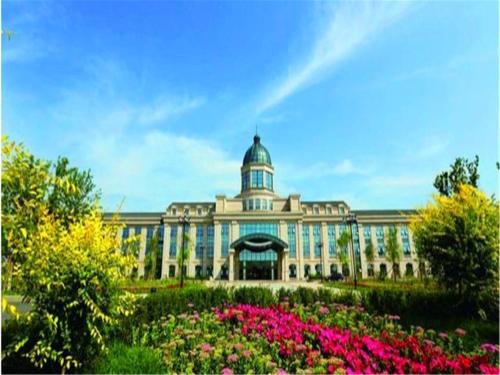 ---
Really nice new hotel, Not in town but 15 min walk to the ice park and loads of other attractions are nearby. Taxi is needed to go anywhere but 20 RMB gets you into town, so still cheaper than an 'in-town' hotel and really great hotel. the rooms are generous and the staff excellent.
---
It was perfect from the moment we touch down in airport. Free airport transfer although had to wait for a fair bit as the cars were delayed due to an road accident. The only glitch was that they gave us a very hot room initially. But changed for us only after 1 hour of communications. The 2nd room was big , spacious and clean. Design was modern. The breakfast was inter...
---
Harbin's best hotels with breakfast
---
Explore more travel holiday rentals
More about Harbin
China's northernmost city, Harbin was founded in 1897 as a camp for Russian engineers surveying the Trans-Siberian Railway. This city of ice and snow has capitalized on its infamous winters and is host to the annual Harbin Ice Festivals. Starting out as a nothing more than a camp, the modern and beautiful city of Harbin has grown far beyond its original limits.
Harbin Airport
serves as the point of entry and is a 45-minute drive from the city.
Though extremely chilly, the snow and ice of the winter months in Harbin set the scene for a number of festivals and attractions. There is no greater one than the annual Harbin Ice and Snow Festival, held between January and February. Ice and Snow World is one of the world's largest ice architecture parks, and Zhaolin Park is considered a must-see during the Ice Festival thanks to its traditional ice lanterns.
Sun Island Park
is a major venue for the festivals during the winter months, and in the summer, it is considered to be the best natural summer venue. Siberian Tiger Park is next to Sun Island and is a great venue for the animal lover. Outside the seasonal attractions, Harbin offers some excellent city treats. Russian architecture can be explored in the old quarters with St. Sophia Cathedral – now the Harbin Museum of Architecture – serving as the main attraction. More European architecture as well as opportunities for shopping and dining can be enjoyed along
Central Street
, one of Asia's longest pedestrian streets.
Be sure to check out the interactive map of Harbin for information on hotel locations, attractions, and must-see destinations.