Fast facts about Indore, India
| | |
| --- | --- |
| Accommodations | 751 properties |
| Popular hotel | WOW Hotel |
| Popular area | Vijay Nagar |
| Nightly rates from | A$7 |
| Airport | Devi Ahilyabai Holkar International Airport |
4-star hotels in Indore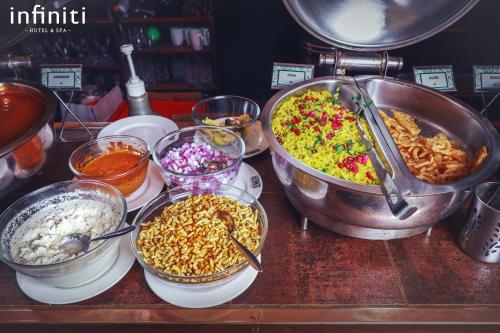 ---
Be alvert with reservation staff I booked for deluxe and they provided club which is huge difference, when I entered into room it was not my cup of choice when I checked my booking and allocation I find difference then called reception they even don't bothered to say sorry simply said we will change room and there was cut off electricity for almost 3hours on all 3days ...
---
My stay at the hotel was a wonderful experience thanks to the warmth and courtesy of the team. The team was very attentive to my requirements & ever ready to help me out and make me comfortable at the Hotel. They had their slip ups but they more than made up with their excellent service
---
My stay was very pleasant, everything about this hotel was up to my expectations.. definitely going back if I visit Indore again in the near future.
---
Was driving through Indore and stayed here for a night in end of December 2015. Room was a bit narrow, and longish, but the bed was very comfortable. Food was good, service quick, and the hotel staff was courteous. Hotel is conveniently located, and is easy to find.
---
Pros: Good service Reasonable price Prime location Helpful staff Cons: A Little noisy due to traffic
---
5-star hotels in Indore
---
This hotel is very prominent hotel of Indore and a landmark in itself. Food spread is limited, staff is courteous. Needs attention at reception as bell boys for picking luggage may take umpteen time and may be you have to go all the way upto reception to request them to send someone to pick luggage. Not for forget to mention one of room provided to us was smelling like...
---
The hotel is fabulous with awesome staff. I would specially thanks Joycee for her hospitality. The food is very very good. Would really recommend everybody to stay at this hotel. I think Indore visit is incomplete if you didn't stayed at this hotel. A must must stay at this property at Vijaynagar with everything nearest to the city.
---
Horrible experience. Hotel said they have no reservations. After lot of waiting and arguments they honoured the Reservation Voucher
---
They intimated us to pay cash for every time inroom dinning . I think it was not a five star rating hotel as their chef refused to serve chilli potato and chilli paneer. While filling form by hotel they asked which newspaper I prefer. I opted for hindi but in morning they gave english one.
---
In Radisson Blu, now there is an excellent choice to a business traveller to Indore where there have been very limited options in the past. Well appointed rooms,excellent service & warm staff is a given in any Radisson hotel that I have stayed and the same uniform consistency I could experience here. The hotel is located in a quiet area a little away from the crowded i...
---
Traveler impressions of Indore
I would recommend Indore for people with religious interests. There are many temples in and around Indore.
---
Indore's best hotels with breakfast
---
Explore more travel holiday rentals
More about Indore
Agoda.com offers a selection of the very best hotels in Indore, India to ensure your visit fits your expectations. Choose from our selection of over 525 hotels. We offer lots of promotions such as early bird offers and last minute deals. Popular areas are Raj Mohalla, LIG Colony, White Church Colony where visitors can enjoy the quintessential experiences of Indore. The city is served by 1 airports which means it is accessible from almost every major city in the world. If you wish to pray or contemplate amazing architecture, 2 places of worship await you. You can depend on Agoda.com to help you find the best bargains on Indore hotels.