4-star hotels in Kiama
---
Jamberoo Resort is a lovely place approximately 15 minutes inland of Kiama. We enjoyed the peace and tranquility away from the popular tourist areas. The hosts were very accommodating and friendly. The bbq area and gardens were lovely. Although the resort is getting a little dated, the price is very good value for money. The new owners have plans to update the resort. ...
---
We stayed in two 2 bedroom apartments for 2 nights. The apartments were spacious and had everything you could need. They were close to the centre of Kiama and had a shopping centre / supermarket just up the street. Very well run, with very friendly staff.
---
Kiama is stunning. The park is located in a great area and within walking distance to town and blow hole. So many other attractions around ie rainforest which is the next best thing to heaven, so we thought. Totally recommend the park/cabins for families as it's clean,quiet and do comfortable. Really recommend it.
---
having visited kiama many times over the years - but only for a day at a time - we decided to spend a few days down there with my ovreseas girlfriend, the kiama shores motel was a great place to base ourselves, the rooms were very modern - very clean and comfortable , after a long days drive the nights sleep was very welcome. if your after a beer or a bite to eat , num...
---
I booked this apartment last minute for a couple of nights. Great central location, very clean with good facilities, and very quiet even though it is next to the pub. The walls are thin so I was woken up by next door plugging something into the wall! But other than that it was much cheaper than the other accommodation in Kiama and I thought it was really good value for...
---
I stayed here while on a work trip and it beat the pants of the soulless hotel rooms I usually stay at. Impressive attention to detail has been paid here, stunning views nice touches like the eco open fire (which put out an impressive amount of heat). These hosts understand under promising and over delivering. I won't give the game away, go and visit them and you'll se...
---
This was a beautiful apartment , so close to town yet so on its own ! We walked to town several times and also wandered the kiama markets. The apartment was so relaxing, excellent facilities and a brilliant jetted bath. Many thanks !!!
---
5-star hotels in Kiama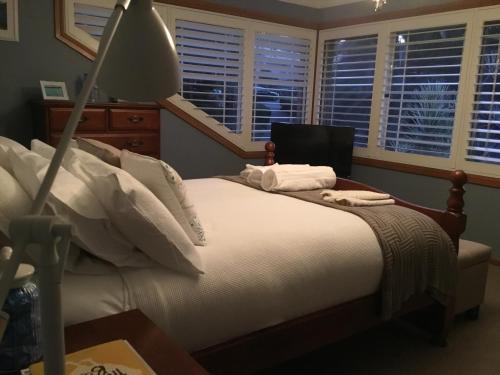 ---
Rose and Paul were amazing and enthusiastic hosts. They were very welcoming and friendly. They came out to greet us when we walked in their front yard (arrived their house). They were so kind, making us feel like coming home. Our room was so beautiful, light filled and with all the things you could ask for (e.g., comfy blankets, heater, extra electric blanket and candi...
---
Traveler impressions of Kiama
Kiama is a beautiful drive south of Sydney. Amazing beaches, great little town with beautiful parks and friendly people, Kiama is always a nice place to be, best in the sun, but still good (for a cheeky surf or stonegrill dinner) in the rain and cold!
We went to the Sunday markets, strolled through the shops, did the Kiama to Geringong walk, visited Berry and Saddleback mountain and surrounds.
---
Discover the neighborhoods of Kiama
---
Find the Perfect Type of Accommodation
---
More about Kiama
Finding the cheapest price for top hotels in Kiama, Australia is easy with Agoda.com. Choose from our selection of over 52 hotels. We offer lots of promotions such as early bird offers and last minute deals. Popular areas are Jamberoo, Kiama Downs, Kiama where visitors can enjoy the quintessential experiences of Kiama. Kiama has many attractions to explore with its fascinating past, intriguing present and exciting future. Whatever your plans are, do not miss these things to do: Blow Hole Kiama. Save time and money with our customer-friendly booking engine that guarantees you the lowest price on hotels.