Fast facts about Kitakyushu, Japan
| | |
| --- | --- |
| Accommodations | 268 properties |
| Popular hotel | APA Hotel Kokura-Ekimae |
| Popular area | Kitakyushu |
| Nightly rates from | A$11 |
| Airport | Kitakyushu Airport |
Discover the neighborhoods of Kitakyushu
---
4-star hotels in Kitakyushu
---
I should start by saying that I usually stay in 4 or 5 star hotels. The Daiwa Roynet is an impeccably clean hotel with wonderfully warm and helpful staff. I think its the best hotel in Kitakyushu and we'll be staying there again if we return. cma
---
Pros: the best view in the town. And the town itself has a beautiful classic environment that makes it so special. Transportation in train is very close and convenient as well. Cons: all tourist guides and maps are available only in Japanese, then for us were not useful at all. Google search was the only english info-source, however more precise and detailed informati...
---
I stayed at here for 2 nights. The room is good. It's about 5-mins walking from Kokura Station to here. But, why should we pay an extra fee of 5,000 jpy to enter the gym? I think this is not acceptable. I've stayed at lots of 5-stars hotels around many countries. Mostly, the fee for the gym is included in the original booking price. So, I suggest this facility fee sh...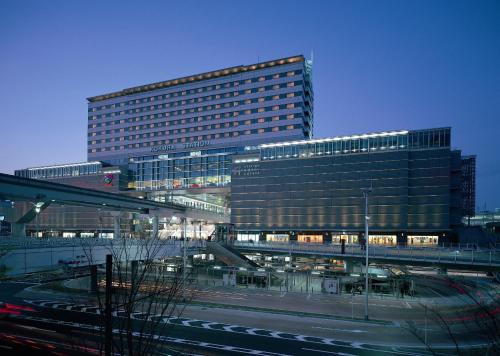 ---
This hotel is conveniently located near the main area for wining and dining in the evening. The room I was given was very spacious and was excellent value for money. And, the hotel staff were very helpful and friendly.
---
Clean and Spacious rooms, considering other Japan hotels. A bit expensive, but equipped with facilities - laundry, ice maker, Iron, steaming equipment. Restaurant at lobby. TV with a few foreign channels. Overall a good place to stay at a slight premium price.
---
Hotel is in walking distance to 枝光station, but there's not many choices for restaurants around. Room is quite big and very comfortable, and breakfast buffets is very delicious and have various choices which is a pros for me.
---
Traveler impressions of Kitakyushu
Good food also you can see real japanese life! People are super kind but they are a bit shame of speak english :) enjoy!! It is nice place
Suizenji Jojuen Park in Kumamoto is well worth a visit. It is one of a few Japanese gardens that includes grass.
---
Kitakyushu's best hotels with breakfast
---
Explore more travel holiday rentals
More about Kitakyushu
The northernmost city on Japan's island of Kyushu, Kitakyushu was formed in 1963 from a collection of five smaller cities. An ancient feudal castle town as well as a steel town, it offers plenty for both the business and leisure traveler. The city is easy to reach with the New Kitakyushu Airport and Kokura Station providing convenient points of access.
During Japan's Meiji Period, the geographical advantages were capitalized upon, and port facilities and railroad infrastructure were subsequently built to improve the development of commerce and industry. Steelmaking was so important to the city during the time, that the original blast furnace has been preserved. It can be found near the city's natural history museum and environment museum. Also nearby is
Space World
, a theme park featuring attractions as well as a Space Camp. A more historical site can be found in the
Kokura Castle
which was reconstructed in 1959 and today hosts a modern folkloric museum. There are many natural sightseeing spots to visit in and around the city, adding to the diversity offered by Kitakyushu. The rare kurst plateau of Hiraodai and the Shonyudo cave, Iwaya Beach, and Kawachi reservoir are but a few of the natural wonders to be enjoyed here.
Find the most suitable accommodation for you by clicking on our interactive map and exploring Kitakyushu for hotels and must-see destinations.