4-star hotels in Lake Macquarie
---
Booked for three adults. Additional bed provided was a trundle bed. This is NOT a suitable bed for an adult.
---
We chose Tantarra as we were in need of a place to sleep following a Bruce Springsteen concert at Hope Estate. Our primary criterion was that there was a room available.... We arrived at the hotel later than expected, thanks to a flat car battery on the morning of departure! Consequently we did not spend any time enjoying Tantarra itself. The room was beautifully ...
---
Too much noise for a "quiet" weekend away. Plenty of drunk people walking around very late at night due to weddings, and permanent residents deciding to redo concrete driveways all day Saturday.
---
The room was perfect for a couple, very relaxing, comfortable and exactly how it was promoted. It was a unique experience staying in an old church.. but this would not be an issue for non religious people. We loved the relaxing atmosphere and comfortable room. Definitely staying again... lovely area - a must if you want peace and quiet.
---
Awesome location beautiful place to relax unwind a unique property never expected to find a place like this in this area really enjoyed my stay clean everything we needed and what lovely host would most definitely come and stay again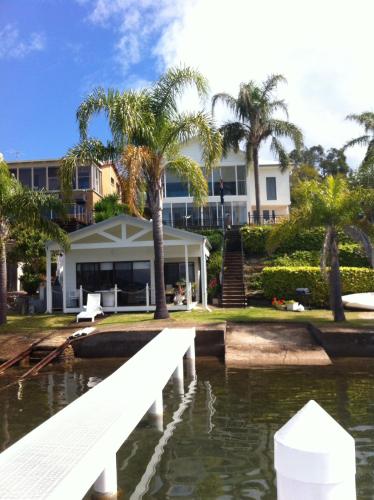 ---
Best part was sitting on the pontoon at night enjoying stars and lights sparkling across the water. Lovely friendly hostess. Yum brekkie.
---
We stayed in a 2 bedroom apartment Pro: 1. the location is very good, just opposit to the lake and park. big supermarkets are minutes away. 2. it has different style of rooms to accomodate different group of people. Con: 1. the facilities are pretty old. Only the living room has air con. When we slept in the bedroom at night, it was pretty hot and stuffy. They do...
---
5-star hotels in Lake Macquarie
---
Having stayed at countless 4-5 star hotels around the world, we were quite surprised a little bread and breakfast in Lake Macquarie would top our list in terms of most memorable and beautifully furnished places we have stayed at. Brad and Julee have exceptional attention to detail which can be witnessed through the beutifully fiurnished rooms all with their special tou...
---
It was raining when we arrived at Churchill's Swansea and our instructions for access received via text were open the gate and find the keys to the room inside. We did that and on accessing the premises we were rewarded with a snug, welcoming room which had the touches that personal ownership affords. Well stocked fridge with goodies to nibble, lovely hot cooked brea...
---
Find the Perfect Type of Accommodation
---
More about Lake Macquarie
Agoda.com offers a great choice of accommodation in Lake Macquarie to suit every budget. Whether traveling for business or leisure, Lake Macquarie is an outstanding city to visit with over 152 hotels to choose from. Many areas, each with a distinctive atmosphere, are just waiting to be discovered across the city. Lake Macquarie has many attractions to explore with its fascinating past, intriguing present and exciting future. There are so many things to do, you may want to stay an extra week or so to experience them all. Save time and money with our customer-friendly booking engine that guarantees you the lowest price on hotels.