4-star hotels in Mudgee
---
Firstly when I drove all the way to Mudgee to stay at the BIG 4 Holiday Park that I booked back in July 2016. I get to the reception area and I tell them my name and that I have a booking using AGODA as my Booking people. They couldn't find me on their Booking at the BIG 4 Holiday Park as AGODA didn't inform them of my arrival. So this stressed me no end and caused ...
---
We stayed here recently and had the best stay ever. The 3 bedroom Victoria was so comfortable for the 4 of us and a close walk to all pubs and restaurants. The beds were so comfortable, the best any of us have slept in...we didn't want to get out! This place is a must when staying in Mudgee. 5 out of 5!
---
All good no negatives.stairs could be an issue for some
---
We wanted to see our friends in Mudgee so we booked this caravan park and was very pleased with the stay.Everything worked out fine.
---
We stayed in a Deluxe room for a few days. The rooms themselves are quite comfortable, clean and have wonderful open balconies. One thing missing is a kitchenette, and a couple who stayed with us in the room next door also had a faulty air con. The resort itself is beautifully laid out, with lovely gardens and a very tranquil, country setting. The facilities are gr...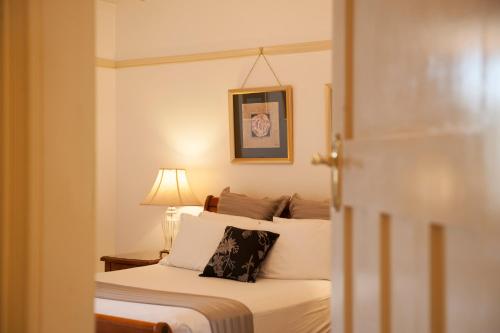 ---
It was a nuce hotel to stay during your holiday in Mudgee because it's located in the heart of town and surrounded with convenient stores and nice restaurants. You should rent a car if you are tourist to make it easier for moving around and sightseeing. Recommend the restaurant for dinner at the hotel. We stay only one night in 2 bedrooms. It was huge and comfy. Recomm...
---
23 years since we visited Mudgee, trust me - a lot has changed. The once deserted Streets & Pubs are now brimming with smiling locals of all ages and visitors just as pleased to be there, with enthusiastic young workers who seem to know they are in a great place. Even the road leading in from Sydney was in great nick... Then to be greeted with the charm and comfort...
---
The Colonial Court Villa had everything we needed for our stay in Mudgee. Communication by email with owners worked well.
---
Our first visit to Mudgee with a toddler was made so much more pleasant by having room facilities that catered to a young family. The reception greeting was lovely, and we found Bella especially charming!
---
5-star hotels in Mudgee
---
I wish could stay longer at the house. Alex is super nice person and we enjoyed the stay so much. All rooms and common area were set up nicely and cosy. It was warm to stay inside the house while outside was 1 degree. Many interesting displays in the house and rarely could have a picture with a plane anywhere else haha. 1 min walk to mudgee airport. Easy drive to town ...
---
Traveler impressions of Mudgee
Mudgee is a lovely country town. the access to the wineries is very easy, the proximity to the blue mountains means the scenery is stunning, the wildlife is abundant and the options for food and drink are excellent.
Ideal place for a short stay - either as a stop over, or just a weekend get away. Main activities are wine tasting - not as impressive as those in the Hunter Valley - but still enjoyable.
---
Discover the neighborhoods of Mudgee
---
Find the Perfect Type of Accommodation
---
More about Mudgee
Agoda.com offers a selection of the very best hotels in Mudgee, Australia to ensure your visit fits your expectations. Choose from our selection of over 78 hotels. We offer lots of promotions such as early bird offers and last minute deals. Many areas, each with a distinctive atmosphere, are just waiting to be discovered across the city. Mudgee has many attractions to explore with its fascinating past, intriguing present and exciting future. There are so many things to do, you may want to stay an extra week or so to experience them all. Save time and money with our customer-friendly booking engine that guarantees you the lowest price on hotels.