10 best hotels in Puerto Galera
Our top picks
Lowest price first
Nearest to
Best reviewed
See all
Sunset at Aninuan Beach Resort
Aninuan,Puerto Galera - View on map
"This is definitely the best hotel in Puerto Galera, the rooms in the new wing are superb and the views over the infinity pool and ocean are amazing. I have two teenage children who are difficult to please but they loved this hotel. The staff were lovely, they could not do enough for us, always asking if we wanted anything, and just being genuinely very friendly. A big thank you to Lez who kept my children entertained with his bar games! I would highly recommend this hotel to anyone who wants to experience the best the Philippines has to offer, you won't be disappointed. Already looking at returning later on in the year. "
Show more
See all
Infinity Resort
Aninuan,Puerto Galera - View on map
"If you plan on going to Puerto Galera just to unwind - away from the stress of life, this would be the place to really enjoy nature without having to forego the luxury and comfort. The villas are distinctly situated that you have a good view of the beach area plus the pool. Beds are comfortable and rooms nicely decorated & clean.The resort itself is quite far from the crowded area of White Beach. Each Villa has 3 different rooms, Executive and Deluxe rooms on the 2nd floor, sharing a common veranda, & the Premier room at the ground floor where you have 2 access doors, in front with a veranda, and the back door that leads to the main door of the Villa. The plus side is, that the whole villa could be rented for bigger families, but the downside would be the privacy for couples who would rather get either the Deluxe or Premier room on the 2nd floor level as the shared veranda is not something for people who would just really want to be alone or prefer just being with their loved ones. We were lucky that the couple beside ours just checked out that same day so we had the veranda to ourselves --- unless you are willing to spend more by getting the Premier Room. Food is okay but not spectacular. The management might want to strengthen improvements on the food and the bar part. However, breakfast was VERY GOOD especially the longganisa. The shuttle from Muelle Port to the resort was comfortable,the staff very nice and friendly --- as with most of the people we have noticed in Puerto Galera. The very relaxing pool, garden view, plus the swing added to the great points. Very relaxing indeed that if not for the booking I had with another resort and the price, I would have probably stayed longer. Yes…that's one of the downside - a bit pricey.Maybe the management could consider alternative solutions or packages to make it more accessible. For someone who does not mind spending a bit more for luxury and comfort…this is the place to be in Puerto Galera! LOVE THE PLACE!"
Show more
See all
Tamaraw Beach Resort
Aninuan,Puerto Galera - View on map
"This has been our choice of resort whenever we are in Puerto Galera - been here prior the construction of the building and pool - and the experience has always been very pleasant and memorable. I love the renovations they made - the pool is an exciting bonus. They allowed us to check in early without any extra charges, and they allowed us to change rooms given that we have a one-year old and we were not comfortable being at the top level - the view at the 3rd floor was amazing though because you have an unobstructed view of the ocean. We opted for the beachfront cabana - its proximity to the beach was very practical when you're with kids. As always, the stay was so relaxing and because we checked in on a Sunday, it was almost like we have the beach all to ourselves. The kids loved the pool. Room was spacious and clean - there's hot water in the comfort room though sometimes it's not working - not a big deal though. Staff are helpful and courteous. Will definitely come back. "
Show more
See all
Steps Garden Resort
Sabang,Puerto Galera - View on map
"This resort indeed have the best staff. We arrived at the resort before check-in time but room's available so we're allowed to check in early which was nice because we had time to rest before the tour. The room was very neat and homey. The ambiance was very peaceful and relaxing. Also very thankful for the front desk manager, Miss Shirley for accommodating all my queries and resquests during our short stay. Spent the birthday of my boyfriend there and Miss Shirley was very happy to help me buy a cake for him even in a short notice. Boyfriend was so suprised in the morning when Miss Shirley and the staff went to our room with the cake to greet him a happy birthday. We had a great stay and will definitely reccommend this resort if you want to have a quick getaway to Puerto Galera. :) "
Show more
See all
Molly Resort
Sabang,Puerto Galera - View on map
"Staffs are friendly, wifi is very fast and the room is comfortable. The view is maybe not much because of the houses and other resorts partially blocking the mountain view but can still enjoy peace and quiet. No cable tv but there are movies saved on a flash drive connected to the tv. Everything is either in mandarin or japanese, although some have english translations except the safety deposit box instructions. We didn't bother because we always bring our valuables when we go out."
Show more
See all
Lalaguna Villas Luxury Dive Resort & Spa
Sabang,Puerto Galera - View on map
"This is how i describe this hotel in Puerto Galera. Nice tidy and cozy rooms, very well maintained every day, lots of water activities to offer and best diving site to explore with experience instructor. It was a good choice , we enjoyed our stay. Keep up the great work, have a very prosperous and successful season ahead. "
Show more
See all
Jack Daniel Apartments
Sabang,Puerto Galera - View on map
"If you don't mind a little climb up the hill, Jack Daniels has nice rooms for the money. The rooms are spacious and come with a table with chairs, a safe, and a kitchenette. The pool is nice, and there is a small bar next to it where you can get a drink and a well-prepared meal. The internet and water supply were sufficient, which is not always the case in Puerto Galera. The only complaint I have is that although I was told the rooms would be cleaned every other day, they weren't cleaned. So I had to request them to be cleaned. Otherwise I enjoyed my stay."
Show more
See all
Fridays Puerto Galera
Sto. Nino,Puerto Galera - View on map
"Fridays was delightful, and we will go back again!!! This is a basically a new Resort in Puerto Galera, soon to enjoy their one year anniversary as well in Dec. 2018. The Villas are very nice, modern yet still with the natural surroundings décor. This is a great place to relax, slow down, take in fresh clean air and recharge… The staff was very attentive, kind and joyful. Thank you all for making our stay a wonderful experience : ) God Bless, Larry and Cha Staylon"
Show more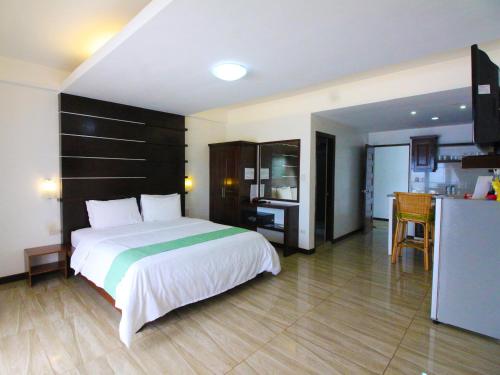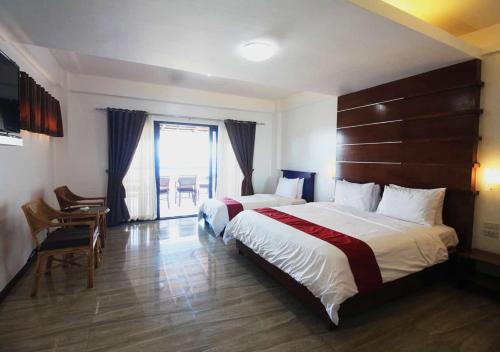 See all
Manarra Sea View Resort
Sabang,Puerto Galera - View on map
"We were 3 people from Hong Kong travelling to Puerto Galera mainly to experience scuba diving. We are quite satisfied regarding the facilities, including the pool, restaurant, massage room, room condition, etc. Although you need to pay for tax and service fee for the food you order from the restaurant, the price is very affordable, similar to outside restaurants but higher quality. I would mostly recommend the massage in Manarra Resort, which was an amazing experience and really a nice journey of the soul. The environment and atmosphere was great, they would turn down the lights and play restful music. The staff here are great, much appreciate them as they helped us to get to Batangas when the ships were canceled on July 1 and we were surprised. In a word, we were quite satisfied and it was a pleasant experience here in Manarra, thank you! "
Show more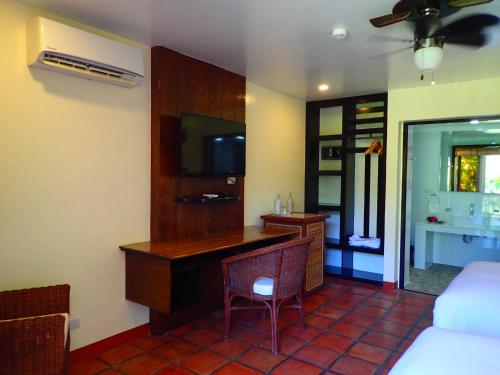 See all
Edgewater Dive & Spa Resort
Palangan,Puerto Galera - View on map
"as what the title said, me and my girlfriend felt so regretted when we realize we only booked here for just 1 night! And always been ask by my girlfriend if we could stay for another night regardless we already booked another room at white beach for the following day. We were greet warmly by the owner, Richard when he saw us walking to the resort.Then we were welcomed with a plate of complimentary welcoming fruits and drinks which is very lovely as we were exhausted from the trip from Makati to the resort. Also the Resort Manager, Paul , brief us about what can we do during our stay in Puerto Galera. while one of the staff, Marga, brief us about what can we do during our stay in Edgewater. To cut the remaining review short, The room - Tip Top comfort, just the soundproof are not that perfect. The facilities - they have spa and scuba diving, and also complimentary kayaking which me and my girlfriend enjoyed. The environment - perfect for a relaxing trip! enjoyed the starry night "
Show more
Fast facts about Puerto Galera, Philippines
| | |
| --- | --- |
| Accommodations | 305 properties |
| Popular hotel | Marion Roos Hotel |
| Popular area | White Beach |
| Nightly rates from | A$11 |
| Reasons to visit | Beaches, Nature |
Discover the neighborhoods of Puerto Galera
---
5-star hotels in Puerto Galera
---
I had the best time at Victoria bed and breakfast. The owners and staff was nice curious. They treated me like family Victoria made breakfast every morning all the food was delicious. On the top they have a bar and 2 pool tables and on Tuesday the have a tournament.
---
Victoria's B&B was a great place to stay in Puerto Galera. It has I think 6 or 7 rooms on the 2nd floor. The ground floor is the private house where Victoria lives. The 3rd floor is where the bar and 2 billiard tables are located. The toilet and bathroom is clean, the pressure of the water is not that good, but it's fine with us. There are free toiletries like toothb...
---
Our stay was really nice! The rooms felt like home away from home, it was so clean and spacious. The breakfast was also like it was served at home. Third floor is great for recreational activities like billiards and social drinking. Ms. Victoria and her husband were so welcoming and hospitable, they and their staff assisted us well during our stay and even with our tou...
---
This B&B is definitely one of the best lodgings that a person can go to if ever they plan to go to Puerto Galera. The owners and staff of the B&B are kind and courteous, the rooms are well furnished, and even if it's not situated near the beach, it's only 2 minutes away (walking distance)! Also, the breakfast is remarkable! If you're planning to go drinking at night,...
---
We would recommend Victoria Bed and Breakfast for your stay in Puerto Galera. It is approximately a 7 to 10 minute walk from the beach. The place is suitble for sleeping since it is away from the noise coming from the beach during night. Ms. Victoria, the owner, is very accomodating and responsive to inquiries. The room is cozy, clean and well-maintained. They have a r...
---
Our stay the White House in PGYC was very memorable, the house was in excellent condition (minor issues with water but that was a Puerto Galera wide issue). The caretaker was very accommodating and helped guide us to the location via phone as it is located up a hill a little off of the main road so this was much appreciated. The friendly housekeeper came in everyday an...
---
Puerto Galera's best hotels with breakfast
---
Explore more travel vacation rentals
Find the Perfect Type of Accommodation
---
More about Puerto Galera
Puerto Galera is located on the Philippines' Mindoro Oriental Province. The city is best accessed by car, bus, or boat, as there is not an international airport but can be easily reached from Manila.
Of course this coastal city is a great destination for those seeking a beachfront vacation. Places such as
White Beach
offer an alternative beach destination for those who are not making the journey into the bigger Batangas. Puerto Galera features over 30 beaches, so choices are abundant and most hotels near the beaches are located on or near the waterfront.
The
Alma-Jane Wreck
is very high on the list of destinations sought out by those who come to this region for one of its most famous activities, which is diving. The sunken vessel looks much older than it was, and offers a great opportunity for those who enjoy diving for photography with easy movement made possible by the vessel's upright position. There are several hotels located near this dive site in Sabang.
Find out where even more of the hotels, attractions, and must-see destinations of Puerto Galera are located by exploring the interactive map on this page.