Fast facts about Shantou, China
| | |
| --- | --- |
| Accommodations | 143 properties |
| Popular hotel | Shantou Junhua Haiyi Hotel |
| Popular area | Longhu |
| Nightly rates from | A$15 |
| Airport | Jieyang Chaoshan International Airport |
Discover the neighborhoods of Shantou
---
4-star hotels in Shantou
---
Good hotel with kindly staff, anyway is a little distance from walking street. Btw hotel offer a special dimsum breakfast by 52cny per room to use for every morning, I will stay here again if i've Chance to back to Shantou for sure
---
the staff are very friendly and responsive. the room is clean too.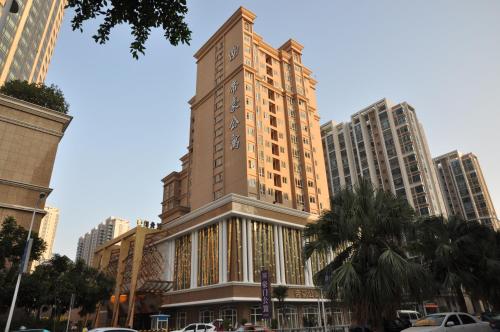 ---
This apartment is very old, and I tick the non-smoking room option but still give me a mmoking room.
---
Highly recommended hotel. The staff very nice n very clean. 1 Small think I don't like, its near the morning market so early in the morning very noisy.
---
It is a fairly clean and newly refurbished hotel. I would strongly recommend to foreign traveller who prefer clean and new hotel in town. The price is very well affordable too and the hotel is located right in the middle of Shantou City. Love it.
---
The hotel used to be a leisure centre so it's not surprised it has all sorts of leisure facilities like spa, steam and massage. However the decorations are quite dated and some are fallen apart. They really should have refurbished the toilets before the grand open last year. Apart from that, the stay was of great value considering all the free stuffs. Worth a try.
---
I picked the hotel because the price was very reasonable. Although it has a huge car park, it was always full at night due to night-club and massage parlour patrons. So be prepared that you might not find a parking space is you come back around 10pm. The room is ok la taken the rate paid. Just a clean room and no extra expectation. The breakfast was "minimal" and...
---
5-star hotels in Shantou
---
It was a very good hotel decked up with all the features, with some improvement on english speaking staff it can truly become number one hotel in Shantou
---
This hotel is 1 of the only 2 5-star hotels in Shantou. The rates are good considering it is a 5-star hotel. It is along the popular Jin Sha Street and within walking distance to many food places and shopping areas. Hotel recommended for those who wants a hotel with good facilities.
---
I will be there again when visiting Shantou.
---
To put things into perspective, Shantou is not as developed as Beijing or Shanghai so in terms of design and grandness one must put your expectation down a notch. Having said that, this hotel is extremely well located, right next to a popular shopping centre (although I hear that the shopping centre might be moving) but also, for 20RMB you can take a straight bus to an...
---
I have stayed in this hotel previously, Hotel Amenities and Services at Regency Hotel in Shantou include a well-appointed business center, 10 restaurants and bars, each with its own distinctive décor and ambiance. Both western and Chinese cuisines can be found here. The bar has some of the most exotic collections on offer. Sports and recreation at the hotel include a m...
---
Traveler impressions of Shantou
Teochew culture is well maintained. Friendly teochew people around you. Authentic teochew food and cakes.
Shantou itself is not a place where you would be going for cultural tours of any sort. it is more a city that consists of good traditional food in comparison to culture/museums.
Shantou, although as massive as other chinese cities, but is not as crowded.. There are a number of scenic spots that you can can enjoy tranquility while having gong fu tea.
A combination of traditional and modern, amazing activities, lovely style of living, parks, shopping areas; just the traffic is crazy.
Shantou's people are humble and friendly. But it is not safe to walk around at night when especially you are carrying handbag.
This is a city with lots of immigrants who become taxi drivers. The streets in the city is quite filthy comparing to Xiamen.
Not much of attractions. However, we were there to visit family. Good food and you can pretty adventurous exploring the wet markets around the city.
Visit this place for Teochew culture/history. The people speak the Teochew dialect and it would be great if you are able to converse in this dialect.
---
Shantou's best hotels with breakfast
---
Explore more travel holiday rentals
More about Shantou
Shantou sits on the coast in the southeastern corner of East Asia. It was one of the treaty ports chosen for trade with the West in the 19th century and later became a Special Economic Zone. The city has accepted many foreign investments and has economic relations with 165 countries. Business travelers are treated to an ample selection of properties within the city center and the area of Chenghai. Reaching the city is possible via the Jieyang Chaoshan International Airport.
Whether traveling on business or leisure, Shantou has plenty to keep you occupied. The city has a unique local flavor as many of the natives can be found in over 40 regions and countries of the world, bringing back what they've learned and mixing it in with local tradition. The Chao culture is well-known here for its music, operas, and cuisine. A night of dinner followed by a trip to the theater is sure to make for a memorable time in Shantou. There are several must-see scenic areas to be explored as well. Nan Ao Island is one of them and is known for the Qing Ao Gulf, Huanghua Mountain, and Marine Migratory Birds Preservation Zone. There is also
Queshi Scenic Area
with its gulf views, granite geography, springs, and thousands of caves.
Chen Cihong's Former Residence
is a great stop for history, architecture, and design, and the Symbolic Tower of the Tropic of Cancer is good for a quick stop.
Find the most suitable accommodation for you by clicking on our interactive map and exploring Shantou for hotels and must-see destinations.