Fast facts about Shaoxing, China
| | |
| --- | --- |
| Accommodations | 206 properties |
| Popular hotel | GreenTree Inn Shaoxing Lihai Dongsen Commercial Square Branch |
| Popular area | Yuecheng |
| Nightly rates from | A$20 |
Discover the neighborhoods of Shaoxing
---
4-star hotels in Shaoxing
---
Next to perfect. New hotel . Staff were attentive, Breakfast and Dinner Buffet boast a wide variety. They have a nice gym and swimming pool. Rooms is well decorated, big in size. Restroom is clean, huge, water running high. The only error was the housekeeping for to replace complimentary water on 1 of the 5 nights I stayed. Otherwise, i would say my stay ...
---
This hotel in the heart of Shaoxing is brand new. Shaoxing, which used to be a sub-city three hours of Shanghai, is now bustling with new buildings and parallel to this development is the rise of new hotels for business travellers and tourists alike. Holiday Inn Shaoxing serves as a relief for many business travellers opting to choose a more Western-managed hotel rat...
---
I have a monthly meeting within site of this hotel; taking the train to Shaoxing and back to Hangzhou in the same day can make for a tiring experience so decided to try the Vienna. There was a special rate, so it seemed a good deal, and I was happy with the decision. Very clean, accommodated my special requests on short notice and literally across the street from my ...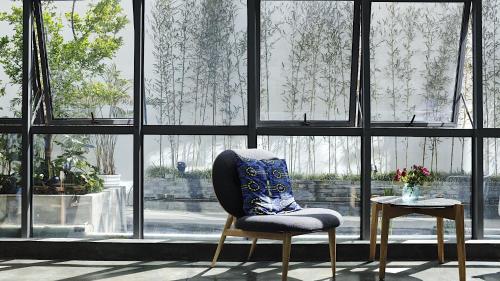 ---
If you are sick of a business hotel, highly recommended to try this boutique hotel. Nice, quiet and comfortable hotel. Beautiful greenery around the hotel.
---
If you're going to Shaoxing to source fabrics, then this hotel is best for you. It is centrally located in the business district of textile wholesalers, making it convenient for buyers to return to their hotel anytime they wish, in between meetings. This hotel also serves breakfast with Western menu, so foreigners can enjoy bacon, eggs and bread. Room and lobby is equi...
---
A wonderfully relaxing interlude in a smaller town, yet with all the modern conveniences. The staff's English was minimal, but they made up for it with their friendly and helpful manner. Rickshaw driver right in front of the hotel took us on a tour of all the sights around the city (which included waiting for us while we went on a canal boat ride), he also insisted on ...
---
We enjoyed our stay, the room is well decorated with lovely bathroom, lovely oriental themed hotel with good customer service.
---
5-star hotels in Shaoxing
---
I was immediately impressed right from the start. The staff spoke confidently in English and the doorman assisted me through a minor booking mix-up at the reception desk. I was always greeted in a friendly and inviting way on every level and area no matter what the time of day. Even the security guards were friendly and smiling. Usually I find that Chinese staff are...
---
EXCELLENT ROOM, CLEAN, VERY TOP AMENITIES, BEST FOR VALUE, JUST IN THE CITY CENTER!
---
This hotel is considered 5 star in the Shaoxing area. The service is good, and staff are friendly. Rooms are big, tidy and clean. Free wifi as well.
---
We have stayed in other hotels in Zhuji however this is the best hotel by comparison to the others even though we had to wear our coats at breakfast as it was so cold in January. However the room was very warm ! If the hotel wants to become an International Business Hotel then it should employ staff with local knowledge who speak English as this was a significant probl...
---
i booked the room but when i arrive the hotel told me i didn't book it and forced me to show them my reservation proof. after showing, they tried so hard to get me a room and let me waitied for 30 mins. i don't know what to say.
---
Had a nice two day break from Shanghai at this quiet and charming hotel in Shaoxing. Perfect for a couple looking for a weekend trip outside of Shanghai as the resort is quite romantic with cobbled streets and large villas with western amenities. Bed was better than most Chinese beds, although I still had some issues with it being too hard. TV could use more western st...
---
First time in this hotel, just for business trip to that city so cannot say if will come back or not. I can say the hotel is very good, clean, 4,5 stars. Have a very beautiful mammoth horn in the lobby and a rolls royce in the entrance. The breakfast is soso, but all rest is ok.
---
Traveler impressions of Shaoxing
If you are coming to Shaoxing from shanghai, definitely take the CHR "dong Che". It takes just one half hours! But note that it goes to Shaoxing Bei (north) station, which is a RMB50 taxi ride away.
Small town with many place of religious interest and house of famous people in the past, etc. packed together.
---
Shaoxing's best hotels with breakfast
---
Explore more travel holiday rentals
More about Shaoxing
Agoda.com offers a great choice of accommodation in Shaoxing to suit every budget. Choose from our selection of over 187 hotels. We offer lots of promotions such as early bird offers and last minute deals. Many areas, each with a distinctive atmosphere, are just waiting to be discovered across the city. Shaoxing has many attractions to explore with its fascinating past, intriguing present and exciting future. There are so many things to do, you may want to stay an extra week or so to experience them all. Agoda.com offers professional reviews and ratings of hotels in Shaoxing so you can enjoy the perfect stay.