Fast facts about Sisaket, Thailand
| | |
| --- | --- |
| Accommodations | 49 properties |
| Popular hotel | Boonsiri Boutique Hotel |
| Popular area | Sisaket City Center |
| Nightly rates from | A$8 |
Discover the neighborhoods of Sisaket
---
4-star hotels in Sisaket
---
We were here for a wedding. We booked out the entire hotel. The staff were excellent and amenable to any requests. Rooms were nice and clean. Breakfast was good.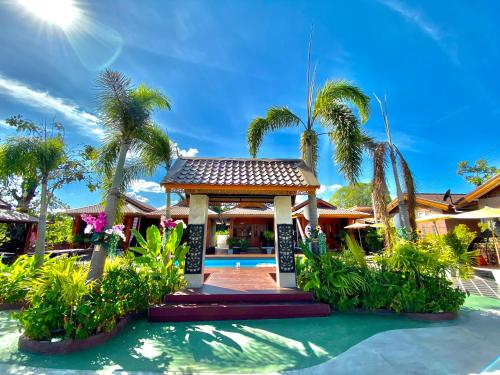 ---
Nice little and brand new huts in a quiet neighborhood. The interior and the design of the hotel are chosen very thoughtfully. The owner and ate staff are extremely friendly and are helping wherever they can. Great kitchen with unbeatable prices - even in Thailand. Absolutely nothing to complain about and we'll come back for sure.
---
Traveler impressions of Sisaket
You will find, MAKRO, BIG-C, Lotus, The PizzaCompany, MVP-Cinema, Immigration, and most other things you'll need here.
---
Sisaket's best hotels with breakfast
---
first of all for those who do not know sisaket... a hotel here comes close to a hotel in bangkok so do not hesitate because it is cheap. normally we stay in the city center, but as this location just opened we wanted to check it out. the stuff is good advised but you can find out easy that most of them still more trainee than professional but very friendly. the hotel h...
---
We were here for a wedding. We booked out the entire hotel. The staff were excellent and amenable to any requests. Rooms were nice and clean. Breakfast was good.
---
the price is very cheap, the person working there spoke no English but was friendly, very quiet location, good place to stop in transit, rooms are brand new with flat screen TV.
---
I always stay impress when I'm in sisaket really nice hotel ,clean nice rooms ,I've stayed their about 8 times now never disappointed ,would tell anyone to stay for sure as a stop off point
---
I put all 5 stars because this is the place you want to stay if you're coming to this part of Thailand. However, in terms of facilities, attention to detail and the room itself there are always room for improvement (you know what I mean if you've been around Thailand staying in family owned/built places). The villas are some of the most favorite spots I've ever staye...
---
This is my favorite B & B evee. The owner personally made us feel welcome and assisted us with a smile whenever we needed anything and even when we didnt. If you go to Sisaket stay here. It's the most peaceful place in a beautiful setting with 5 star service in all aspects. I will only stay here when I travel to Sisaket.
---
Explore more travel holiday rentals
Find the Perfect Type of Accommodation
---
More about Sisaket
Sisaket is the capital of the province with the same name, located in northeast Thailand. Having a central location in the region, visitors get to experience the heart of Isaan. Khmer ruins and local cuisine make this an attractive getaway destination. The nearest airport to access the region is found in Ubon Ratchathani.
Sisaket can serve as a great base for those who would like to explore the surrounding region. The city is the gateway to the Preah Vhear ruins, a world famous cliff-top Khmer sanctuary. Pra That Ruang Rong is said to be well worth a visit and is only 4 kilometers outside the city. But the most unique experience of all will be had at
Wat Pa Maha Chedi Kaew
, more commonly known as Wat Lan Khuad or Temple of a Million Bottles. The entire complex is comprised of glass bottles, and even the pictures on the wall are made of bottle caps. In between visits to the sites of Sisaket are opportunities to enjoy the fantastic cuisine of the Isaan region. A variety of fruits are also grown in the region, including rambutan and durian. Those looking to broaden their horizons can head out to explore Anlong Veng to the south in Cambodia or Ubon Ratchathani, the capital city of the neighboring province.
Be sure to check out the interactive map of Sisaket for information on hotel locations, attractions, and must-see destinations.