Best hotels & accommodations in Tunis
4-star hotels in Tunis
Royal Victoria
"Very good and authentic hotel just in the middle of every attraction in this city."
5-star hotels in Tunis
Tunis Grand Hotel
"This was my second time and wont be my last. The staff is the major asset of this hotel. Loooking forward to my next visit. Just a side-note: prices for items taken from the mini bar are on the high side but then it's not only in this hotel that one has to pay such prices. Otherwise everything was close to perfect. "
Show more
Hotel La Maison Blanche
"We reserved a junior suite at the Maison Blanche. It was a beautiful room with a sitting area, table, and desk. The bathroom was large with beautiful tile work. The breakfast was good, but not extraordinary. We ordered room service twice. The first time it was a bit slow, but the second was much faster. The food was ok. Nothing special. The receptionists at the front desk were always friendly and treated our children very nicely. We appreciated the free WiFi. We would stay here again if in Tunis."
Show more
Concorde Hotel Les berges du Lac
"For business only good thing is location if you have to travel outside Tunis, otherwise: - below avg breakfast - staff do the minimums - shower and toilet broke down in 2 different rooms - taxis picked up at hotel will try to overcharge you always (if you don't accept they will just drop you in middle of the road("
Show more
The Knowledge Palais Bayram Hotel
"Everything is totally overpriced, charging for everything, no water in the rooms, no nice little touches. The restaurant food taste so-so, the price is double the price of, for example Dar El Jeld, which is the top-notch restaurant in the Medina. Don't let the homepage and pictures fool you. Don't go there, there are so many better places in the Medina! The architecture of the Palais is so nice, so much wasted potential. It is a shame that the place is so poorly managed."
Show more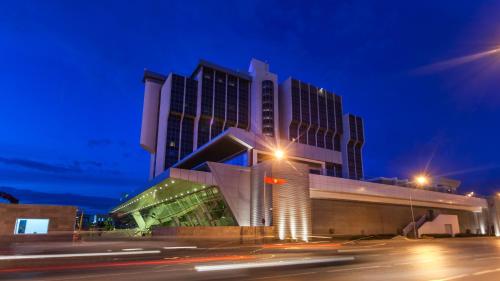 Just booked
Just viewed by other Agoda travelers
Tunis's best hotels with breakfast
Tunis Hotels near Tunis-Carthage International Airport
Find the Perfect Type of Accommodation
---
More about Tunis
Agoda.com offers a selection of the very best hotels in Tunis, Tunisia to ensure your visit fits your expectations. We offer a wide range of hotels to help you find the best place to stay in Tunis. Many areas, each with a distinctive atmosphere, are just waiting to be discovered across the city. The city is served by 1 airports which means it is accessible from almost every major city in the world. There are so many things to do, you may want to stay an extra week or so to experience them all. Save time and money with our customer-friendly booking engine that guarantees you the lowest price on hotels.