Fast facts about Udawalawe, Sri Lanka
| | |
| --- | --- |
| Accommodations | 133 properties |
| Popular hotel | GreenWood Udawalawa Safari Resort |
| Popular area | Udawalawe City |
| Nightly rates from | A$8 |
Discover the neighborhoods of Udawalawe
---
4-star hotels in Udawalawe
---
Everything about our stay was excellent! This was the best place we stayed in Sri Lanka, wish we would have booked for 2 nights. The tents were clean, big and comfortable. It was great to have AC and hot running water in the tent. The king bed was comfortable. Staff were attentive and friendly. Close to Uda Walawe park. We booked our safari through the hotel and were v...
---
5-star hotels in Udawalawe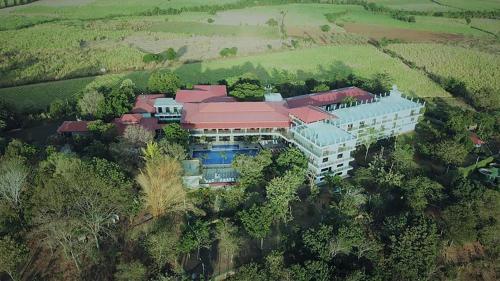 ---
New and beautiful hotel. One of the best experiences in Sri Lanka. But not all staff spoke English well, and not all staff were attentive to the guests either. There's room for improvement. The dinner was tasty but pricey. I also tried the Ayurveda massage in the hotel. The massage itself was good. But they can do better to enhance the whole experience e.g. dim the ...
---
We stayed at Udawalawe Safari resort for 2 nights after changing our booking form another hotel. We got scared off the other place after reading some horrible reviews and decided to book here instead as we needed a bit of luxury after some of our other experiences in Sri Lanka. It cost more than a couple of places we had previously stayed at, but boy was it worth it! ...
---
The Mahoora tented safari provides great service but is let down by poor camp location. Our camp location was right next to, but not inside, Udawalawe National Park. Although it was right next to the park it was located some 60 minute drive from the camp entrance. Electric fences separated the camp from the Park, so there was little chance of wildlife coming within th...
---
Traveler impressions of Udawalawe
---
Udawalawe's best hotels with breakfast
---
Explore more travel holiday rentals
Other popular destinations in Sri Lanka
---
More about Udawalawe
Udawalawe National Park is one of Sri Lanka's most beautiful natural treasures, home to wild buffalo, leopards, and of course, elephants. The park spans an immense amount of land, rivaling many natural reserves around the world, including the savannas of Africa. Udawalawe is located near the provinces of Uva and Sabaragamuwa, and is around 10 hours by train from Colombo.
The park is best accessed from Embilipitiya, which is located about 20 kilometers away and a great place in which to arrange one's local tour guide if it has not yet been done. Hotels in the area will be very helpful in arranging these tours, as the local staff are better equipped to navigate some of the language barriers and other concerns that might arise. Once in Udawalawe, the wealth of natural wonders are sure to take up plenty of time, and the sights range from the popular
Udawalawe Safari Camp
to the
Udawalawe Reservoir
and much more. This is also the home of the Elephant Transit Home, which is where the injured elephants of the area are looked after by dedicated staff. The park itself is an impressive testament to Sri Lanka's natural wonders, and it can take up several days for the dedicated travelers committed to exploring as much of it as possible. To find out where the rest of the park's attractions are located, and where all of the hotels and guesthouses are in Udawalawe, take a look at the interactive map on this page and start planning the epic journey to this impressive place.