Fast facts about Wenzhou, China
| | |
| --- | --- |
| Accommodations | 201 properties |
| Popular hotel | ibis Wenzhou University Hotel |
| Popular area | Lucheng District |
| Nightly rates from | A$14 |
| Airport | Wenzhou Yongqiang International Airport |
Discover the neighborhoods of Wenzhou
---
4-star hotels in Wenzhou
---
Staff are very nice. Some staff are has excellent english. "M" lounge staff are very friendly at 17 floor. far form Wenzhou airport.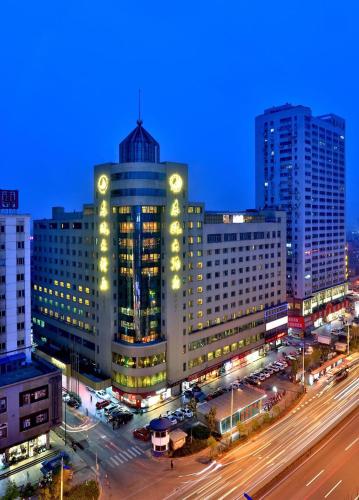 ---
This was my first visit to China for my wife and I, and we thoroughly enjoyed every minute of the experience at this fine hotel! We reserved a suite that was non smoking and we got exactly what we were hoping for. I believe we were probably the only Americans staying at the hotel at this time, but we did not have any problems at all. There are only a few staff that spe...
---
it is one of the best available hotels in Wenzhou, The hotel is in a great location in the center of the city. Many shops around the area and 500m a large supermarket store. the hotel is fully equipped accommodation suitable for business and leisure trips and not too far from the airport. Complimentary breakfast, mini bars, satellite television.
---
I stayed one night at the Dynasty which was recommend to me by a friend. I was very impressed with the staffs English nd hotel facility. No smoking and very clean, best of all was all the English channels and CNN. I will be back next month when I return to Wenzhou.
---
I recommend for business traveler and family
---
this hotel is located in the central of Wenzhou, hotel room is clean and staffs are very friendly. However, the room is very small, and breakfast is not good!
---
5-star hotels in Wenzhou
---
This is by far the best hotel in Wenzhou. It even smells wonderful, great service, great coffee too. Just ask for a "real" coffee and they will make you one from the kitchen. I'm sure its a well kept secret! Great breakfast buffet. Everything you would expect from a Shangri-la Hotel.
---
Kinho Narada Hotel is an excellent hotel and I would stay there again. It is not very close to the bigger cities like Shanghai and Beijing but the courtesy of the staff, accommodations and cleanliness make we want to travel out of the way just to stay there. It deserves a 9.
---
We could staying with best services and will staying if we'll visit to Wenzhou,again.
---
The Hotel was very nice. totally recommend the sea view it is worth the money. the island is only a couple minutes away and right next to the hotel is a travel agency where you can book different trips to mountains, waterfalls and so on. The staff is very nice and tries its best. The breakfast is very good and everything is very clean.
---
Staff was inflexible and rather looking for impediments than solving problems. I really want to stress the unfriendliness of the the lady and the manager of the frontdesk and the way they didn't help us out. They seemed to be more rigor than the Chinese immigration customs ;-) telling us our visa was over due: pointing to the date of ENTRY which was stamped by Chinese ...
---
great new hotel, really enjoyed my stay. very comfortable beds, clean bathroom, nice features and amenities. lounge and breakfast were both fantastic. the only negative thing was the shower cabin wasn't water proof, flooded half of the bathroom floor. anyway, overall i was satisfied with my stay and will definitely stay there again during my next business trip in w...
---
Room is big and clean. overall is good to stay at this hotel.
---
Traveler impressions of Wenzhou
nothing specail actually.. It is just for business place. The taxi driver are trying always to negotiation.
Bad, the street is badly develop. No way compare to ningbo. It pop up building as they wish, that why shopping is also messy.
Chin Hock James
, Singapore
The city centre is clean because you can see a lot of cleaners around, they are equipped with tongs for picking up rubbish especially small ones.
---
Wenzhou's best hotels with breakfast
---
Explore more travel holiday rentals
More about Wenzhou
Agoda.com offers a selection of the very best hotels in Wenzhou, China to ensure your visit fits your expectations. With over 221 different establishments, there is a great variety to choose from. Many areas, each with a distinctive atmosphere, are just waiting to be discovered across the city. Wenzhou has many attractions to explore with its fascinating past, intriguing present and exciting future. If you wish to pray or contemplate amazing architecture, 1 places of worship await you. Agoda.com offers professional reviews and ratings of hotels in Wenzhou so you can enjoy the perfect stay.