Fast facts about Yiwu, China
| | |
| --- | --- |
| Accommodations | 164 properties |
| Popular hotel | Ramada Plaza Zhijiang Hotel |
| Popular area | Futian International Trade Mall |
| Nightly rates from | A$16 |
| Airport | Yiwu Airport |
Discover the neighborhoods of Yiwu
---
5-star hotels in Yiwu
---
The only hotel which I can actually speak English without a hassle. I've been to many hotels in Yiwu but staff mostly could not speak any English even at the check-in counters. Everyone was nice and warm. Concierge was wonderful. One day I had no driver so I asked the staff for a cab and he managed to get me where I wanted to go without a single use of Chinese which I ...
---
I am a regular Visitor of Yiwu. In this visit I tried this Hotel first time and found it an excellent Property. The Hotel Manager Mr. Kim was there for any kind of help.Rooms are specious. Buffet Breakfast is very Good, Location is also very near to Futiyan Market. I will stay every time I go to Yiwu for sure
---
I try in the last 3 years 4 or 5 hotels in Yiwu, but this is the best, comfortable, clean, good services, really take care with you. With very good restaurant,wit chinese and western food also. I can recommend you....
---
I stayed in another 5-star hotel chain in Yiwu before. I found Pury this time so I wanted to try it. I had a great stay. Room is not big but everything in the room was great. I especially like the lighting system. They have preset warm, romantic, bright, etc ambience at your fingertips. I did not expect they have such a variety of breakfast selections. Great value ...
---
We enjoyed our stay and Yiwu residents are extremely nice people, going the extra mile to help foreigns like us. We met a 'Uber' driver who delivered sim cards all the way to our hotel knowing that foreigns cannot purchase one. Due to his personality, we decided to hire him again for our departure to the airport. He gave us his hometown rock sugar as a souvenir and dec...
---
Very nice hotel, clean, walking distance to the lake, very friendly, pleasant stay. Little far from the city center but taxi is always available once asked the front desk for taxi. Couldn't eat anything is the hotel restaurant simply because stuff can't speak simple english like I want scrambled egg for my son. It is not really a con because you will have english langu...
---
Great hotel,only one inconvience,hotel staff had dificulties to speak in English.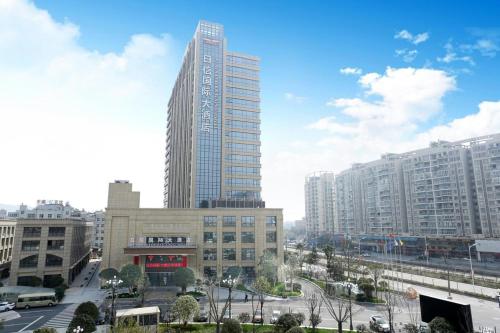 ---
overall it is a good hotel and I will book again.
---
Traveler impressions of Yiwu
Only reliable restaurant in the city is KFC and PizzaHut. Chinese food store are small, and most of the time, dirty.
There is nothing in Yiwu except the Yiwu wholesale market, so if you are not on a business trip then its hard to spend time there.
bottom line, only business travelers looking out at wholesale market Futian goes to this city. Otherwise, the city is a mess, not the best place for travelers.
Yiwu is international trade city, other than purchasing goods for business, nothing much. other sightseeing attraction is quite far from yiwu, like Dongyang, 45 minutes away, Hangzhou, 1.
Yiwu is a progressive city of trading. From the highway you will find truckloads of commodities boxed for deliveries.
Unlike many Chinese cities, Yiwu does not have a native industry unique to it (ie., electronics in Shenzhen, or oil in Gansu), nor is it strategically located like Shanghai or Guangzhou.
Yiwu is for business people who want to buy products in wholesale. Many parts of the city are dark during nightfall.
The main attraction is the Futian International Trade Mall where goods are sold wholesale. Good for business people.
It's a business city in China. This tells it all. Don't expect easy transportation, cleanliness and educated people, but Yiwu has a huge foreigners community and it's fun on a Saturday night to hit MBox Bar or Latinos Bar in Xiuhu Guangchang.
City is not too orderly, cars & public transport are driven in a chaotic manner, much like a lawless town.
- If you want to go to the Putten international markets form Yiwu Railway Station. take a No, 108 bus.
Like another small city in China, Yiwu has nothing fancy to offer except it is well know for shopping small commodities.
Yiwu is the best place that offers good variety of products for exports from clothing and fashion to other manufacturing lines at very competitive prices.
You can find a lot of food in different type at the night market. The price is cheap and the size is enough.
It is all about Futian International Trade center. Business Platform for all business people n enterpreneurs who like to seek opportunity to invest and buy local products in bulk and resell them in your own country.
Futuna market is the only one of main attraction on Yiwu, Night market is also big in the heart of city
For business it's a very good place as it has world's largest small commodities market ; but if u want to o and seek fun then be prepared to get ripped off;
This city is small but big to the world for trading. Quality and quantity maybe a hindrance to many consumers but still worth sourcing for goods continuously here.
I arrived by train from Hangzhou. The supplier I met with had a car pick me up. Took about 30-45 minutes to get to the hotel which was in the City Center
you can find many different kinds of products in the market, such as hair accessories, mirror.. etc, good for merchandising.
yiwu is not that perfect as i thought, its just an ordinary wholesale market. i dont recomend visit yiwu.
Yiwu is an international trade center. The shopping is great and there are many excellent restaurants.
YIWU if you want to find cheap goods and don't care about quality then just come YIWU. You will find a lot of cheap stuffs but the quality won't be that good.
I stayed in Yiwu for 3 days and 2 nights and i think have not shop enough. There is no tourist sightseeing spots but shop.
Yiwu is a nice place but only for business. Its a small town so there is no places for traveler to visit.
The city is very much dog eat dog; every man for himself and this can be depressing to see how selfish the locals are.
A dirty, noisy city, the people are not friendly at all, the men are rude. The air is polluted, but if you have to do business in Yiwu then stay at the Mansion International or Best Western, about the best of the hotels.
Yiwu attracted a lot of middle east ,africa and Asia businessman to source for more competitive prices of goods.
my first time to Yiwu and it's a disappointing trip, you see alot of premium cars on the street, well! they are alot of rich people around, you will not expect people here to be friendly.
---
Yiwu's best hotels with breakfast
---
Explore more travel holiday rentals
More about Yiwu
A popular draw for domestic travelers, the city of Yiwu boasts a moderate climate and a paradise for those who love to shop. Yiwu has been around since 222 BC, but it wasn't until the late 1980s that it got its status as a city. In ancient times, this mountainous area was famous for attracting poets and academics who would ruminate and create on the shores of the Xiuhu Lake. This is still a popular place to be based, and a few luxury hotels in Yiwu are on the shores with a view of the lakeside pagoda.
Most visitors in Yiwu are here to visit the
International Trade Market
, one of the biggest commodities markets in China. There is really no limit to what can be found, and the main network of markets covers an astonishing one million square meters. All of this buying and selling fosters a booming export market. Away from the shopping scene, there are only a few outright attractions that interest tourists. One of these is Luo Binwang Tomb, which honors a famous 7th-century poet. It was refurbished in the 1980s. Otherwise, Xuihu Park is a nice place to retire, and it has a few buildings that date to the early Ming Dynasty.
Accommodation is rather easy to find with many options located within the vicinity of the city's markets. Served by
Yiwu Airport
, the city and its sites are easily accessible. Be sure to check out the interactive map of Yiwu for information on hotel locations, attractions, and must-see destinations.