Fast facts about Zhangjiajie, China
| | |
| --- | --- |
| Accommodations | 496 properties |
| Popular hotel | Zhangjiajie Huatian Hotel |
| Popular area | Yongding |
| Nightly rates from | A$7 |
| Airport | Zhangjiajie Airport |
Discover the neighborhoods of Zhangjiajie
---
5-star hotels in Zhangjiajie
---
Food was not so good but overall good
---
I rarely write reviews as I'm time starved, however after travelling from Singapore to Zhangjiajie, I had a little shock on arrival. Firstly, the rooms we had booked (Shuizhai) were not available as they were under going some reconstruction even though they were available on Agoda. The staff told us that they had tried to contact Agoda to contact us to no avail. I'm no...
---
Very good location, only takes 10 minutes to airport by car and takes 2 minutes to Tianmenshan cable car station by walk. There are big beautiful park infront of the hotel. You can be provided airport pick up service by free. Very clean room and good service. But little bit noisy because of cars, I recommend get a room at the other side of big road. I will stay at ...
---
I actually wrote my review on this hotel 40 minutes after check out but somehow I don't understand its not publish and not in my draft too. Actually I don't have patience to immediately wrote because I love this hotel very much. It's the most luxurious hotel in Zhangjiajie. I never thought the room is so beautiful, Luxurious and cozy. All amenities were high end, the...
---
We felt totally hospitality, All staffs were very helpful. Just shared with our experience. 1. Due to our flight delay, we called up to postpond one day arrival, the hotel promised to refund us one night hotel fee without penalty of course with proof from airline. 2. 25th December to 29th December 2012, weather forcasted snowing and visibilty was low, so we changed ...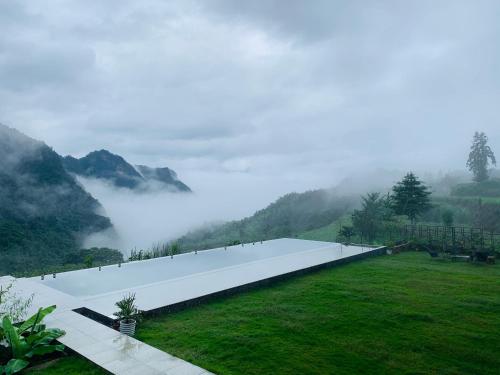 ---
Stayed here for two nights, and it was absolutely amazing. The location was breathtaking, a short bit away from town. The owners were super helpful with everything from where we should go and fixing us a driver, to serving food customized to our diets and schedule. The room and view I believe is the best in Zhangjiajie and I would absolutely recommend it!
---
The hotel is very impressive. Perfect cleaning. Beautiful and well equipped rooms The pool is not heated, so you can not enter (water in early September is already cold) The food is not suitable for Europeans at all. It takes about 10 minutes to walk from the gate to the hotel entrance if you do not have a private car
---
had a really nice time. I was traveling to Zhangjiajie for the first time and I was really nervous because it's a small place and I wanted to see the best way to see everything. the hotel staff was really helpful and their services were impeccable. the treated is like family. they showed us the map of national Forest Park and guided us on the routes to take. helped is ...
---
Probably the largest building in Zhangjiajie, only a couple of miles from the airport, and about a 10 min walk to the cable car station. Very clean hotel I couldn't really fault it. My only negative would be no one speaks English, and it's best to take a English/Chinese translation device with you. Check in and check out are no hassle tho.
---
Zhangjiajie's best hotels with breakfast
---
Explore more travel holiday rentals
More about Zhangjiajie
Zhangjiajie is found on the northwestern border of Hunan Province. The subtropical moist mountain climate makes it an excellent destination for a holiday. The city features a variety of different terrains that range from plains to mountain regions to unique Karst rock areas.
Zhangjiajie Airport
and train routes from Guangzhou, Beijing, and Zhanjiang make this an easily accessible destination.
Zhangjiajie's greatest offering to the traveler is the world-famous
Wulingyuan Scenic Area
. Popular areas that draw the most attention include
Suoxiyu Natural Resource Reserve
and Tianzi Mountain Natural Resource Reserve. Known as China's first national forest park, Zhangjiajie National Forest Park is well-worth a visit. Nature lovers, photographers, and artists will love the landscape and its forests, caves, lakes, and waterfalls. Considered Mother Nature's Oxygen Bar, these areas ensure a truly refreshing getaway. A number of other scenic spots and nearby cities add to the splendor and beauty of a retreat in Zhangjiajie.
Be sure to check out the interactive map of Zhangjiajie for information on hotel locations, attractions, and must-see destinations.