Fast facts about Samoa
| | |
| --- | --- |
| Accommodations | 113 properties |
| Popular City | Apia |
| Nightly rates from | A$39 |
Discover the regions of Samoa
---
4-star hotels in Samoa
---
In the absence of Aggie Greys Hotel in Apia, Tanoa was the only other choice. The rooms were clean and the food served at the Hotel standard. The staff were intolerable - unprofessional from check-in to check-out - they were inattentive to guests, lacked cleanliness, was solicited by wait staff for cigarettes and money - mainly because I spoke Samoan!I felt intimidated...
---
New clean room and resort with tropical gardens. Friendly and helpful staff. Beautiful location and incredible snorkelling off the resort. Perfect if you are looking for 5 star accommodation in Lalomanu
---
This trip was a very special trip for the the both of us,Myself being born in Samoa and then at 6months being taken on a plane to New Zealand to be raised by others and until now after 50 years of separation had decided to visit the homeland of My Natural Birth Mother and Brothers and Sister with My wife who is Australian,From the time we stepped off the plane and Pete...
---
We stayed at this resort for our last night in Samoa due to its reasonably close proximity to the airport. The owners Paul and Joan were lovely and provided us with outstanding service. Paul cooked all our food which was healthy, tasty and very good value for money compared to the other resorts we have attended in Samoa. The room, living area and facilities were very ...
---
Was picked up at the airport by John. He was cold at first but warmed up after a while, it was 5am so really don't blame him. On arrival we were given a written letter to ask if we wanted to pay 125 USD to check in early, we declined and decided to eat and relax by the pool instead. We stayed at the Sheraton afterwards and they provided a free early check-in and this ...
---
The place was just breath taking. Staff was nice and friendly and very welcoming. Awesome stay. I would definitely stay here again in the near future when I come back to Samoa. Just beautiful.
---
We went as a group of 8 to celebrate our mother's 80th birthday. We loved our 2brm fales which were well serviced and beautifully located in a private setting overlooking the water. Staff were friendly and the food was great, even for us fussy foodies. We would definitely recommend.
---
Incredibly beautiful beach!! Great staff. Great food. A little out of the way of everything (which has its pros and cons). Rooms are getting a little tired, but they have one of the very best views imaginable and each have a spacious balcony. Would definitely stay again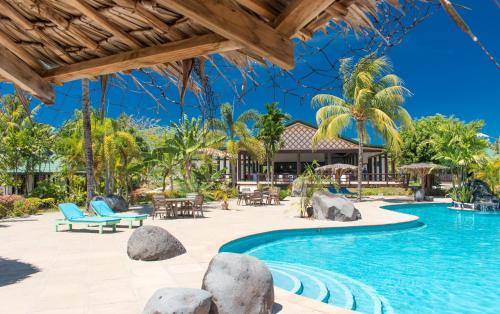 ---
Very cultural experience, beautiful beach, quaint well maintained bungalows, nice staff
---
5-star hotels in Samoa
---
It was a great stay at Lupe Sina, the owners are super nice and friendly and it was an unique experience living on a tree. We were lucky that during our stay the night sky was clear! We could see million of stars and the Milky Way! Different than our beach side resort, Lupe Sina is suitable for a complete city life get away and is also a luxury way of living in the wil...
---
Find the Perfect Type of Accommodation
---
More about Samoa
If you are looking for a holiday destination in Pacific Ocean and Australia, then Samoa is the place to go, offering something for everyone. Agoda.com offers the best prices for hotels in Samoa, with 153 hotels ready for instant reservation via our secure online booking engine. We have every main region covered, including Upolu, Savai'i, with lots of promotions such as early bird offers and last minute deals. You can find the perfect hotel at the lowest rate for stays in cities such as Apia, Salelologa, Siumu. Agoda.com offers a great range of irresistible hotel deals. Feel free to browse through our numerous hotels for the best online rates.