4-star hotels in Glen Waverley
---
Great location. Near so many good restaurants, bus stops and Glen Waverley train stations. Car park is a bit small. It can get filled quite easily. The bed is way too soft for me. But it may be ideal for others.
---
Excellent. The room was clean, modern, spacious, well appointed and well-serviced every day. Across the road from the Ibis hotel which is next to the Glen entertainment complex and Kings Way eating area which is right next to the Glen Shopping complex and the Glen Waverley railway station. And free parking space!
---
Feel right at home at Punthill Burwood, staying in any of our comfortable, modern and stylishly designed 1, 2 or 3 bedroom serviced apartments in Melbourne. Situated in a central Burwood location just 14km from the Melbourne CBD, the complex surrounds a spacious central courtyard with landscaped gardens, heated spa and BBQ facilities. Our apartment hotel accommodation...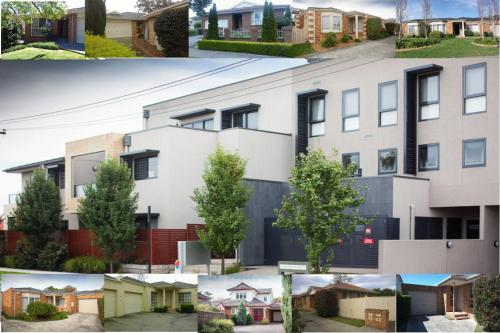 ---
Well maintain townhouse with complete appliances and utilities.Big rooms , close to the shopping centre
---
Walked in and couldn't believe our mini home away from home - spacious living area, decent sized bedrooms and 2 bathrooms. We had friends staying in nearby hotels paying the same as us for one big room for 3 people. The apartments are a short stroll to shops and train station. There were a few things that weren't amazing that I took as "teething issues" - for example,...
---
The townhouses come with everything you need for a trip to Melbourne - linen, toiletries, kitchen supplies, tv with foxtell, washing machine and dryer etc. The new owners who took over about 6 months ago are very caring and will leave you in peace or share some good conversation if you prefer. The buildings are quite old, and some features may not be working, but the s...
---
This apartment is really close to Asian restaurants and cinema and comes with free underground secure parking so it is a very good option compared to the other apartment located in Glen Central under the Park Accomodation Group which charges you for parking. However, don't be fooled by AGODA's claim that the apartment has free wifi because it is NOT FREE. The rates tha...
---
It was well furnished and everything was very clean and organised.
---
In and around Glen Waverley
---
Find the Perfect Type of Accommodation
---
More about Glen Waverley
Fitzroy offers a quiet, relaxed atmosphere with Victorian architecture in many of the buildings. The area is home to a great deal of boutiques and specialty shops as well as several restaurants and entertainment centers on the popular Brunswick Street –attracting a number of visitors for its commercial opportunities.