Fast facts about India
| | |
| --- | --- |
| Accommodations | 6,923 properties |
| Popular City | New Delhi and NCR |
| Nightly rates from | C$6 |
| Reasons to visit | Shopping, Sightseeing, Restaurants |
4-star hotels in India
---
Pros: Most important is the location. Very well located near green park market, 5 min walk from metro and 20 minutes drive to city centre. Staff is also very kind and helpfull. Feels like staying in a home instead of an apartment or rental. Only con that I can think of is the floor where I stayed. Avoid staying in 3rd floor it's a bit more noisy compared to others. C...
---
This is an old apartment complex which has been renovated and opened up as a hotel apartment on the 1st January 2017. As a result it is very clean and happens to be very centrally located. Definitely good value for money, each floor also has a lounge area & balcony for those that feel claustrophobic in hotel rooms. Would definitely stay here again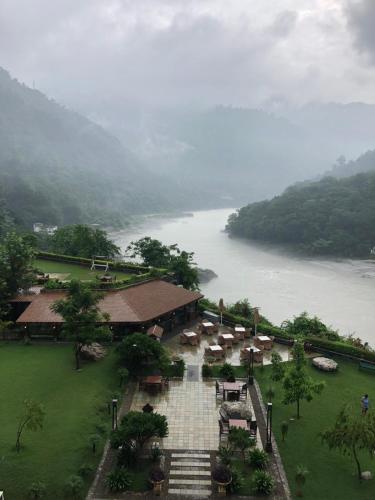 ---
Scam in the name of sighseeing Review of Aloha On The Ganges by Leisure Hotels Group Pending review We stayed in their apartment which was moderately allright and the price point compared to the hotel rooms itself was much lower. So no big complaint there You get what you pay for. But the water was leaking in the bathroom and there was bad smell. Which the owner imm...
---
Couple of friends had come over to meet us and we wanted to be closer to hotels, restaurants, night clubs etc., and this is the perfect place. Located in Banjara Hills close to all the happening places in the city. Easily accessible, close to Taj Krishna, city center mall etc., We enjoyed staying here. Very clean place and good staff
---
We were there for a wedding and the room was ready for us the moment we arrived. The staff is very friendly and helpful. The serviced apartment/hotel doesn't have an in-house laundry service but they can get it done for you (I got it done on an urgent basis in a couple of hours). The kitchen doesn't have a defined menu which is the best part about it. You can tell the ...
---
Acacia palms is really a great hotel. With best location, food is also delicious. It's well maintained property. Rooms and washrooms were clean and in good state. Ambience of the resort is very nice and beautiful. One can easily close their eyes and book this resort woth
---
This hotel served it's purpose in that it provided a place for us to stay overnight while en-route to Maharashtra. However, we won't be staying there again. Rooms are large, and come with a small kitchenette, separate bedroom and bathroom, and a sitting room with attached balcony overlooking the pool. The hotel is in a good location - in walking distance from both Ba...
---
Good :- staff are helpful. Respond to message and call on requirement is fast. Nice view on the apartment we stay at level 4. Bad :- in the cold session the hot water supply only allow you to fill up a pil there provide after it turn to cold water and have to wait 20min back to hot water. And also every night here knocking sound moving furniture sound driling sound ...
---
5-star hotels in India
---
The guest house rooms are very spacious and inside-room color and decorations are pleasing. There are enough furnitures. Only things necessary are an on-site person, who will receive the customers and on-time maintenance like cleaning a room after previous party leaves. I was given a different apt. than what was shown in the booking, although the apt. was good, just wa...
---
Nice quite safe location, far from shopping though but great for families .friendly staff ,reasonable food charges
---
Helpful , friendly staff , good service.
---
There were so many issues 1. Proper location was not clearly given even after payment... 2. Name of the apartment was not mentioned because of which had a great difficulty in reaching the place. Map location is wrong 3. Area was very uncleanly... Drainage was running above the ground... 4. Apartment was okay but lift was very uncleanly... 5. Regarding the room i...
---
Agoda customer service no is just not picked even after multiple calls. App is so inflexible that I cannot post a message. They do not provide details of customer to the property for their follow up and they have not seen the property themselves. There was no property at the location by the name provided and I was routed to. Different property 15 kms away. I will never...
---
Pros: - Clean and well managed property. - peaceful and quiet location away from the intensity of New-Delhi, but still close to a shopping center and market with everything you need. - Helpful owner. Cons: - Sometimes the family TV is very loud in late hours.
---
Staff are always reluctant to clean the room and change beddings despite one has to call them before they come. It took them two hours to get a replacement for my bedsheet the last time.Toilet is dirty with wet floor and people stand on it No common kitchen utensils,had to ask for ordinary spoon and fork the day I got there,stove is shared with other apartment,so you ...
---
Big rooms, very clean, self serve kitchen, best views, friendly staff ..not the cheapest but still amazing value for what you get
---
Find the Perfect Type of Accommodation
---