Discover the neighborhoods of Al Taif
---
4-star hotels in Al Taif
---
The staff with warm welcome and the facility of hotel awesome
---
Overall stay was ok.Room and washroom are big but decor of room does not meet standards of 4 star hotel Bed was not that comfortable as expected.Lazy staff i requested baby cot or extra pillow which they didnt provide at all during my 2 days of stay. There are lots of other good hotel in taif which you can find in same price with better services.Parking area is spaciou...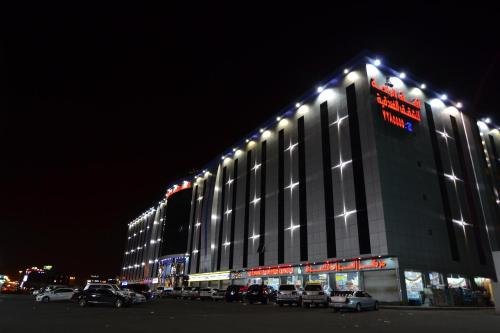 ---
Everything it was excellent
---
Meral Oasis was one the best resorts I had ever been to. The rooms were perfectly clean and neat. Swimming pool and sauna were clean except the fact that the depth of swimming pool is less which is the only minus I would say. Apart from that, its 100% worth your money.
---
5-star hotels in Al Taif
---
Since all the big players are absent from Taif, I did what I dreaded the most and booked with a local brand hotel. I was shockingly pleased because it exceeded my expectations and by a mile. Great rooms, great services and the shipping centre is down under. I liked it.
---
Rooms r clean and relaxing , I loved it, the online pictures for the room does not show how good they r , food was good too , the staff was friendly, the only bad thing is the instructions at the lobby and the dust was everywhere ( butter to use a tent to keep the dust down) overall I like it and will be my only hotel in Taif.
---
the stay was very happy , especialy it is very quiet hotel and not too much crowded. only the location which is mentioned here is wrong as the actuall location is in Al Hada not Taif.
---
Traveler impressions of Al Taif
Having lived in the major cities like Riyadh, Dammam, Al Khobar and Jeddah since 1986 I find Taif City can't compare to these destinations in terms of the activities available to the visitor.
FRANCISCO JR
, Philippines
---
Explore more travel vacation rentals
Find the Perfect Type of Accommodation
---
More about Al Taif
The unofficial summer capital of Saudi Arabia is a refreshing change from the extreme heat and crowds of Riyadh. The mountains and fields of Al Taif give it a lush and comfortable environment, and the roses that seem to fill the city give it a special charm.
Because Al Taif is located within the same province as the holy city of Mecca, non-Muslim travelers who wish to see Al Taif will have to take a special detour which will add an additional 110 kilometers to their journey, in order to make sure that non-Muslims do not go through Mecca on their way to Al Taif. Of course, it's also possible to just fly directly to
Taif Airport
and avoid the risk and prolonged drive altogether.
The climate of Taif is that of a quiet agricultural town with a much cooler breeze than its neighboring cities. This is probably why the Saudi royal family and government all relocate to Al Taif every summer. There is plenty to see around the city, most of which center around the many gardens and plants as well as mountains which surround the city. Spend a day among the roses in
King Fahad Garden
, or head out to the south of Taif to explore the popular
Al Rudaf Park
. The park is a large national park featuring granite rocks and even a zoo, the perfect destination for a day trip among nature.
There are many more parks and other attractions in Al Taif, and the best way to discover what else this city has to offer in terms of landmarks and hotels is by exploring the interactive map on this page.