Fast facts about Chitwan, Nepal
| | |
| --- | --- |
| Accommodations | 207 properties |
| Popular hotel | Hotel Wild Life Camp |
| Popular area | Sauraha |
| Nightly rates from | C$6 |
| Airport | Bharatpur Airport |
Discover the neighborhoods of Chitwan
---
4-star hotels in Chitwan
---
Our stay at hotel was good. best part was walking safari in the park where we can see three groups rhinos.our guides were excellent.Overall the stay was good.
---
Recently I have just been there with my young kids eldest 6 and youngest was 1 yrs old as well as my old dad and mom.I booked this resort via agoda.I try to contact them via phone and tried so many times finally made it.Ask them where is you location they ask me did you book the hotel I said yes I did.They ask me sorry we did not see your booking.I said why I have got ...
---
5-star hotels in Chitwan
---
After 9 days travelling around Nepal, staying here was luxury! When we arrived the staff welcomed us with cold towels and fresh juice which was just what we needed. The beauty of the hotel is unbelievable- you would never think a hotel like this exists in Chitwan. The colours of the flowers and the layout is perfect! The rooms are lovely, with a fan on the balcony it ...
---
You might have heard about hybridized travel modes like "Glamping" or "Flash Packing", but I believe the Barahi Jungle lodge has conceptualized & mastered an entirely new breed of travel experience called 'Glodging". A tasteful mix of glamorous abode in the wilds combined with regulated indulgence, eco-friendly diligence, and decadent home-style pampering! This is prob...
JayaPrasann
, United States
---
I requested airport pick-up and was quote $20 per person - there was two of us. Whilst $40 was expensive, the hotel was located in a remote place (so not real option). They sent a decrepit vehicle they used for their grocery and vegetable shopping, which was in the vehicle with us. The seat belt didn't work. Most uncomfortable journey. When we left they provided ...
---
The stay at Park Safari was a perfect stay at a good price. Ashok Arya the manager was helpful and courteous. It's a new property which is maintained nicely. The property is huge and ample parking space. Breakfast is lavish. The only minus is the Wifi Connection and the finding of property. A proper signage is required. It's a beautifully made hotel and all efforts ...
---
I spent 2-3 days here in the beginning of December. If you are looking at this property, you are here for Chitwan National Park. I cannot recommend this hotel enough. Not only was the food amazing and the staff VERY helpful and friendly but their tour guide Rajan K.C. is the most amazing and helpful person ever. The first day I took a jeep tour of the park but wanted...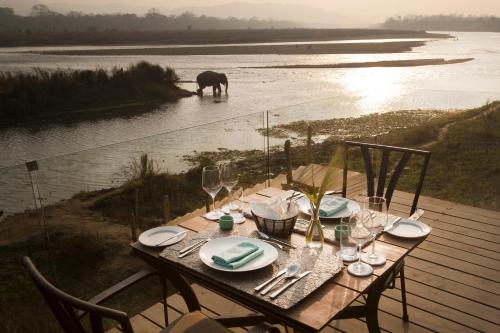 ---
This is a place where your have to spend more time to appreciate. We were in a rush and tried to fit everything in but the weather wasn't in our favor. The staff was very friendly but not completely knowledgeable. They tried to accommodate all of your wishes but I wished they were more engaging. Nevertheless, this is a very nice place to stay off the beaten path.
---
Traveler impressions of Chitwan
Nothing great about this place, except the hype. Jungle activities like Safari, river canyoning etc are very very expensive and no value for money.
Chitwan Village resort is an excellent place to stay in Saruhara. A lovely relaxed peaceful village feel place to visit in Nepal where real village life can be seen with real culture and agriculture.
A must visit to the jungle, by hiring a tour guide to bring you around to check out the Rhono. Elephant riding is a good activity to try too.
Sik Kin Ken
, Hong Kong SAR, China
Well preserved national park, we were excited by the sights of wild rhino, deer, crocs and many birds!
Chi Lin Serene
, Singapore
There is no 'city' of Chitwan National Park. Nearest public transport is at SOURAHA which is at a distance of 7 kms.
Try some activities there when you in Chitwan & it's was extremely give you the different feel of the jungle life
The park might be good, but elephant goes to few identified areas, and that is not good enough. One need to go really deep, spend most of the time in jungle to enjoy the most of the this park.
---
Chitwan's best hotels with breakfast
---
Explore more travel vacation rentals
More about Chitwan
Finding the cheapest price for top hotels in Chitwan, Nepal is easy with Agoda.com. We offer a wide range of hotels to help you find the best place to stay in Chitwan. Many areas, each with a distinctive atmosphere, are just waiting to be discovered across the city. Chitwan has many attractions to explore with its fascinating past, intriguing present and exciting future. There are so many things to do, you may want to stay an extra week or so to experience them all. Book your next trip to Chitwan with Agoda, backed by our low price guarantee.