Discover the neighborhoods of Dunhuang
---
4-star hotels in Dunhuang
---
The hotel is as good as what I expected, really enjoy the stay, the style, design, bed comfort, shower, all good, the only small things is don't expect too much of the western food in hotel lol, such as dessert. But as a local hotel in Dunhuang, I think people is not coming for eating western food, their Chinese resturant is very good, so not a big deal:) In general, i...
---
A good place to stay and location is quite convenient. Walk distance to night market is around 10 mins. The hotel intrude my room to give me the welcome snack even when I turn my "do not disturb" light on, but they immediately apologized. Overall I recommend this hotel.
---
The hotel is above average compared to regular local options but does not measure up to a 4-stars international brand. Conveniently located. Clean, simple rooms. Good value for money
---
I was received by a staff the moment i alighted from my railway transfer. She helped me with my luggage and ushered me to front desk. However, the front desk seemed to be unaware of my booking took awhile to process. Overall, the room is comfy and comes with a bath tub. Nice, will recommend!
---
This was a great place for my stay in Dunhuang. The hotel was a great value. The owner was extremely kind: set up tours for me, drove me some places, had meals whenever I wanted, let me have a really late check out (10pm) for a 23:30 flight. Even though my Chinese is lacking and her English was minimal, we communicated through apps and everything was great. I definitel...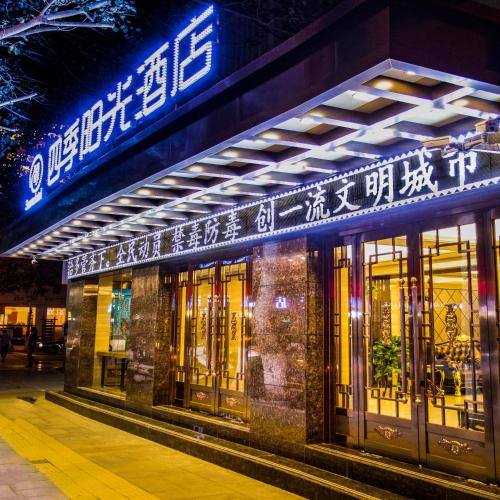 ---
Pros - front desk staff are good in providing service, advice of travel trips. Good location accessible to moukaoku. Cons - room has smoking smell. Hot water needs longer time to get in the morning.
---
Traveler impressions of Dunhuang
Dunhuang is the base for visiting Magao Caves which have Buddhist paintings dating back to 700 AD. There are other sites in the area including remnants of the Great Wall, Fortress guarding the Silk Road into (and out of) China.
---
Dunhuang's best hotels with breakfast
---
i loved the hotel. dunhuang isn't that big and it's just a short walk away to the city area. near the river and park is just a walk away. enjoy the view of the river there. very efficient service and room was kept clean all the time. i could also access the wireless network in my room. service staff were friendly and polite. excellent!
---
Explore more travel vacation rentals
More about Dunhuang
From opulent luxury hotels to kitschy boutique hotels, you can book your hotel room in Dunhuang at the lowest rate guaranteed on Agoda.com. With more than 382 hotels spread across the entire city, you are sure to find a property convenient for you. Visitors have no trouble associating Dunhuang Airport, Magao Caves with Dunhuang. The city is served by 1 airports which means it is accessible from almost every major city in the world. There are so many things to do, you may want to stay an extra week or so to experience them all. Don't delay and book today to get the best hotel deals in Dunhuang!