Discover the neighborhoods of Hluhluwe
---
Best hotels & accommodations in Hluhluwe
Cheapest hotels in Hluhluwe
4-star hotels in Hluhluwe
Zululand Safari Lodge
"Checkin was excellent with friendly staff and welcome drink. Excellent 3 course dinner in private garden surrounds with log fire and personal attentive table service. Private tree house with large balcony overlooking the forest with local wildlife in the area. Relaxing and sun baking poolside with attentive bar service. Fantastic dining area with adjacent lounge areas. Ubizane game reserve 2 hour bush drive, sunset drinks and snacks, many giraffes, zebras, a rhino and other wildlife. Very close to Hluhluwe and Imfolozi game reserve. Hluhluwe town only 5km away, only 2km from N2 highway. Overall a perfect place to stay."
Show more
Ama Zulu Guesthouse and Safaris
"Beautifully appointed rooms. Good breakfast. BBQ facilities available with Spar Supermarket about half mile distance enabling purchase of meat etc. Very friendly helpful staff. Only 13K from Hluhluwe Game Reserve."
Show more
Falaza Game Park and Spa
"pleasant. Not sure how a game farm mixes hunting parties with families viewing game from vehicles"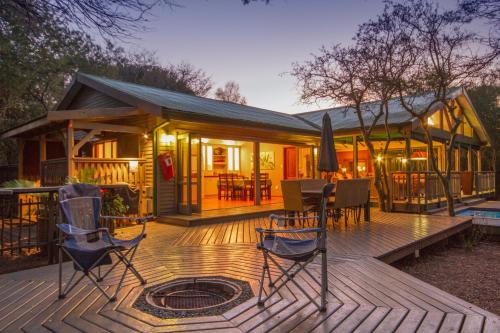 Thornwood
"Great establishment! Jacqui and her staff were great! House is beautiful, hidden deep in the cover of all the trees. My family thoroughly enjoyed themselves and there will be an encore!!! "
Show more
Just viewed by other Agoda travelers
Hluhluwe Hotels near Hluhluwe Airport
More about Hluhluwe
In the northern part of KwaZulu-Natal is the small town of Hluhluwe, set along the R22 that leads to the borders of Mozambique and Swaziland. It is in an excellent location to get out and about exploring the surrounding areas and taking in more of the South African experience. Hluhluwe has a light aircraft airport, but the majority of travelers drive in after landing at the
Durban King International Airport
.
Within reach of Hluhluwe are a number of natural splendors. To the east is St. Lucia Lake which practically kisses the coast. The lake is part of the
Durban King International Airport
which stretches to the north and south. Nature reserves and game reserves are also at hand for exploration. The borders of Mozambique and Swaziland are not too far away, and Richards Bay can be visited with a trip to the south.
Staying in Hluhluwe is easy with accommodation ranging from backpacker-friendly to luxurious. A wide selection is available near St. Lucia Lake, and there is even the opportunity to stay in the Hluhluwe-Imfolozi reserve. Be sure to check out the interactive map of Hluhluwe for information on hotel locations, attractions, and must-see destinations.