Hotels and more in Huizhou
Our top picks
Lowest price first
Nearest to
Best reviewed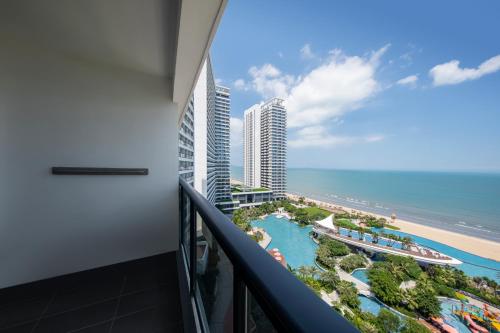 See all
Dusit Thani Sandal Woods Resort Shuangyue Bay Huizhou
Huidong,Huizhou - View on map
"When coming down from GZ-Huizhou highway, somehow Baidu GPS went via X213 (suggest go via X210) highway to the hotel. Bad and unfinished roadworks, (uneven, muddy, rocky, etc.) suitable for SUV only. Those driving to Huizhou area also have odd/even plate restriction (minus points and penalty) in July & Aug. Upon check-in, took longer than normal as they have to take picture of each guest, etc. people purchasing buffet meals also was accommodated and cut in even while doing checkin procedures. Hotel room is quite okay, big and facing the sea though some areas like windows, glass door, not properly cleaned. One English TV channel. Beach: hotel easy access, decent and clean, .and not too many people. Pool: quite big and few areas like kids area with slides, infinity pool, upper deck pool, etc. At night beside the hotel beach area(maybe only Saturday and Sunday), locals put BBQ dining area with Karaoke (out of tune and loud) and occasional fireworks. Overall: good place. "
Show more
See all
Le Méridien Xiaojing Bay
Huiyang,Huizhou - View on map
"Had a very relaxing stay at the hotel. Rooms were beautiful and clean. Beds very comfy. Outdoor pool clean and beautiful. Breakfast was satisfactory. Pancakes were fresh from the griddle. The beach was surprisingly clean. Definitely plan on returning when I need a break from the loud city. Only one con: In the rooms they provided a French press, but no coffee. When I asked, they said I can pay for coffee from the Hotel bar. I thought that was a bit deceiving, but I didn't complain because we drank plenty of free coffee at breakfast. "
Show more
Avg price per night
$ 288
See all
Hilton Huizhou Longmen Resort
Longmen,Huizhou - View on map
"We stayed for one night (with private hot spring bath) and we didn't enjoy it for the following reasons:- The service was poor. The receptionist only took our credit card and gave us our room key. When we went for drinks, the staff at the bar ignored us even though we were standing right in front of her and there were no other customers. When we wanted to pay the bill, the staff went away for a while and didn't apologise for keeping us waiting. When we entered the room, there was an awful stench coming from the toilet. It lingered the entire night. The hand towel rail was broken and fell down several times. The soap dish was wet and they put new soap on it, which soaked through the paper packaging. They only supplied one set of shampoo, conditioner, shower gel and two towels which weren't enough given that we needed extra towels after using the hot spring bath and given that we needed to shower more before and after the hot spring. The drain stopper for the hot spring was stuck so we couldn't remove after using the hot spring bath. A lot of the facilities were closed (half swimming pool, pub, spa etc). Good points would be the location was great and when we asked for extra towels and toiletries, we got them within 5 minutes. Breakfast was also good. "
Show more
Avg price per night
$ 256
See all
Pullman Huizhou Kaisa
Huicheng,Huizhou - View on map
"Everyone is in good manner, polite and helpful. Concierge captain, Ms. Betty, is wonderful, providing useful information, helping us in all aspects. Bell boys are pleasant, willing to help too. The only things is the dinner buffet can be improved. But, still very high CP overall."
Show more
Avg price per night
$ 126
See all
DoubleTree by Hilton Huidong Resort
Huidong,Huizhou - View on map
"Tea set is cheap and tasted not bad. no breakfast buffet being served due to low occupancy. Served as order. "
Avg price per night
$ 219
Fast facts about Huizhou, China
| | |
| --- | --- |
| Accommodations | 930 properties |
| Popular hotel | Le Méridien Xiaojing Bay |
| Popular area | Huicheng |
| Nightly rates from | C$16 |
| Airport | Huizhou Pingtan Airport |
Discover the neighborhoods of Huizhou
---
Traveler impressions of Huizhou
The chinese government is building inter-city railway to connect the heart of Huizhou with other city near by.
Hiu Fung
, Hong Kong SAR, China
---
Huizhou's best hotels with breakfast
---
Explore more travel vacation rentals
More about Huizhou
To the north of Hong Kong and Shenzen is the city of Huizhou. It was said to be a sleepy town on the Pearl River Delta, but the city saw an explosion of industry in the 1980s and investment from Asian, European, and American companies. It is now the world's leader in battery and laser-head production, the nation's largest telephone and computer mainboard production base, and the largest television, camera, and advanced electronics production base in China. The city facilitates travelers with the
Huizhou Airport
set about 25km to the east. The weather is ideal for travelers year round with the rainy season usually occurring between July and August.

Huizhou is Guangdong's historical and cultural city. It is also considered one of China's top tourist cities. Much of what can be seen and done comes from the land and culture of the locals. Local tradition such as Dragon Dancing in the Spring Festival and Moon Admiring during the Mid Autumn Festival can be observed, and the special customs of the Yao ethnic minority can make for a unique experience. The landscape also provides recreation and leisure. Luofu Mountain is one of the country's ten most famous, and Nankun Mountain is a popular summer escape with family inns. Longmen Hot Spring, Yongji Ecological Garden, and the Gangkou National Turtle Protection Area are but a few more spots worth a visit.

Find the most suitable accommodation for you by clicking on our interactive map and exploring Huizhou for hotels and must-see destinations.