Fast facts about Lonavala, India
| | |
| --- | --- |
| Accommodations | 1,097 properties |
| Popular hotel | Meritas Picaddle Resort Lonavala |
| Popular area | Lonavala |
| Nightly rates from | C$8 |
Discover the neighborhoods of Lonavala
---
4-star hotels in Lonavala
---
A two night's stay is far too short to explore all the facilities and make an opinion but there is a story to tell. It's an Eco Hotel but during my stay it was more of a Corporate Hotel with a total of three Company's staff put up there which outweighs families. Also, on one of the evenings they had closed the Gaming Room to convert to a Conference Room (for a Compan...
---
Duke's Retreat has by far the best views in Lonavala. Tourist spots are overcrowded and littered with debris, but Duke's Retreat has its own private view overlooking a valley and waterfalls. It's ultra quiet. There is no need to leave the hotel since its resturants serve wonderful, tasty food. Its staff keeps everything clean even when there are few guests there. ...
---
Reception staff very polite.... Online booking provides cheaper tarrif.. swimming pool is little small.... little (3/4km) away from the centre of the city... but not an issue if having own vehicle.. tariff was perhaps lower than other similar places..
---
Hotel was clean with decent rooms. Good ambience and facilities compared to other hotels in Lonavala. Food taste is average. Walking to the market at night might be a problem as there are not many street lights and hotel is about 700m inside from the market.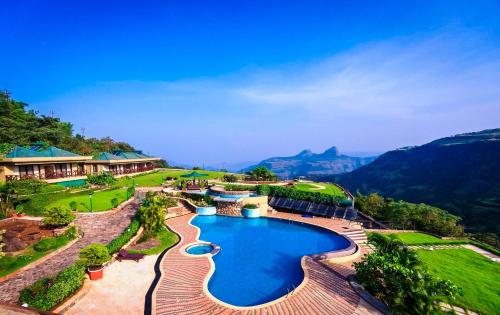 ---
I think the quality of food was not up to the mark and even the prices were too high. Otherwise the location was good
---
Hotel is situated with best location in lonavala .Though the road conditions to the hotel from main road is one of the problem ,you will forget all once u entered resort. Rooms are specious ,clean with all amenities . Swimming pool, indoor game section is value for the money. Coming to breakfast, we got variety for the same. Once again I recommend this hotel to everyo...
---
Well maintained rooms. Huge property. Food was delicious. Staff were polite. We didn't have any trouble for service except on the last day of check out when we had to wait for almost an hour for 2 cups of tea. The swimming pool was well maintained. Location wise its close to Lonavala station, 15 mins walking. The garden area looks good but the lights are turned off so ...
---
5-star hotels in Lonavala
---
Truly awesome experience with the management and staff of Fariyas Resort Lonavala. Impeccable and Awesome dining experience, wonderful rooms, great ambience, water and adventure park, bar inside the pool, all these make this Resort as one of the best places to stay. During our stay, there were festival celebrations with games, food and lots of gifts to be won. Karaoke ...
---
When I got the deal from Agoda I was in two minds whether it was worth spending 22k for 2 nights (including breakfast). But when I landed there I could feel that I have entered in a different world, when we entered our rooms it was executive one and my wife was ecstatic and just loved the perfectness of the rooms, its interiors. Smart tv, remote controlled curtains, c...
---
Because I got a great deal from Agoda and the staff upgraded my room to a 1BR Banyan suite my stay I rated 5/5. Staff n facilities n room etc are excellent. But.. but.. the management is not. When I approached the mgmt to book directly through them they charged a bomb, even after I shared agoda's rates, finally I booked through agoda where I got the rate 30% cheaper th...
---
Wow's 1) Place & Ambiance 2) Facilities 3) Rooms were luxurious 4) Front Desk Staff ( Manasi ) - she was very helpful - helped in upgrade and arranged for complimentary cake for birthday celebration 5) Good spread in Breakfast menu Bitters experience 1) Room service - literary sucks - it took 2 hours to reach the staff to cater to small request - that also with...
---
Traveler impressions of Lonavala
Lonavala is a beautiful hill station, specially in the rains, its greenery is magic. One can breathe the freshness of air, which is not possible in Mumbai.
Scenic place with good nature pleasant smell !! Nice green environment!! Out of metro !! Quiet place to enjoy the vacation! Travel in summer for best enjoyment!! Better to go with family to have fun
Lonavala is best in monsoon.Frequent rainfall, water streams and water falls all around. Green Valleys and foggy mountains, it is really wonderful experience for nature lovers.
Della & Amby Valley are a must visit places. Others include bushy dam and other waterfall sites. Overall a value for money holiday destination
---
Lonavala's best hotels with breakfast
---
Explore more travel vacation rentals
Find the Perfect Type of Accommodation
---
More about Lonavala
Lonavla is a natural escape in the Indian state of Western Maharashtra. About 90km from Mumbai and 65km from Pune City, Lonavla is easily accessible via road and
train
. Coming in via the road is considered the most charming way to arrive and isn't a taxing journey with nearby airports in both Mumbai and Pune.
Travelers come to Lonavla for its natural offerings. Several sites provide incredible panoramic views while others offer a chance to escape amongst the natural elements. At
Rajmachi Point
, travelers get incredible views of the valley and the Shivaji's famous fort. Tiger's Leap boasts a 650-meter cliff with extensive views, and a small waterfall in the area provides opportunity for relaxing under the force of the flow. A waterfall near
Bhushi Dam
is also popular. Hiking areas can be found in such areas as Duke's Nose and Lohagad Fort, and excellent picnic locations are found in the area of Tungarli Lake and Ryewood Park. Lonavla Lake, Karla Caves, and the theme and water park of Adlabs imagika and Aquamagika add to the leisure and recreational options travelers can enjoy.
Find the most suitable accommodation for you by clicking on our interactive map and exploring Lonavla for hotels and must-see destinations.