Fast facts about Lucknow, India
| | |
| --- | --- |
| Accommodations | 1,344 properties |
| Popular hotel | Golden Tulip Lucknow |
| Popular area | Gomti Nagar |
| Nightly rates from | C$6 |
| Airport | Chaudhary Charan Singh International Airport |
4-star hotels in Lucknow
---
The staff is extremely friendly and the rooms are very comfortable and have all necessary amenities in them. One of the best hotels in Lucknow if you consider the location and tariff in comparision to the comfort and convenience of staying here.
---
The Ramada was a very interesting stay...i had some important family business I was attending to.and they went out of their way to be helpful and get me everything I needed and provided a wonderful hotel English speaking driver/car to take me to a destination 3 hours away. They really were wonderful. Thank you so much everybody!!! The hotel is gorgeous!! It's very ...
---
v surprise tat svc was extremely gd in a 4style hotel in lucknow. front desks n manager were v helpful. free wifi is a big plus!. i love d wide n gd selection if fd ij their cafe. v tasty menu except for d chinese cuisine. love to location , cleanliness n modern facilities
---
Best located , staff are very helpful, cleanliness is good, easily accessible, strongly recommend for anyone who wants to visit Lucknow
---
This hotels offers a comfortable stay in an excellent location in Lucknow. The staff try hard to be nice, helpful and attentive. I really appreciated the early morning breakfast at 6am delivered to my room. The check in staff were very nice, ready to WhatsApp me when the room was ready (I arrived very early). The room has a fantastic sitting mat under a huge window - p...
---
I booked this hotel at the last minute when I arrived Lucknow, but thanks God, my choice is so right! I found out later this hotel is very new, just operated less than one year, so all the facilities are in good condition. And the location is very nice, just next to the Wave Mall. So it's very convenient. I'll suggest my friends to come this hotel. And the breakfast i...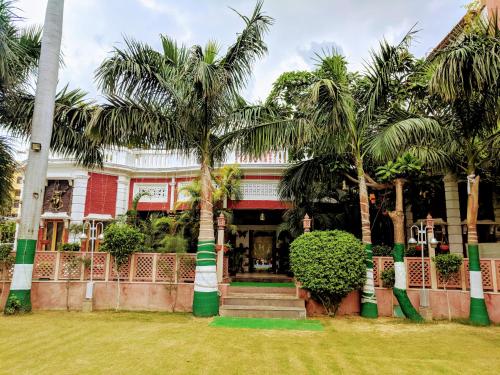 ---
We booked 2 rooms for 1night and the other rooms for 1 night(consecutive booking). I have settled all those expensive to cover both period. But when my cousin who stay in the other room check out. The receptionist need them to pay for room rental again. Even they show the receipt to them, they STRONGLY denied it and NEED us to pay TWICE! What a miscommunication and imp...
---
Just a decent hotel to stay however had difficulties at the shower were in the water was leaking outside the shower space, the staff did cleaned it however were in not able to fix a permanent solution, overall all a good 4 star stay. Reception staff was friendly in accommodating us.
---
Really good, clean and comfy stay! I did two separate bookings as I went to Agra in the middle of my trip and they did well to keep our family of 8 close by (same floor etc.) for both my stay. We landed in Lucknow quite late and they have been nothing but welcoming. Furthermore, they started the breakfast earlier for us on the day we left for Agra. Value for money i...
---
5-star hotels in Lucknow
---
Nothing stirs up Lucknow nostalgia as Hazrat Ganj and nothing comes close in Hazrat Ganj to a fine hotel and good food than Clarks - my paternal side use to hang out there for beer (and more) The place still has a charm which not many 4* hotels of its time retain - always good for the top floor dining - staying in or not
---
It was an excellent, wonderful and unforgettable experience during our (me and my wife) stay at Hilton Garden Inn Lucknow. The location, service, facilities, cleanliness, staff's service, amenities, food and room are excellent. The overall services and facilities are excellent. We enjoyed our stay at Hilton Garden Inn Lucknow. It is full worthy for the value of money. ...
---
A really pleasant stay away from the noise of the centre of Lucknow. This hotel is a high quality and very tasteful conversion of a 1930s mansion. The food was excellent and all the staff could not have been more helpful. The hotel was very clean.
---
Piccadilly Lucknow impressed me a lot when we reached and were welcomed in the Lucknavi (Nawabi)manner. Reception Front desk staff was very cooperative and cordial. We reached early morning around 10 but Hotel Manager, Mr Arprit arranged to give us a room so we could relax. Room was spacious enough on the third floor and neatly done. No disturbances around. The only ...
---
I have stayed many times in hyatt and it's totally value for money. Must stay here if visiting Lucknow. Staff is very friendly and service is great. 👌 👌
---
It's a great place to stay when you are going for rooms that are not big enough but that feeling of luxury is huge enough. + the staff is better than the 7 stars I have been in. Kudos on the hospitability,
---
I booked the Hotel on my Z-10 at the airport when my flight was cancelled due to bad weather. It was a longish drive in a cab to the property. Had stayed the previous night at the "worst" star Hotel in India (Clarks Avadh at Lucknow) and was wondering what surprises lie in store for me. The property was beautifully lit at night-lovely garden in front-luxurious lobby-ve...
---
Traveler impressions of Lucknow
Worst of my vacation experince this time since first time to Lucknow. Traffic flow and and congestion is bad and the city is very dirty and dusty
Lucknow is off the main tourist circuits so one is more of a novelty i.e. lots of staring! There are so many things of historic interest to see both from the Nawab and Raj eras.
after mayawatis ambitious park and other historical places , this city visit is a must in many aspects.
Good place to visit, lot of historical places of importance as sightseeing, delicious muglai food to eat.
It is a very old historic city with lots of Mogul era monuments and many parks. The city is however extremely over populated and congested.
having visited Delhi, Agra, Jaipur, Amritsar, Shimal, Chandigarh, Lucknow and Varanasi thus far, Lucknow and Shimla would be the two standout places that I would spend time in once more.
---
Lucknow's best hotels with breakfast
---
Explore more travel vacation rentals
More about Lucknow
Located in the Northern Indian state of Uttar Pradesh, Lucknow is the cultural, political, and business capital of this area. The city can be reached by plane from nearly all major parts of India including Delhi, Mumbai, and Bangalore, as well as connections to major cities in the Middle East, including Dubai, all arriving at
Chaudhary Charan Singh Airport
.
Lucknow has a very rich cultural history, and today the city is home to many old buildings, places of worship, and many places in which to experience the distinctive local cuisine and cultural scene of this region. The
Ruins of Lucknow Residency and Museum
is a great place to start this exploration, as the museum was once the scene of the 1857 battle for independence from the British. It is now a great place in which to enjoy a respite from the heat and noise of the city, instead taking a relaxing stroll among the leafy and shaded grounds.
The complex tomb systems of this city are another attraction that should not be missed while in Lucknow. One of the more famous of these is
Bara Imambara
, which features an impressive labyrinth, an interesting way to spend an afternoon. As Lucknow is a very large city, the hotels are spread out across the different districts and many can be found right in the city center, perfect for seeing the most popular attractions without having to travel too far outside of the city center.
Find out where the rest of Lucknow's hotels, attractions, and must-see destinations are located by exploring the interactive map on this page.