4-star hotels in Rabat
---
the hotel room was large enough to be comfortable, with modern furnishings and quite clean. the hotel staff were quite accommodating, for example in finding an adapter for me to use with my u.s. computer plug. the limited buffet breakfast seemed expensive at over u.s. or dirhams. the elevator was under repair and could only be sent to a floor from inside the elevator,...
---
The major international airport in Morocco is in Casablanca. So I had to take a train from Casablanca airport to Rabat. Majliss Hotel stands right next to the central station (Rabat Ville). This is really wonderful, because there is a tram stop just outside Rabat Ville station as well. This hotel is clean and comfortable. Staff is friendly. Breakfast is standard kind ...
---
Booked 2 rooms at this hotel. Requested one room with a large bed. Morning staff said this will be available after and given to me at 1 pm. At 3 pm, a different staff member said she was not aware of this. Air conditioner blows air but it is not cold. Breakfast opens at 7:OO the sign says. The restaurant opened at 7:07am. The eggs arrived at the buffet table at 7:30 am...
---
very modern décor, recently renovated. excellent location close to Mohamed V and Medina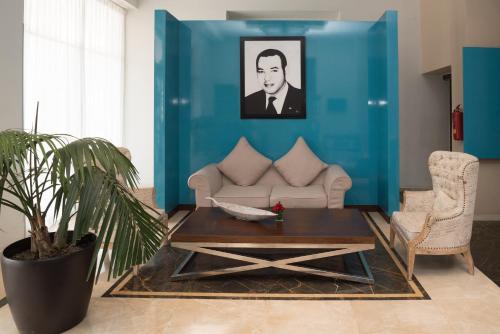 ---
If you plan to travel between cities with luggage this is the ideal hotel to stay since Rabat Ville state is 5 mins walking distance from the hotel.
erum
, United Arab Emirates
---
5-star hotels in Rabat
---
Have used this hotel 3 times already and I keep going back simply because its great. Besides the spacious rooms it is also a great place to go back to after a hot day of meetings where you can chill out at the pool or the beautiful garden. Restaurants are pretty good too.
---
Best hotel in Rabat! Great location.
---
Traveler impressions of Rabat
---
More about Rabat
Finding the cheapest price for top hotels in Rabat, Morocco is easy with Agoda.com. Choose from our selection of over 395 hotels. We offer lots of promotions such as early bird offers and last minute deals. The vibrant city plays host to some of the country's most famous landmarks such as Rabat-Salé Airport, Flea Market, Kasbah des Oudaias. The city is served by 1 airports which means it is accessible from almost every major city in the world. There are so many things to do, you may want to stay an extra week or so to experience them all. Save time and money with our customer-friendly booking engine that guarantees you the lowest price on hotels.