Hotels in Shenzhen
Our top picks
Lowest price first
Nearest to
Best reviewed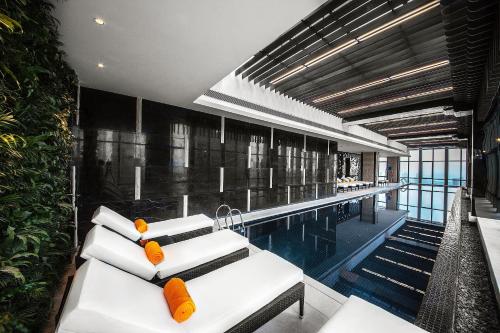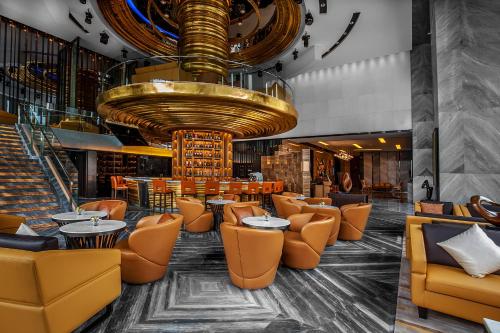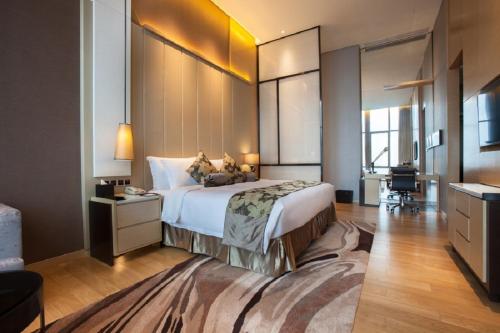 See all
Shenzhen Wyndham Grand
Futian District,Shenzhen - View on map
Free Wi-Fi
Swimming pool
Free parking
Fitness center
Restaurant
Bar
Family room
Balcony/Terrace
"I usually stay elsewhere in Shenzhen, but tried the wyndham for a change and was really impressed for the price. it's a 5 star for what matters. what I like about wyndham in china is they also have European of north American staff on rotating training courses there so you can always speak to someone in English is you need to for more complex things. it's been helpful in the past."
Show more
Avg price per night
$ 174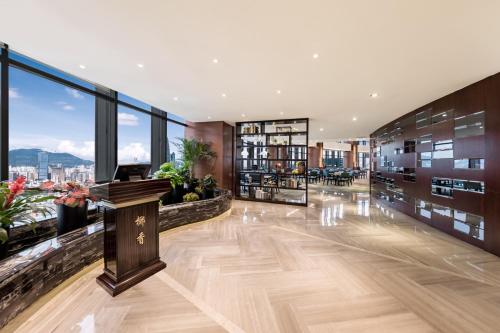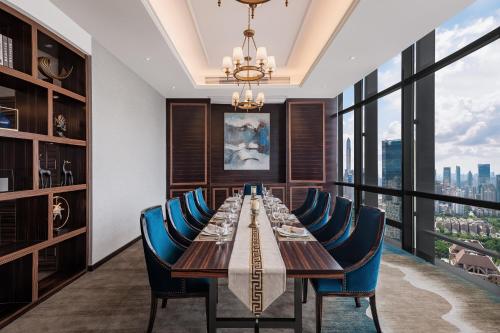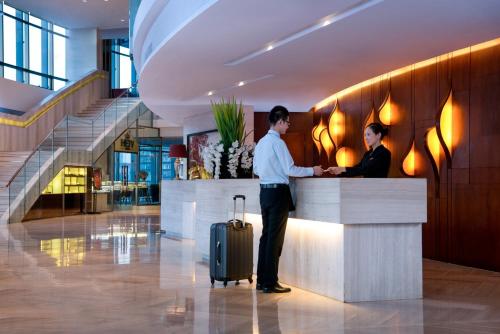 See all
Huaqiang Plaza Hotel
Huaqiangbei,Shenzhen - View on map
Free Wi-Fi
Free parking
Fitness center
Restaurant
Family room
Express check-in/check-out
Room service
Breakfast
"just got back 2 days ago. this was my last hotel of the trip. stayed for 2 nights. this was the best of all the hotels. my room was on the 26th floor. incredible view of the city! (this hotel starts on the 23rd floor up to the 36th) so nice view on all floors... starbucks on the first floor. great way to start the morning. long story short, i will only stay at this hotel in shenzhen from now on. "
Show more
Avg price per night
$ 114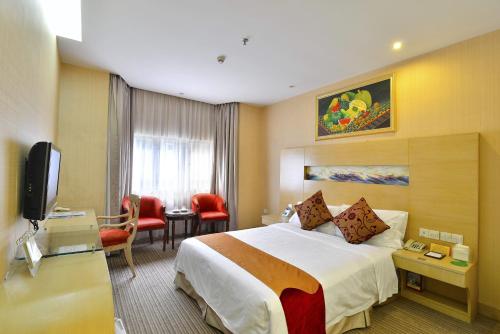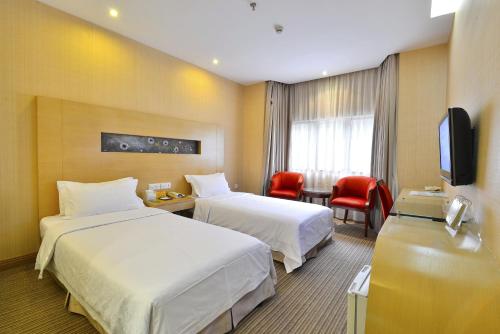 See all
Shenzhen Sunon Hotel
Luohu District,Shenzhen - View on map
Free Wi-Fi
Free parking
Restaurant
Massage
Bar
Family room
Pets allowed
Balcony/Terrace
"I was there 5 nights. Good value for the money. I bought "membership" for 50 yuan and for that they washed 2 garments per day free. The breakfirst was for Chinese people and not for me. The room was rather big and very clean.Dongman street is the best shoppingcenter for clothes in Shenzhen if you want buy cheap. Very quet during the nights. If I come again to Shenzhen I want stay at this hotel.The subway is very near the hotel and from the border Louhu it is only 2 stops with the green line. Erland "
Show more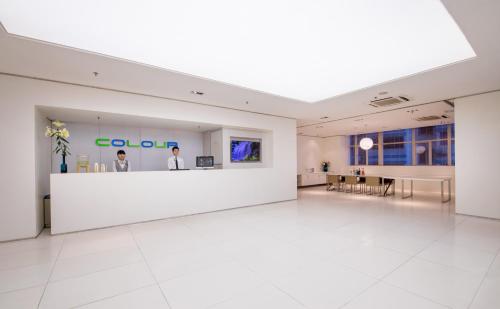 See all
Colour Inn Shenzhen (Dongmen Branch)
Luohu District,Shenzhen - View on map
Free Wi-Fi
Car parking
Family room
Express check-in/check-out
Room service
Luggage storage
Front desk [24-hour]
Check-in/out [private]
"This will be my goto hotel in Shenzhen from now on. Staff was very accommodating, despite limited English. Location was one street parallel to the main Shopping Street in Dongmen. Subways were less than a 5 minutes walk. Lots of local eating places, cheap. A bit harder to find mid-level restaurants with table cloths! Extremely comfortable beds and air-con matched the ultra-comfortable 2 inch thick comforters. Housekeeping was staffed throughout the day and linen was changed daily. Breakfast was adequate, though not geared towards Western palate beyond toast with butter and jam. And custard egg tart. Need to especially mention the free laundry service that turned around in about three hours!"
Show more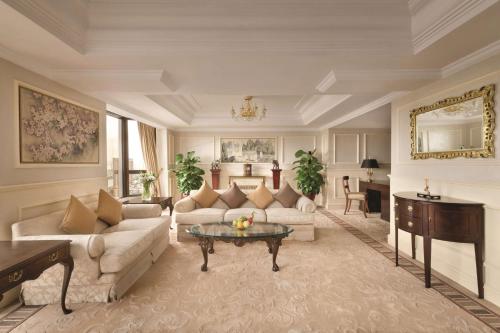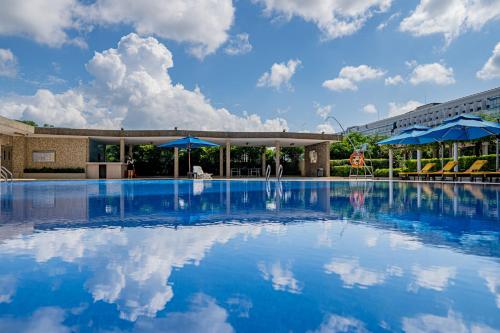 See all
Shangri-La Shenzhen
Luohu District,Shenzhen - View on map
Free Wi-Fi
Swimming pool
Free parking
Fitness center
Restaurant
Spa
Massage
Sauna
"First trip to CH, so a little unsure of what to expect. I arrived on HK MTR East rail and cleared CH customs in about 20 minutes. Rail trip from HK took about 30 minutes from Kowloon station. Best way to get there from HKG airport is Airport Express train to Hung Hom station. Taxi to Kowloon Station, then MTR East rail to Lo Wu. Trains run from 5AM to 1AM, and pretty frequently. I waited about 5 minutes for both trips. Ticket vending machines are easy to find and to use, but only take HK$. Any manned station can take credit cards, though. $33HK or $66HK First Class (FC cars are at the front of the train going to CH, at rear coming back. Standard fare cabin is fine, but FC has more cushy seats I got on the wrong end of the train coming back, so I had that experience. Walked out of the customs house and Shangrila was right in front of you. Can't miss it. Cross at crosswalk and you're there. Shopping mall at Shenzhen station on the right hand side with lots of CH-touristy stuff for sale. Once at hotel, walk in and the staff goes out of their way to please. Pretty hostess took me to my room and explained amenities. Fruit and bottled water in room, and internet is free. Food is very good, and fairly cheap by HK standards. Buffet in the Coffee Garden has pretty much anything humans eat for breakfast anywhere on the planet. Change currency at the hotel desk, and get current rates with no service charge. Also, get a receipt to allow re-exchange at the same rate for 24 months. Oh, and a smile and a Thank you. With an occasional English language translation problem, there was always someone close whose english was OK. (Their English is MUCH better than my Cantonese, and I was a guest in THEIR country!) Concierge very helpful with taxi service to get you where you need/want to go. They give you a business card with return address in Chinese to give to taxi driver for return trip. I was all over Shenzhen with no problems. All in all, great hotel, with price ab"
Show more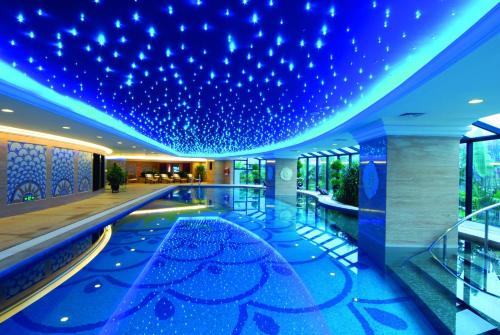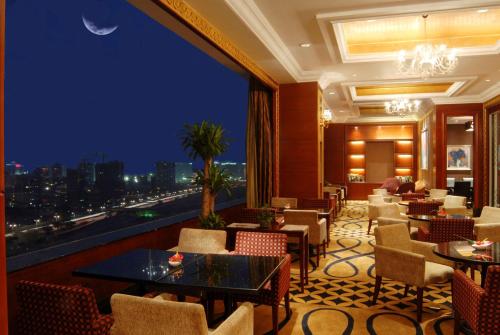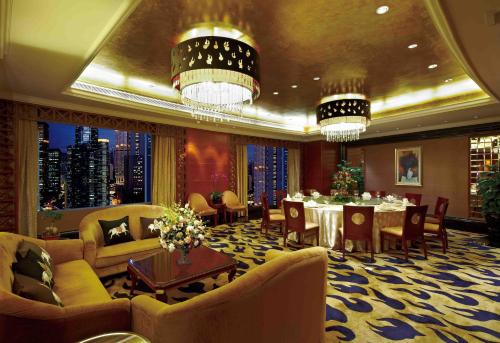 See all
Kempinski Hotel Shenzhen
Nanshan Shekou,Shenzhen - View on map
Free Wi-Fi
Swimming pool
Free parking
Fitness center
Restaurant
Spa
Massage
Sauna
"This is one of the best hotel in Shenzhen and value for money, its location is perfect for most business travellers."
Avg price per night
$ 161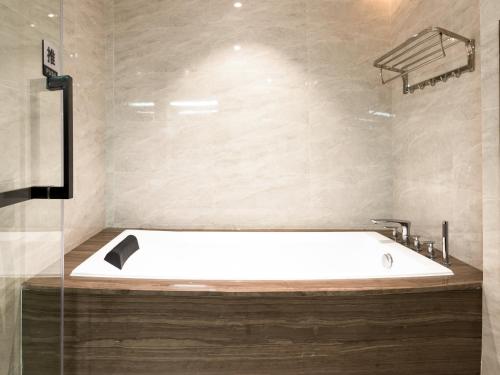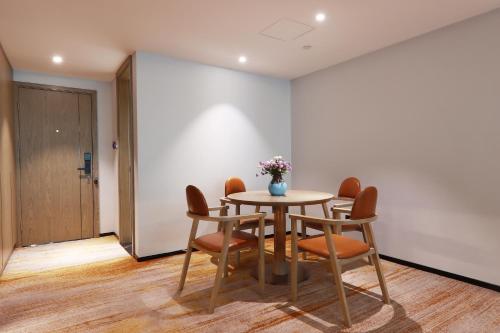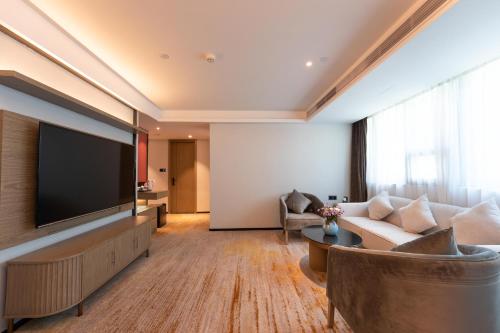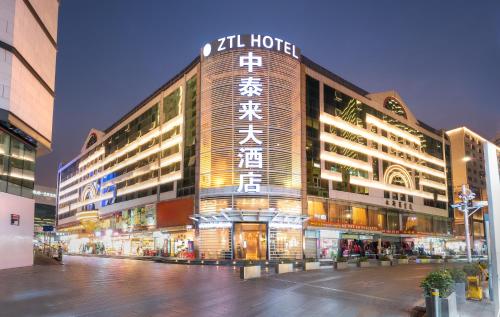 See all
ZTL Hotel Shenzhen
Luohu District,Shenzhen - View on map
Free Wi-Fi
Free parking
Fitness center
Restaurant
Bar
Family room
Salon
Nightclub
"I really enjoy staying in DaysInn hotel in Shenzhen. Hotel staffs are friendly. Hotel is very near to shopping area, Dongmen and MTR(laojie)station. On top of that, the hotel has been very well maintained as I compare to my last trip. This is my 2nd time staying with DaysInn hotel."
Show more
See all
Best Western Premier Shenzhen Felicity Hotel
Luohu District,Shenzhen - View on map
Free Wi-Fi
Free parking
Restaurant
Spa
Massage
Bar
Family room
Garden
"Of all the hotels I have stayed in during 30 years, I experienced the best service from the staff at this hotel.They went over and above the normal requirements of service to meet my needs. The room was of a good size, well furnished and extremely clean. The bathroom was well stocked and furnished, very clean, plenty of hot water, fluffy towels and robes.The view of the river from the rooms at the back of the hotel is great. The buffet breakfast would satisfy both western and Asian tastes and the restaurant staff speak some English. I highly recommend the Best Western Felicity Hotel in Shenzhen and I will return there in a few weeks."
Show more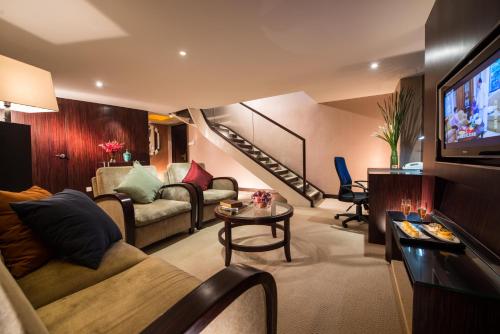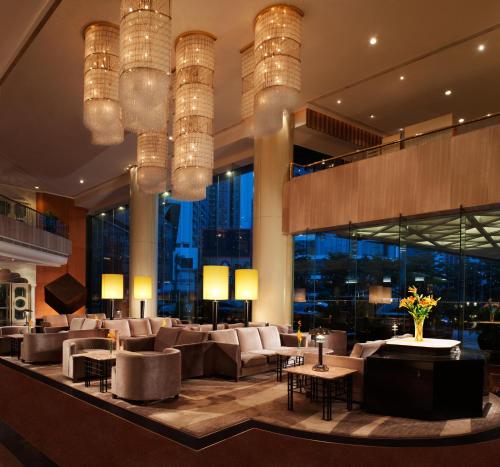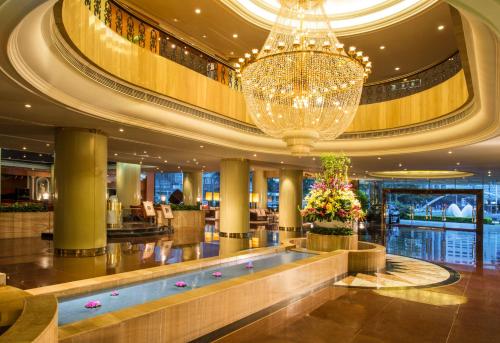 See all
Sunshine Hotel
Luohu District,Shenzhen - View on map
Free Wi-Fi
Swimming pool
Free parking
Fitness center
Restaurant
Spa
Massage
Sauna
"This is a best hotel in Shenzhen which does not have a big brand like Marriott, Westin, etc but still gives you all the luxury and comfort you wanted. I will recommend this place to every foreigner as getting the hotel staff speak decent English is a big deal in China and above all everyone is very helpful and polite. The breakfast was no less than a Marriott breakfast buffet and has good vegetarian option (good for people like me). Another plus point of this place is you have nice night clubs and SPAs at a walking distance which makes your life easier as you need not worry about Taxis. I am going to choose this place whenever I am in Shenzhen going forward."
Show more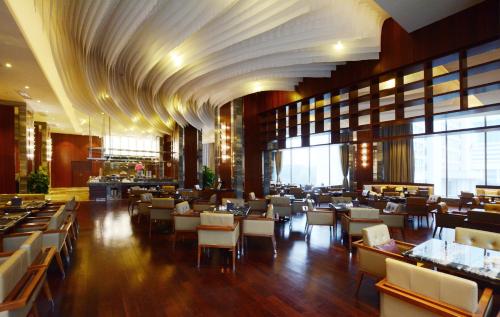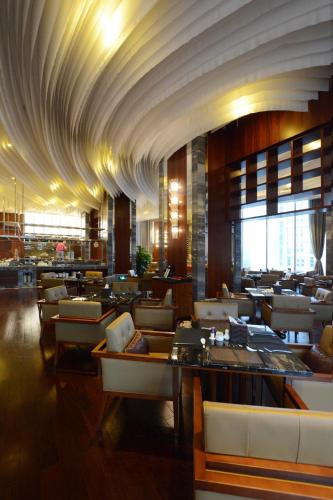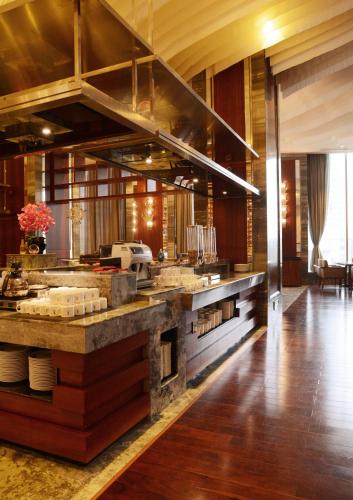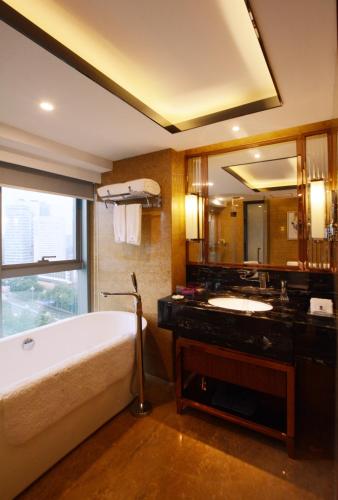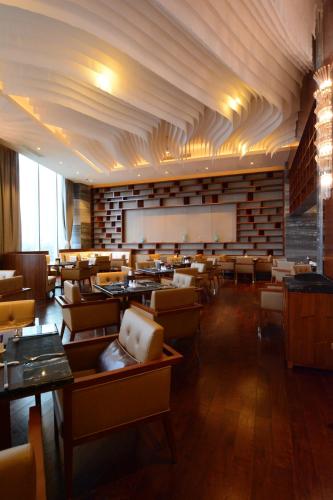 See all
Sentosa Hotel Taoyuan Branch
Nanshan Science and Technology Park,Shenzhen - View on map
Free Wi-Fi
Swimming pool
Free parking
Fitness center
Restaurant
Spa
Massage
Sauna
"The hotel itself is a beautiful, refined space while the rooms are clean, spacious, and comfortable. A host of free in-house movies is a nice bonus too. Service is good and the facilities aplenty - restaurants, bars, lounge space, a mediocre gym, and a large, gorgeous, infinity pool. It's a bit far from the main parts of Shenzhen but it's <5 minutes from an MTR stop and adjacent to a mall with some good shops and restaurants. Honestly though, one would kind of expect more luxury and more over the top service for this price. The place is nice, don't get me wrong, but it felt like a Hilton at the price of the Shangri-La."
Show more
Avg price per night
$ 175
Fast facts about Shenzhen, China
| | |
| --- | --- |
| Accommodations | 10,996 properties |
| Popular hotel | Hard Rock Hotel Shenzhen |
| Popular area | Dapeng |
| Nightly rates from | C$8 |
| Airport | Shenzhen Bao'an International Airport |
| Reasons to visit | Shopping, Business, Sightseeing |
Frequently asked questions
What's the typical price of a property in Shenzhen this weekend?
The typical price for a 3-star hotel in Shenzhen this weekend is USD 46. The average price for a 4-star resort in Shenzhen this weekend is USD 59. The typical price for a 5-star property in Shenzhen this weekend is USD 130.
What's the typical price of a property in Shenzhen tonight?
The average price for a 3-star hotel in Shenzhen this evening is USD 46. The average price for a 4-star property in Shenzhen tonight is USD 60. The typical price for a 5-star hotel in Shenzhen this evening is USD 132.
What are the most suitable resorts found in Shenzhen which have bars?
Hotels with bars located Shenzhen that are well rated include Artisse Place, Artisse Place and ANTHEA HOTEL.
What are the top hotels in Shenzhen with fitness center?
A place to stay that offers fitness center located in Shenzhen which is exceptionally rated is Kaijia Hotel.
What's the top rated hotel in Shenzhen next to a golf course?
Highly rated accommodations around Shenzhen close to a golf course include Wales international Hotel Apartment and Shenzhen North Station Air-conditioned Bedroom.
What's the best destination in the center of Shenzhen?
The best neighborhood in the center of Shenzhen is Huaqiangbei.
What's the best location with nature getaway in Shenzhen?
Best nature escape neighborhoods in Shenzhen are Yantian District, Futian District and Shenzhen World Exhibition & Convention Center.
What's the best district which has luxurious hotels in Shenzhen?
Top areas that has posh hotels in Shenzhen are Futian District and Nanshan Shekou.
Are foreign tourists allowed into Shenzhen?
International visitors are partially allowed into Shenzhen, based on our most up-to-date information. Due to evolving restrictions, we recommend you visit here for further details.
Is proof of vaccination needed to enter Shenzhen?
Proof of COVID-19 vaccination is not required to enter Shenzhen from outside the country. For more details, please speak to local authority or visit here.
Explore more travel vacation rentals
More about Shenzhen
Discovering Shenzhen: Fun Facts and Reasons to Visit
Shenzhen is a modern metropolis located in the southern part of China. It is a city that has grown rapidly and is now one of the country's most important economic hubs. But despite its modernity, Shenzhen is also a city with a rich history and culture. Did you know that Shenzhen was once a small fishing village? It only became a city in 1979, and since then, it has grown to become one of the world's most innovative and dynamic cities. Today, Shenzhen is a popular destination for travelers who want to experience the best of China's modernity and tradition. One of the main reasons to visit Shenzhen is to experience its unique blend of old and new. The city has a rich cultural heritage, and there are many historic sites to explore, such as the Dapeng Fortress, which dates back to the Ming Dynasty. Shenzhen is also home to some of China's most innovative technology companies, and it is a hub for cutting-edge research and development. If you're interested in technology, you'll find plenty to see and do in Shenzhen.
How to Go to Shenzhen: A Comprehensive Guide
Shenzhen is easily accessible by air, train, and bus. The city has its own international airport, which is well-connected to major cities around the world. If you're traveling from within China, you can take a high-speed train to Shenzhen from many major cities, including Beijing, Shanghai, and Guangzhou. There are also many long-distance buses that connect Shenzhen to other cities in China.
Top Things to Do in Shenzhen: A Traveler's Guide
There are many fun things to do in Shenzhen, whether you're interested in history, culture, or technology. One of the must-visit attractions in the city is the Window of the World theme park, which features miniature replicas of famous landmarks from around the world. Another popular attraction is the Splendid China Folk Village, which showcases the country's rich cultural heritage. If you're interested in technology, you can visit the Huaqiangbei electronics market, which is one of the largest of its kind in the world.
Why Book Your Shenzhen Hotel with Agoda.com
If you're planning a trip to Shenzhen, you'll need to find a place to stay. Agoda.com is the perfect place to book your hotel in Shenzhen. With Agoda.com, you can choose from a wide range of hotels in the city, from budget-friendly options to luxury accommodations. Plus, Agoda.com offers great deals and discounts on hotels in Shenzhen, so you can save money on your trip.
The Best Time to Visit Shenzhen: A Seasonal Guide
The best time to visit Shenzhen is from October to December, when the weather is mild and comfortable. During these months, the city is also less crowded than during the peak summer season. However, if you're interested in attending the China Hi-Tech Fair, which takes place in November, you should plan your trip accordingly.
Travel Tips for Your Shenzhen Adventure
If you're planning a trip to Shenzhen, there are a few things you should keep in mind. First, it's a good idea to learn a few basic Mandarin phrases, as English is not widely spoken in the city. Second, be prepared for the heat and humidity, especially during the summer months. Finally, make sure to bring comfortable shoes, as you'll be doing a lot of walking and exploring.
Where to Stay in Shenzhen: A Guide to the Best Neighborhoods
Shenzhen is a large city with many different neighborhoods to choose from. If you're looking for a central location with easy access to the city's attractions, consider staying in the Futian district. This area is home to many of the city's top hotels and restaurants, as well as the Convention and Exhibition Center. If you're looking for a more laid-back atmosphere, consider staying in the Nanshan district, which is known for its beautiful parks and beaches.
What to Eat in Shenzhen: A Foodie's Guide
Shenzhen is a food lover's paradise, with a wide range of delicious dishes to try. One of the city's most famous dishes is the Shenzhen-style hot pot, which is a spicy and flavorful broth that is perfect for sharing with friends. Another must-try dish is the Cantonese-style roast goose, which is crispy and succulent. If you're looking for something sweet, try the famous Shenzhen-style mooncakes, which are a popular snack during the Mid-Autumn Festival.
Getting Around Shenzhen: A Transportation Guide
Getting around Shenzhen is easy thanks to the city's modern transportation system. The metro system is fast, efficient, and affordable, and it connects all of the city's major attractions. There are also many buses and taxis available, although traffic can be heavy during peak hours. If you're looking for a more unique way to get around, consider renting a bicycle or taking a ride on a traditional tricycle.