Discover the neighborhoods of Taketomi
---
4-star hotels in Taketomi
---
This hotel is expensive but worth it. The hotel is just besides the beach which gives you complete freedom to enjoy moments with your loved ones anytime you wish. Be remembered that unlike certain countries beaches in Japan are available to general public thus you won't find sun beds or any such thing in beach arranged by hotel. You can hear the sound of the waves when...
---
Great staff, no doubts about that. poor food offer, no gym, no WiFi, the resort urgently needs a total restructuring, the room and facility status are far from what showed in the pictures and by the way the brand name is not Allamanda anymore. Agoda you should double check your offer in details before publish it.
---
The hotel is located at a tranquil island. In the night, you can listen clearly to the sounds of the nature and see many stars on the sky. Staff are friendly too. Really a place for relax.
---
Ocean view room is really great! I can wait for sunrise on my bed instead of leaving my bed at 5 ish and take the shuttle bus to the beach. Please bring a pair of proper shoes with you because you can't wear flip flops to the restaurant for lunch and dinner, breakfast is fine. As I only have flip flops, I have to go to the village for dinner. Not bad thought, but I thi...
---
Great service and friendly staff, there is also a very yummy restaurant just near by the hotel (5 minute walk), but the hotel is far away from supermarket, better prepare some food and drink.
---
5-star hotels in Taketomi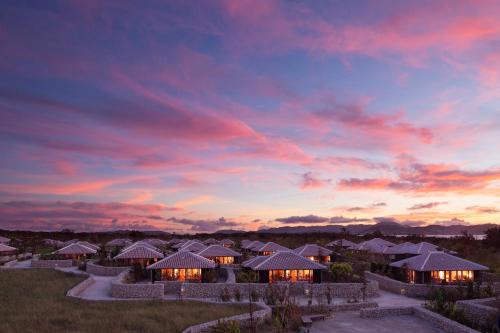 ---
First thing I want to say about this resort is their exceptional staff...they are super friendly and accommodating. I had to arrange a few things before my trip and everything was smooth. The resort is beautiful and the surroundings too. If you want to spend some time peacefully away from the hustle and bustle this is the perfect place. Downside....Price. the amount...
---
Explore more travel vacation rentals
Find the Perfect Type of Accommodation
---
More about Taketomi
Agoda.com offers a great choice of accommodation in Taketomi to suit every budget. With over 64 different establishments, there is a great variety to choose from. Many areas, each with a distinctive atmosphere, are just waiting to be discovered across the city. Taketomi has many attractions to explore with its fascinating past, intriguing present and exciting future. There are so many things to do, you may want to stay an extra week or so to experience them all. If you're looking for a room in Taketomi and don't want to pay too much, Agoda.com offers hundreds of fantastic deals which are updated daily.