11 best hotels in Trincomalee
Our top picks
Lowest price first
Nearest to
Best reviewed
Fast facts about Trincomalee, Sri Lanka
| | |
| --- | --- |
| Accommodations | 318 properties |
| Popular hotel | Cardamon Hotel Nilaveli |
| Popular area | Trincomalee Beach front |
| Nightly rates from | C$7 |
| Airport | China Bay Airport |
Discover the neighborhoods of Trincomalee
---
4-star hotels in Trincomalee
---
The staff were very attentive, friendly and efficient. We were two friends having a short ...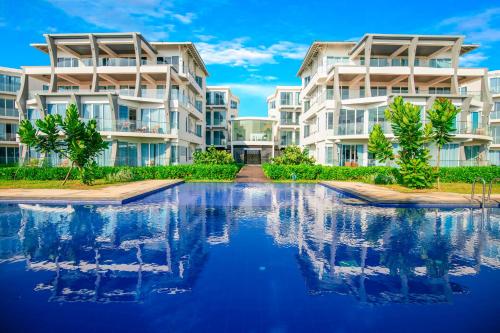 ---
Spanking new apartments. Clean and well maintained. The staffs are really welcoming. The lo...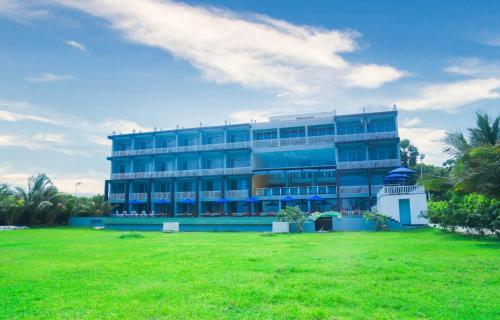 ---
Great place, excellent view and very clean room. All staff members are friendly, specially...
---
This was our favourite hotel on our whole trip around Sri Lanka. If you need a couple of d...
---
Calm clean apartment. Friendly service from staff.
---
5-star hotels in Trincomalee
---
We have visited the hotel in early August and it was one of the best places in Sri Lanka. T...
---
We were staying in this hotel for 5 nights at the end of trip around Sri Lanka. We decided ...
---
Had a good stay, location is great on the lagoon, not far from a good beach and a side road...
---
Traveler impressions of Trincomalee
In addition to the nice beaches one can visit Fort Fredrick situated near the Dutch bay with turquoise waters.
This is a busy port town with plenty of shops, a fish market and generally pretty place. cargills supermarket is there , great place just to wander round and look, lovers leap was a bit disappointing but the temple where people hang little baby cots on the trees to wish for pregnancy interesting, the dodol sweet on the way up to it the best, go there take a walk and enjoy yourself
We visited out of season so very few tourists around. Walking around the city did not feel comfortable at all.
I thought it was a great place, but I did not enjoy the town. Only pacifying thing was the Beach and great sea like a quiet pool.
It is a military zone, former, but it is... All details remind you that some years ago there was a war.
The city is very Poor looks like the Tsunami hit it 24 hours ago. But the beach is seriously not to be missed the Pigeon Island is a Must go location and the cows walking freely in the village at night is a funny show .
A Beautiful place, we unfortunatly went in October when there was still some rain, so diving or snokeling on the coral reef was not really possible.
Large city without proper development.There are no good places for eating or shopping.Beach is very beautiful but most of the people here are poor.
Quaint and Historical. Many stories about strive by survivors from the war and tsunami. Beautiful beaches and friendly people.
---
Trincomalee's best hotels with breakfast
---
Frequently asked questions
What are the best properties in Trincomalee for families?
Places to stay in Trincomalee that are highly ranked by families include Trinco Blu by Cinnamon, Jkab Beach Resort and Cardamon Hotel Nilaveli.
What's the best community in Trincomalee to stay in?
Popular local communities amongst foreigners staying in Trincomalee include Trincomalee Beach front, Nilaveli Beach front and Trincomalee City.
What are the top rated accommodations in Trincomalee for group travelers?
Resorts found in Trincomalee that are very highly rated by group tourists are Trinco Blu by Cinnamon, Jkab Beach Resort and Cardamon Hotel Nilaveli.
What accommodations located in Trincomalee are well rated for hygiene?
Resortsaround Trincomalee that is highly rated regarding sanitation include Crescent Sea Resort, Mithra Paradise Beach Hotel and C Beyond Nilaveli.
What properties located in Trincomalee are exceptionally rated for value for money?
Hotelsaround Trincomalee that is exceptionally rated with respect to value for money include Trincomalee Beach Resort & Spa, Mithra Paradise Beach Hotel and French Garden Resort.
What accommodations found in Trincomalee are highly rated regarding room comfort and quality?
Hotelsaround Trincomalee that is well rated regarding room comfort and quality include Villa Nilaveli Cabana, Amaranthe Bay Resort & Spa and Trinco Beach Hotel.
What are the prime accommodations around Trincomalee equipped with spas?
Verified tourists to Trincomalee have given out excellent reviews concerning the spa at Amaranthe Bay Resort & Spa.
What are the best hotels around Trincomalee which have a private beach?
Resorts which have a private beach in Trincomalee that are very highly rated include Uppuveli Beach Inn and Beach Front Villa Nilaveli.
What are the prime wheelchair accessible properties in Trincomalee?
Wheelchair-accessible accommodations found in Trincomalee that are highly rated include BEACH HAVEN NILAVELI, BEACH HAVEN NILAVELI, and Nature Beach Huts.
How long should I remain in Trincomalee?
In the past 3 months, tourists plan their stay in Trincomalee for 1 nights on average. The perfect duration for your trip will be determined by what you'd be interested to see and do while there.
Are international visitors allowed into Trincomalee?
International visitors are allowed into Trincomalee, according to our most up-to-date information. Due to changing restrictions, we strongly recommend that you browse here for additional information.
Is pre-departure covid test required for fully vaccinated tourists to enter Trincomalee?
Proof of negative pre-departure COVID-19 test is not required to enter Trincomalee. For up-to-date and in depth information on travel restrictons, please go to the official websites of the travel authority or government of the country you wish to visit, or go to here.
Explore more travel vacation rentals
Other popular destinations in Sri Lanka
---
More about Trincomalee
Boasting the world's fifth largest natural harbor, Trincomalee is very much a beach destination with beachfront accommodations ranging from budget to luxurious. The
harbor
has also influenced the city's past, bringing in European powers over the centuries to vie over control of the waters. The city is home to the Sri Lankan Air Force base as well as naval bases. The airbase operates commercial flights from Colombo, but taking a bus or train is just as convenient a means to arrive.
The beaches of Trincomalee make for a great location when looking to stay in the city.
Uppuveli Beach
and
Nilaveli Beach
offer near-pristine conditions for a beautiful stay, with the latter situated within the vicinity of a big military base and offering a less crowded option. Whether located along the waterfront or tucked a bit inland, visitors are never too far from the city's attractions and activities. As a rather compact town, Trincomalee can be easily explored on foot or bicycle and quickly traversed with a tuk tuk.
When not at the beach or checking out the military bases, visitors can be found enjoying the famous hot springs, taking in the city's history, or exploring the religious culture via the Hindu and Buddhist temples. Water sports on Pigeon Island and dolphin and whale watching from Uppuveli Beach also make for excellent times while in Trincomalee. Be sure to check out the interactive map for information on hotel locations, attractions, and must-see destinations.