10 best hotels in Unawatuna
Our top picks
Lowest price first
Nearest to
Best reviewed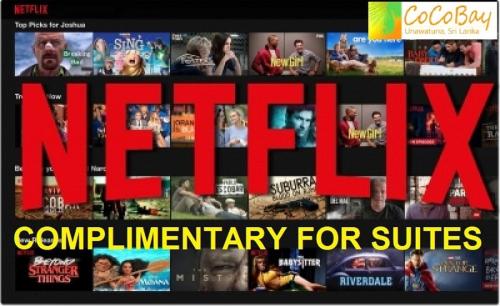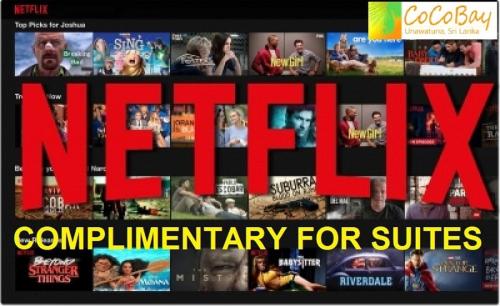 See all
Cocobay Unawatuna
Unawatuna,Unawatuna - View on map
"My partner and I stayed at this hotel for four nights in July during our 2.5 wk stay in Sri Lanka. The room we had booked was one of the ocean privilege suites and wow what a room it was, one of the best we have ever stayed in anywhere in the world!! It was very big and had a full wall of glass overlooking the fabulous private beach and across to Galle. The bathroom was amazing complete with Jacuzzi. We were given a pillow menu and soap menu on arrival which were nice touches. The sun loungers on the beach were really fabulous and gave that extra touch. The breakfasts were very good, not buffet, but served to order with plenty of options. We had lunch and dinner on a number of occasions during our stay and again the food was fabulous. We had a BBQ on the beach one night and this was a real treat. The staff at the hotel were amazing and couldn't do enough for you! The hotel is just a five/ten minute tuk tuk ride from Unawatuna beach and jungle beach which are beautiful. Galle town is only a ten minute trip and the fort walls are an amazing sight in the evening as the sun sets. There are plenty of excellent restaurants scattered around the old town. On the downside, the pool is very small & uninviting. It was monsoon when we were there and when an occasional shower came, the noisy metal roller doors surrounding the front of the restaurant had to be closed, making the place look like an industrial building. Overall we had an amazing stay at this hotel and would recommend it as one of the best boutique hotels not only in Sri Lanka, but anywhere! "
Show more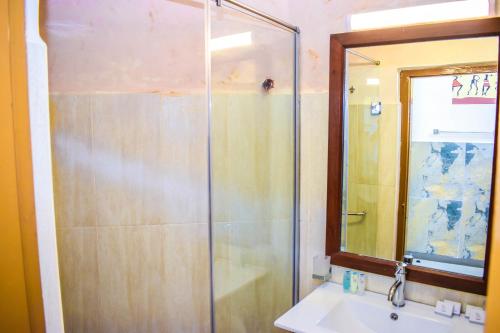 See all
Insight Resort
Ahangama,Unawatuna - View on map
"This hotel was not actually in Unawatuna. A bit further down in Ahangama. Nice location still. Rooms were clean and beds were comfy. Very good food. Would recommend."
Show more
See all
See all
Thaproban Beach House
Unawatuna,Unawatuna - View on map
"my girlfriend and i stayed at thaproban beach house on new years eve 2012. pricey by sri lanka standards we got a decent room with an average view but great bathroom. the door on the room needed fixing and i think i could open it with a ice cream stick. the ac worked well but the wifi was down when we stayed. the price included a gala dinner - unfortunately we couldn't stay there without taking the new year feast option, which was great so we didn't mind. location wise you can't get better - it's at the quiet end of unawatuna beach. by that i mean you have maybe 15-20m to walk along the beach before you hit your first restaurant/bar...perfect. where thaproban beach house really excels is service. nuvvani on the front desk was fantastic and went out of her way to help us out. i had a problem with the powerpoints and she had someone at my room in under a minute. i also had to do some unscheduled travel and she arranged the hotel car to take me immediately. by the way, their driver is excellent and i'd definitely recommend using him to go between unawatuna and colombo if training isn't an option for you. "
Show more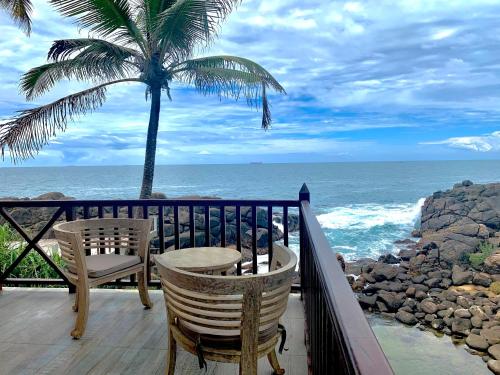 See all
Thaproban Pavilion Resort and Spa
Unawatuna,Unawatuna - View on map
"My friend and I stayed here for 6 nights in a pool Pavillion room and we had the most incredible stay. The hotel was lovely and in a great setting next to the sea and only a short walk to the gorgeous beach! The rooms were very spacious and nicely decorated. The pool area was great and so relaxing! The food was fab, breakfast was very good and we ate dinner here twice and had the most incredible sea food! Finally the staff were amazing, incredibly friendly and attentive and nothing was too much trouble to arrange. I highly recommend this hotel to anyone looking at hotels in unawatuna. This hotel will not disappoint!! Thank you for a wonderful stay!"
Show more
See all
Dalawella Beach Resort by Deco
Unawatuna,Unawatuna - View on map
"This was an excellent place to stay. The rooms were very clean and the bed exceptionally comfortable. The beach in this area isn't large, but there is a small swimming area. It's a close tuk tuk ride to Unawatuna and Galle. On our last day, we ran into the chef in Galle. He took us around for 2 hours on his own time and showed us the best government-run shops, where to get authentic Sri Lankan goods, and brought us to an amazing restaurant whose profits benefit impoverished women. Would most certainly return."
Show more
See all
Hotel Kabalana
Ahangama,Unawatuna - View on map
"it would be great if the hotels update if any facilities are going to be under maintenance and the duration they will be closed. I checked in only to be told the swimming pool was closed due maintenance. the beach was not accessible as the waves were choppy and rough. besides that, it was a nice stay. staff was polite and warm. only had breakfast which was nice. usual eggs and toast with coffee tea and fruits. "
Show more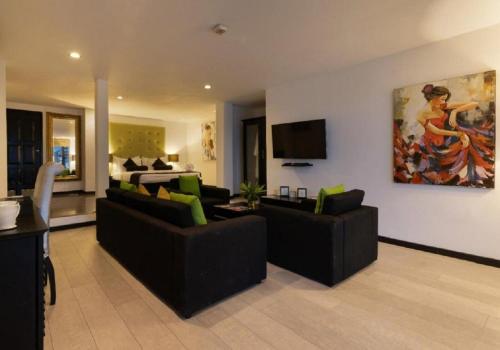 See all
Levels Unawatuna
Unawatuna,Unawatuna - View on map
"Cantaloupe Levels provides you with more than what you'd expect. First and foremost, the view is phenomenal. Located on top of a hill, the hotel is first of its kind in Sri Lanka, basking a 3-floor structure with 9 luxury rooms. The hotel overlooks the Unawatuna Bay, providing you spectacular insight to the stunning beach landscape of the South. The view; both invites you to go down to the beach and bathe in its warm waters yet eludes you, so you'd rather watch its beauty from a distance. Another unique factor at Levels is it's tranquility; even though its location is prime property, it is the only hotel there and it is surrounded by beautiful lush greenery for miles. Thus enhancing your experience with a mix of adventure and serenity. The suites are grand and extend luxurious comfort; soft feather pillows, ultra-soothing mattress, Egyptian cotton linen, fresh simplistic bathroom with jacuzzi jets and rain-shower, his and her sinks. And the list of amenities are endless. The staff are friendly, pleasant and most importantly, obliging. The private concierge went out of his way to make sure we were well taken care of (kudos Nuwan). Love the tri-colour pool. The breakfast menu is delectable with Continental, American and Sri Lankan options to select from, unfortunately didn't have the opportunity to have lunch or dinner there. All in all, great experience, beautiful hotel. Hats off Cantaloupe&Co on its creativity and class!! "
Show more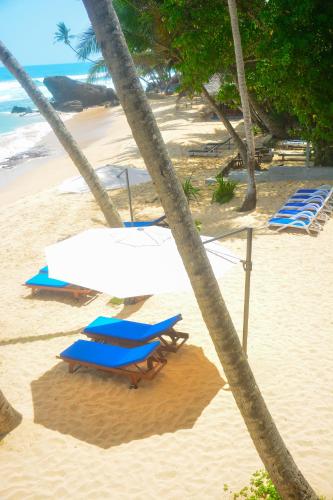 See all
Sayura Beach Hotel
Thalpe,Unawatuna - View on map
"We were so excited to find this hotel after traveling for 10 days around Sri Lanka. Brand new hotel right on beachfront. Beachfront location is superb in small town of Unawatuna. Beautiful comfortable rooms and beds. Lovely balcony looking over the ocean. Cheap compared to other hotels of this standard in Sri Lanka. The staff are friendly. It's new so everything is very 'shiny' however there are a few kinks to iron out. Restaurant service is slow and complicated where it should be fast and easy. Food was just OK. Other things: In order for the air con to work, the balcony doors needed to be shut in a special way (which we couldn't work out) so we slept the night in a stuffy sweaty room at 2.30am we were able to go downstairs and find the night manager to close the doors for us and get the air turned on however immediately upon opening the doors in the morning we lost air con. And we were not able to close the doors properly to turn back on. Therefore the room remained a sweat box. They need to tell guests that the hot water needs to be turned on 5 minutes before showering as we couldn't figure out how to turn it on. Had to get dressed and go downstairs and ask for help. Note I say, go downstairs, as the telephone in the room does not dial reception. "
Show more
See all
The Frangipani Tree by Edwards Collection
Thalpe,Unawatuna - View on map
"Great intimate boutique hotel with only 9 rooms. Great service (we were the only people staying during our 4 day trip) The staff are very friendly and attentive. The location is 5 minutes from Unawatuna and 15 minute from Galle, we hired scooters (the hotel arranged these) and explored easily with them. The beach is not for swimming as the sea is too rough but you can walk along the sand. There is a tennis court and long pool as well as sofas and areas for lounging around. Very nice atmosphere and very relaxing. The rooms are minimalist with no TV (there is a lounge with satellite TV) The food was great and rooms very well designed although the hotel was on the expensive side for Sri Lanka."
Show more
Fast facts about Unawatuna, Sri Lanka
| | |
| --- | --- |
| Accommodations | 789 properties |
| Popular hotel | Hotel J Unawatuna |
| Popular area | Unawatuna |
| Nightly rates from | C$6 |
| Airport | Koggala Airport |
Discover the neighborhoods of Unawatuna
---
Traveler impressions of Unawatuna
The towns around are small and nice people and if need a better place for shopping its the Galle town in which you get all in there with loads of things to see and loads of restaurants, Its 15 minutes away
Great beach side restaurants. We recommend Kingfisher. Cool little shops to go in and out of on the streets.
It's a relaxed place really friendly, a bit like Thailand beach places but much smaller, price friendly so good for the budget traveller as well as everyone else there are plenty of upmarket options for everything, shop here it's less expensive and competitive than a lot of other places
Unawatuna is great with the night life and central point of all vacationers to get together at one location.
Unawatuna is a good place to stay for its beach and nature.It is a good place for relaxation. There is one anoying thing that there are lots of local people who tried to sell you something on the beach.
Not much to do. No bars or nightclubs at all, only some in hotels. No ATM in unawatuna. Very nice beach only during the right time of year which is winter.
either love or hate. if you are looking for night life like pataya thailand and this place is not at all for you.
Crowdy beach not far from Galle, you can enjoy Galle fort site (easy and unexpensive acces by local bus) and spend some time in the beach.
High waves - but toward the temple at the far end of the beach is more quiet and better for children.
Its a small town, all full of lovely small private villas so you feel very homely. the feeling is great as the sea is at your door step.
Lovely beach with lots of restaurants opening onto the beach. Water clear and warm. Took Tuk Tuk ride to Jungle Beach - a small beach with only one restaurant serving great fresh seafood.
Really sad to see that the beach has all but gone now. About time that the Sri Lanka government did something to save what was once one of the top ten beaches in the world.
Quiet place. Though the hotels at Unawatuna beach are small and have very limited capacities, you can find a large number of hotels most of them having opening to the beach.
Alam Iftekhar
, Bangladesh
I wouldn´t really call it a town. It´s just a long street with tons of guesthouses and restaurants and turistshops.
I prefer the highland like Ella and Kandy, very cooling, we are there in Dec already quite hot, I believe the mid year will be worst.
It is a great place to explore the beaches of Southern Sri Lanka The beaches are superb all the way down the coast but Unawatuna probably offers the best selection of restaurants Plus you can swim in the sea at these beaches and further down the coast you can't It is worth at least 5 nights of any trip to the South and it is about a 2 hour trip to Mirissa beach which is also fantastic and also safe after this down to Tangalle has some of the best beaches but it is a small town but you can't swim
Watch out! The half of the beach simply disappeared. The city is very crowded, full of 1-star hotels and cheap tourists, mainly Russian.
Perfect for relaxation if you choose the right place to stay. Ideal for those who crave some fun as the beach strip comes alive in the night.
Walk along the beach and one can visit different bars and taste the food they offer. If a traveler prefers to surf, one could do so at the Unawatuna beach.
Unawatuna is a lovely village on the South coast. The village where all the bars and restaurants are in very vibrant and good to take a walk down to stop and admire all it has to offer.
Main street has plenty of small shops and the beach is lined with bars and restaurants. A beautiful temple overlooks the white sand beach and the local people could not be friendlier.
Relaxing beach bay. Interesting restaurants and much more chilled vibe than Hikkaduwa. Wijeya Beach is a highlight for good food and relaxation.
Beaches - private resort beaches or Unawatuna beach with shacks, night party places (rare in SL otherwise).
Unwatuna is an amazing city. There a lot of afforable and nice places to stay, different types of restaurants to keep your taste buds satisfied.
April-May is the low season. sea is a bit weavy. no crab & very hot. but you may get cheap accommodation.
---
Unawatuna's best hotels with breakfast
---
Explore more travel vacation rentals
Find the Perfect Type of Accommodation
---
Other popular destinations in Sri Lanka
---
More about Unawatuna
Unawatuna is located just 150 kilometers from Colombo, in Sri Lanka's Galle District. The city is served by bus and rail from the bigger cities which feature international airports, such as Colombo. Once in the city, getting around is best done by public buses and local small taxis.
The
Martin Wickramasinghe Folk Museum
is a very historical site, featuring some ancestral history of the home's former owner. After World War II, this place remains the only house to have survived the atrocities.
The
Yatagala Raja Maha Viharaya
is an ancient Buddhist temple, and a popular destination for those visiting this area. The temple was once built by royalty, and used to serve as worship site for the royals.
There's much more to see and experience in Unawatuna, and the interactive map on this page is a great way to find out where the attractions and hotels can be found in this exciting city.