4-star hotels in Port Douglas
---
Third time in Port Douglas and would return to this accommodation rather then more expensive properties. Great facilities and very helpful staff. Twenty min stroll to the centre and no negatives.
allistair
, United Kingdom
---
A great family option in Port Douglas if you need a 2 bedroom place for a decent rate.
---
A lovely peaceful place to enjoy the beautiful Port Douglas beach. The owners were really lovely and welcoming. The apartment was bright and airy.
---
We have stayed at Mantra on inlet 6 times in various apartments because we love where it is situated in Port Douglas. the apartment we had this time does need some attention. the louvre doors to bedroom were broken, the surround of the microwave fell off and the guttering over our balcony was leaking like a tea strainer. WE still love the hotel/apartment. Wish there wa...
---
We are Sydney based couple arrived for chill out long w/e and not disappointed. We stayed here a few years ago and the place was getting tired however the new owners have spent some money and all rooms and general areas have had a well needed "facelift" - so ambience is private, relaxing and fun - rooms are very clean and good size and to a "standard" - its not Grand H...
---
Absolutely loved this place, spent most of our time relaxing by the most gorgeous lagoon pool set under a treetop canopy. Food in the restaurant was absolutely delicious , breakfasts cooked to perfection, the room was clean, staff very attentive. $5 shuttle rides into Port Douglas township every 20 mins, 5 min walk to the beach and bike hire also available. We have st...
---
Been to resort before very nice setting, looks slightly worn but to be expected at end of busy season. Beautiful pool areas, basic breakfast but nice and fresh. Staff really friendly. As I booked one of last two rooms available the view was not great car park and air con units, so I wouldn't stay in studio again but their apartments are great.
---
Port Douglas is nice for the Great Barrier Reef, the Daintree national forest, and even looking at crocodiles on the Lady Douglas. It is about a 15min walk to town, and 5min walk to 4-mile beach. The reef club resort that I stayed in is a small apartment. Everything is nice and well thought out. The only thing I had a problem with was figuring out that the balcon...
---
Great location just off the main street in Port Douglas. The room was very big with a kitchenette allowing you to cook almost anything. It had 2 a hot plate type stove top, large refrigerator, microwave, dishwasher, and cookware. Laundry facilities also available. Not a five star service, rooms are only cleaned every four days I believe, and staff is not exceptionally ...
---
5-star hotels in Port Douglas
---
The getaway holiday in the Pullman Port Douglas was great ! the room and the facilities at the hotel were excellent. The staff were friendly and accommodating without being obtrusive. The atmosphere was relaxing and just what was required to take that well earned break from the hectic work and normal life schedule. The Port Douglas are is beautiful and the barrier ree...
---
We stayed for 2 days at Thala Beach Lodge at the end of our 2 week travel in Australia. It was an absolute highlight of our travels. The hotel is located in the middle of a tropical forest, so you get to see, smell and hear all the wilderness. At the same time the room, which is essentially a stand alone cottage/hut is beautiful and very comfortable. We enjoyed it a lo...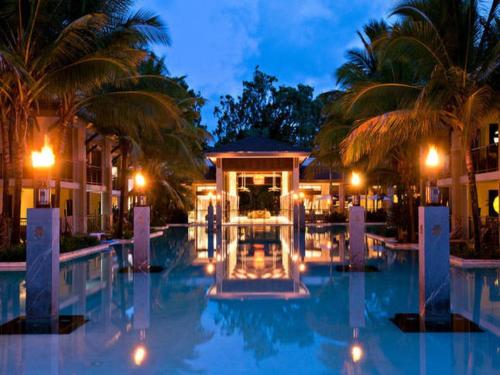 ---
The 3 bedroom Apartment was spacious with nice big spa. Access to lagoon was right at the doorstep.
---
Discover the neighborhoods of Port Douglas
---
Find the Perfect Type of Accommodation
---