Fast facts about Addis Ababa, Ethiopia
| | |
| --- | --- |
| Accommodations | 354 properties |
| Popular hotel | Ethiopian Skylight Hotel |
| Popular area | Bole |
| Nightly rates from | £4 |
| Airport | Addis Ababa Bole International Airport |
Discover the neighborhoods of Addis Ababa
---
5-star hotels in Addis Ababa
---
very nice hotel in addis ababa
chor
, Hong Kong SAR, China
---
We rented this room as a crashing pad for a 15 hour layover in Addis Ababa. The room was fine, nothing exceptional but also nothing terrible. Location was close to the airport and the free airport shuttle was convenient. We rated the staff on the lower end as we got pickpocketed just outside of the hotel (beware of someone "accidentally" spitting on you) and the staff ...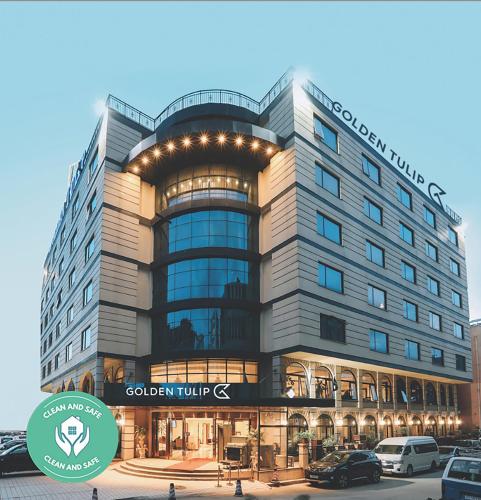 ---
Addis Ababa is under a building frenzy and this leads to a lot of urban chaos. However, entering into the Golden Tulip Hotel one enters into a sea of tranquility. From the doormen to the staff at the reception one is greeted by friendly attentive smiles. Meals at the restaurant are well prepared and the rooms are well attended to. It would be remiss of me to not espec...
---
its really was the best stay in this hotel and next time will be my choice.
---
Super expensive ...not worth the money at all...
dean
, Hong Kong SAR, China
---
Stayed in Capital Hotel and Spa for 2 nights. The hotel is located close to the Light Rail station and in the vicinity of some nice restaurants. The hotel provides a free airport transfer - it's a very good option that saves you from hassle related to arranging a taxi in Addis Abeba (and potent hassle about the fair price etc). Hotel is a bit tired and in need for some...
---
The Radisson was very modern and clean, with fantastic staff (so friendly). Of course the price is high being Addis Ababa, but better than the Sheraton and Hilton.
---
Elilly is walking distance a few sights or a short taxi ride away from others. Great breakfast! The room I stayed in was very comfortable but for the bathroom which is in need of rethought & repair. The following toilet issue is not just at the Elilly but at other establishments in East Africa. It is boils down to the poor installation of the pedestal toilet. 1. ...
---
Traveler impressions of Addis Ababa
You can "do" most of Addis in a day or two, but Hilton is a nice place to relax for onward journeys.
I met some amazing people while I was here in Addis Ababa. The people were very friendly and excited to meet me.
There is a lot to see in Addis and envirement. Entoto-mountain, churches, musea but also just walking and talking with the people.
Great city where people are very affable and friendly. the culture is is moderately friendly. one can comfortably spend 4 to 7 days pleasantly.
Not the dirtiest city in Africa, but far from "clean." There are few things to see. One day is enough to see it all.
If I were to spend more time in Ethiopia simply for vacation, I would spend it in the smaller towns with more historical sites.
---
Addis Ababa's best hotels with breakfast
---
Explore more travel vacation rentals
Other popular destinations in Ethiopia
---
More about Addis Ababa
Addis Ababa is the largest of Ethiopia's cities and serves as the country's capital. It is an excellent destination for business and leisure. More than 120 international missions and embassies are set up here, including the headquarters of the African Union and the UN Economic Commission for Africa, making Addis a hub for international diplomacy. The busiest airport in East Africa,
Bole International Airport
, connects the capital city to inter-Africa destinations and the world.
Addis Ababa has seen its fair share of turmoil in recent times, but it has risen above and now eagerly welcomes travelers with eager curiosity and friendly hospitality. Ethiopian cuisine, coffee, and culture dominate the itinerary of any traveler – whether they be there for the business or to take in the country's 13 months of sunshine. The Ethiopian calendar is related to the country's ancient culture, one that dates back to 3 million years ago. The Ethiopian National Museum is excellent for those looking to explore that culture and its history. Here can be seen a replica of Lucy, an early hominid, as well as artifacts that span thousands of years. A more local look at the culture can be had at the Addis Ababa Museum. Some historical religious sites worth exploring include the
Lalibela
and Anwar Mosque, the latter of which is found in the largest market of Africa – the Mercarto. From the side streets to the major sights, Addis Ababa hosts a range of attractions and activities that make for unique and memorable experiences.
Be sure to check out the interactive map of Addis Ababa for information on hotel locations, attractions, and must-see destinations.