Discover the neighborhoods of Akaroa
---
4-star hotels in Akaroa
---
This motel is in a great place right in the centre of Akaroa. The motel didn't have air conditioning but because of the angle of the units it never felt too hot inside We loved the facilities - pool table outside and table tennis too but my favourite was the use of kayaks which are owned by the motel and can be hired for a very small fee. The motel owner is French a...
---
It's a place for camping, every facility is outdoor, so guest has to walk outdoor to bathroom and kitchen, however, bathroom and kitchen are clean. There is nice view of akaroa bay and mountains. We like here.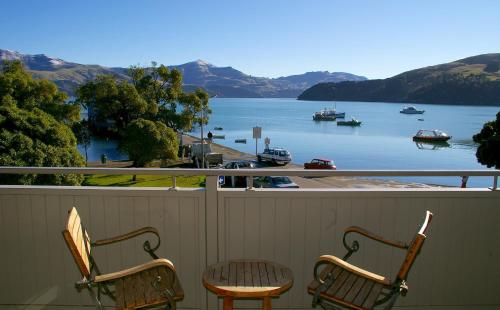 ---
Place is big, but a bit more on the expensive side, but that is the pricing in Akaroa. Would be better if there was heater in the room as well. Other than that, was a good place to stay in.
---
My husband and I stayed at Akaroa Cottages Hotel for the weekend where we stayed in a seaview studio. Our studio was very comfortable, and modern. The special gift was some flowers/chocolates/card which was a lovely special touch, they even had the heater going when we arrived. The place has lovely grounds and it is great waking up to the birds in the morning. Akaroa...
---
Alex the owner was so kind and helpful. We spent three brilliant days there at Akaroa. Many happy memories in a wonderfully run establishment.
---
When we walked into the bedroom overlooking the field and water beyond we were blown away, it was totally jaw dropping, if only we could have stayed longer!
---
Well equipped and clean. Nice place, nice location
---
Traveler impressions of Akaroa
Very charming town. Gorgeous drive from Christchurch...windy narrow roads though! Food was great, and there seemed to be many options.
We only stayed for one night and wish we would have stayed longer. Suggest going for dinner in town, getting a cottage and heading to the isolated beaches along the different bays and having a picnic.
Very pretty place with many activities and sightseeing areas to explore or sit back relax and just enjoy the views
Quiet and peaceful Bay, with many precious wildlife like douphin, seals and abatross. U can also swim with douphin!
Akaroa is a beatufil beachside town of spanish influence just outside Christchurch. There is excellent eating places and good coffee to be had here plus the chance to just unwind and relax with walks along the lake or up into the country side.
---
Akaroa's best hotels with breakfast
---
In centre of Akaroa. Cafes, restaurants, bars, supermarket within walking distance
---
Alex the owner was so kind and helpful. We spent three brilliant days there at Akaroa. Many happy memories in a wonderfully run establishment.
---
Explore more travel holiday rentals
Find the Perfect Type of Accommodation
---
More about Akaroa
Agoda.com offers a great choice of accommodation in Akaroa to suit every budget. Choose from our selection of over 67 hotels. We offer lots of promotions such as early bird offers and last minute deals. Many areas, each with a distinctive atmosphere, are just waiting to be discovered across the city. Akaroa has many attractions to explore with its fascinating past, intriguing present and exciting future. There are so many things to do, you may want to stay an extra week or so to experience them all. Don't delay and book today to get the best hotel deals in Akaroa!