Discover the neighborhoods of Alice Springs
---
4-star hotels in Alice Springs
---
Great place to be, clean, great room, pool, nice service, great restaurant, we used this hotel only for three days to see Alice Springs and we were very happy. If you like to be the whole day on the pool than is this hotel maybe not the right one, but if you like after one day discovering Alice Springs to jump into the cool pool and spa then it is perfect.
---
The price was right, the room had everything you need, the bathroom had a huge corner jet tub with some pretty amazing tile work that will take you right back to the 80s. Some of the rooms could be a little noisy if they are close to the road, I didn't feel I had a lot of privacy with a main walk way right outside my room, but if the location is right in town so there ...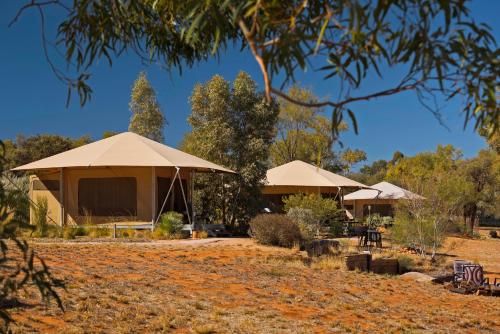 ---
A must-do while in Alice Springs! unique experience of glamping (a luxurious version of camping), comfortable heated/air-con tents with very pretty Aboriginal decorations. Super grand BBQ dinner (to be pre-ordered separately) with too much food for two people :D Can see the sunrise/sunset/stars just outside your tent, and I just can't stop exclaiming in awe!!
---
heavitree gap is an unusual place. it is sort of rustic but a good match for its setting. there is a great pool, tavern/casino and the best thing of all...the daily feeding program for the colony of rock wallabies just behind the hotel. you could buy a bag of feed for $1aud and beginning about 4:30 in the afternoon, they come down from the mountain to eat. they are...
---
I booked the wrong room and the staff very quickly changed it for me at no extra fee! They got us extra towels and bedding without delay. Bar downstairs is fairly good for Alice Springs and clean. Beware of the step into the bathroom! My partner took a fair bit of skin off her toe by accident on it!
---
5-star hotels in Alice Springs
---
This was my favourite stay of our trip! We stayed in the Log Cabin - a quirky yet authentic little place reflective of "Good old Australiana". The relaxed vibe and beautiful surrounds of the cabin just made our stay super special. No better place to sit back after a day of playing tourist to watch the sunset over this beautiful part of the world. (Ps the Sunrise was a...
---
Traveler impressions of Alice Springs
Amazing city in central Australia, with well preserved and celebrated history, wonderful country. Indigenous history gradually being more honoured although much still to do to honour their traditions and culture and give them the recognition their deserve.
Fantastic Aboriginal art galleries, great museums, wonderful landscapes, beautiful national parks, don't miss the Desert Park to learn about wildlife of the area that's hard to see in the wild because it's nocturnal
For a meaningful experience visit Coles Shopping Centre parking lot and if you wish to purchase takeaway alcohol make sure you have your Passport or Drivers License ID with you or you could end up in a rehab facility for 3 months
Alice Springs is pretty unique... For most tourist it is a place of transit, and for that, it is perfect as there isn't much to do.
It is not safe to go to the City Center at night, but even at day time I don't feel relaxed inside the City Center.
Many people will tell you that Alice Springs is a dangerous place that you should not spend much time in.
I used to live in Alice Springs and it was beautiful. This time returning after 18 years was disappointing.
handy starting point to explore Uluru also the ranges near by.. Lots of local history with the flying doctors in Alice and a wonderfully informative visit to the reptile park.
I picked the hottest time of year to go and was my fault. The people were great and have awesome sense of humor.
---
Alice Springs's best hotels with breakfast
---
Explore more travel holiday rentals
Find the Perfect Type of Accommodation
---
Alice Springs is the land of the outback in central Australia. Incredible landscapes and a pioneering history make for attractive ventures to this far off land. Being 1,500km from the nearest city,
Alice Springs Airport
serves as quite a blessing to those reaching this enchanting destination. With so much to see and do in this town, a week or two might be enough time to take it all in.
History, culture, nature, and adventure can all be had in Alice Springs. As the town is in the middle of the largest land area on Earth without lights, the view of the night sky is staggering, making stargazing one of the top attractions in the area. The sun returns attention to the land, brightening up memorable views from Anzac Hill, and
Alice Springs Desert Park
offers the exploration of flora and fauna, aboriginal use of local plants for food, and a nocturnal exhibit. Explore craters at Henbury Meteorites Conservation Reserve, study the history of the outback at Old Timer's Museum, or visit the first stone building in Alice known as Adelaide House. Camel riding, hot air ballooning, and quadding are a few of the adventures to be had in the town.
Find the most suitable accommodation for you by clicking on our interactive map and exploring Alice Springs for hotels and must-see destinations.