Discover the neighborhoods of Daintree
---
4-star hotels in Daintree
---
My husband and I stayed at the Daintree Ecolodge while visiting Australia on our honeymoon. The property is so beautiful and you feel completely immersed in the rainforest. Every single staff member we met was incredibly friendly and helpful, getting to know us and how we were enjoying our stay. We booked a Canopy Bayan and it was beautiful - clean and cozy with great ...
---
We really enjoyed our stay at Daintree Rainforest Retreat. The property is well kept and beautiful. We enjoyed using the bbq area to cook our dinner. The pool is very nice to use after a day of sightseeing. Travis was very helpful informing us of everything the area had to offer.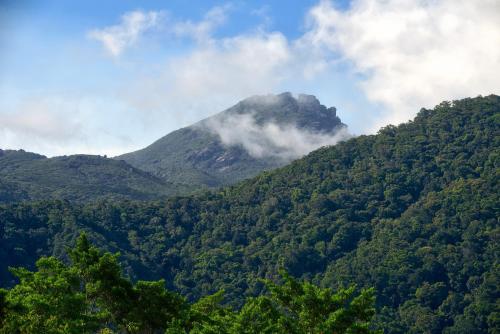 ---
We spent two nights there and everything was fantastic! I think I had my best sleep ever there. The owner prepared us an amazing breakfast and was giving advice all the time. I would recommend to stay there, totally worth it!
---
Traveler impressions of Daintree
Daintree Village is mostly a tourist spot for trips into the Daintree Rainforest. Not really a resort for any length of stay.
Beautiful corner of Australian paradise. A must see if you enjoy appreciating nature at her best, and an ancient forest environment.
Daintree Village isa sweet, small place to stay or drop in for breakfast or lunch. It is he base for several excellent crocodile and nature spotting tours.
---
Daintree's best hotels with breakfast
---
Rustic but clean and functional accomodation in a beautiful setting. Great value for money and lovely staff. Loved our stay and would book again.
---
A wonderful place located in the Daintree Rainforest. Staff was super accommodating when we arrived about noon. We just wanted to relax and take advantage of the pool and beautiful surroundings. One room was ready to checkin and housekeeping switched things around so we could check in to the second cottage soon after. The resident cassowary came by for a curiosity ...
---
Perfect place to use as a base around Daintree and Cape Tribulation. Mike and Hayley were both super welcoming and accommodating, offering advice, tips, and tweaking their breakfast menu to suit our awkward non-dairy non-gluten diet. We really enjoyed their company and their beautiful little retreat in Daintree. Highly recommend the local bar too, which has good outdoo...
---
We visited PKS for a few days and we had a great time. We were stalled in getting there and they stayed up to midnight for us. How cool is that? The staff were really helpful no matter how many questions we asked. New management commenced just a couple of days before we arrived and they seemed so much better than the old. Our rooms had confusing old signs basically s...
---
Our stay with Trish and Kev, who are looking after the B&B, was perfect. They gave us a warm welcome, local knowledge and made it easy to have our first Daintree experience. Highlights included a night walk in the rainforest, snorkeling at the reef and the Dreamtime Walk at Mossman. All recommended by trish. And breakfast of course. My tip would be to stay more nigh...
---
This is the perfect way to experience the Daintree Rainforest. Everything you need, and nothing you don't. You sleep deeply with the sounds of the rainforest, totally immersed in one of the worlds most biodiverse places. There is a wonderful sense of community among the guests, created by the property owners who give you everything you need to understand and enjoy this...
---
This is an amazing location - surrounded by rainforest. It is a smaller private facility and has everything you need. The huts are older but very well maintained. Gardens are amazing. Get used to everything in the room feeling damp - it is a rainforest! Beautiful stream which we didn't get a chance to swim in but would be glorious if the the weather were better. Breakf...
---
Explore more travel holiday rentals
Find the Perfect Type of Accommodation
---
More about Daintree
Agoda.com offers a great choice of accommodation in Daintree to suit every budget. Whether traveling for business or leisure, Daintree is an outstanding city to visit with over 73 hotels to choose from. Many areas, each with a distinctive atmosphere, are just waiting to be discovered across the city. Daintree has many attractions to explore with its fascinating past, intriguing present and exciting future. There are so many things to do, you may want to stay an extra week or so to experience them all. You can depend on Agoda.com to help you find the best bargains on Daintree hotels.