Fast facts about Dusseldorf, Germany
| | |
| --- | --- |
| Accommodations | 899 properties |
| Popular hotel | Maritim Hotel Dusseldorf |
| Popular area | City Center |
| Nightly rates from | £8 |
| Airport | Düsseldorf International Airport |
| Reasons to visit | Shopping, Nightlife, Restaurants |
5-star hotels in Dusseldorf
---
Staff are excellent. The rooms are bit small and the pillows are from feathers and not comfortable at all, The corridor is like a museum with a lot of historical things in a glass which I don't feel comfortable to stay in or sleep in a place like this, Its just not my taste and didn't like the decoration. Minimum options in the breakfast and no live station. The locat...
Shaikha
, United Arab Emirates
---
Stayed for business. Expensive breakfast.
---
We stayed at the Intercontinental in September 2013 for 1 night. The hotel is a true 5 star hotel with great service. When we arrived we were asked where we would like our room and the lady at the reception recommended us a room on the side of the school, as it was the weekend so it would be very quiet: it was! The standard room we had was lovely and spacious enough. ...
---
This is a high quality hotel which lives up to its 5 star billing. If I had a complaint it would be the cost of breakfast , €32 was far too expensive.
---
Just make sure you got all those passwords before you go there because they don't have reception. Other than that just fantastic and they are very efficiency to answer your emails. Super clean with easy access location as well as all those wonderful restaurant nearby. Just perfect :)
Kiesly
, Hong Kong SAR, China
---
The hotel was a big and modern one, located on the Northern side of Dusseldorf. It's quite near the airport, and about 5 tram stops from the main shopping area. A tram station is not too far away. Staff were friendly and the beds comfortable. The only bad thing was internet and parking cost 22Eur each.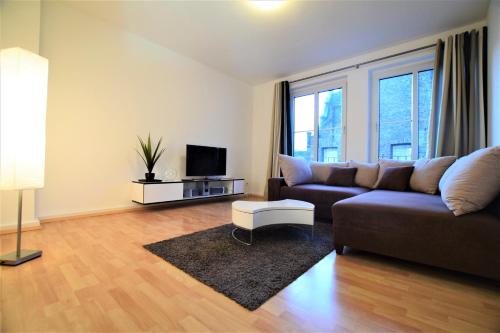 ---
The location is perfect everything within steps . The apartment would be nicer if the added toilet papers , tissues and toiletries. Their is no AC so we open the windows at night and its hard to sleep because of all the noise of the night life people and it goes up until 5 am sometimes. We didn't meet anyone for checkin and checkout.
---
Dusseldorf's best hotels with breakfast
---
Explore more travel vacation rentals
Find the Perfect Type of Accommodation
---
More about Dusseldorf
There's no questioning Dusseldorf's position as a German powerhouse of business and finance, but that doesn't mean it lacks history or culture. The city straddles the Rhine River, with its commercially-driven city center on the west bank. The best accommodation in Dusseldorf is on the opposite bank in the Alstadt, thick with old-world ambiance and a world-renowned party scene. Nicknamed the "longest bar in the world," this district hosts more than 200 bars and entertains white-collar workers and tourists, alike.
South of central Dusseldorf is Friedrichstadt, a 19th-century neighborhood teeming with leafy parks and stoic parliamentary buildings. Hotels near Friedrichstadt capitalize on their proximity to museums and performance venues.
The Medienhafen is another enviable district that's been receiving a lot of attention lately. Its after-hours scene can't rival the Alstadt's in terms of intensity, but it still boasts a fast-growing entertainment scene. The local harbor was recently reworked, and it hosts a beautiful collection of avant-garde buildings.
Well-heeled Europeans regularly spend weekends in Dusseldorf for the haute shopping experience. Joining the exclusive boutiques and department stores is a range of antique shops and the Shadow Arcade. The latter reigns over Königsallee, Europe's most lucrative shopping street.
Dusseldorf Airport
accesses the GermanRail network. This means transferring to hotels near Dusseldorf is fast and painless. Trains connect the city with regional capitals across Germany, with tourists regularly arriving overnight from Munich and Frankfurt.
Find the most suitable accommodation for you by clicking on our interactive map and exploring Dusseldorf for hotels and must-see destinations.