Discover the neighborhoods of Greymouth
---
4-star hotels in Greymouth
---
As the last stop before heading back to the big smoke, we decided on Greymouth on the west coast. Great decision :) Location:- Although located along the main through road, it was relatively quiet inside the complex, though we wouldn't have known any different due to the double-glazed windows on this unit. It is located right next door to a major supermarket, and a nic...
---
three couples diverted due to earthquake in November. Greymouth not our cup of tea but hotel was fine. Restaurant nearby was good. Only one night stay on way to Nelson.
---
We had a most comfortable and surprising 3 days, the owners were so friendly and welcoming.The rooms are excellent in size and decor and the additional recreation facilities were more than expected. We have paid a great deal more for a Hotel stay that was nothing in comparison to this establishment. We would highly recommend this place to anyone. My name us Roy Mackin ...
---
This was a wonderful place to stay. so clean spacious and well equipped. Have the hotel next door with great meals was an added bonus. It is a little bit our of Greymouth but it is quiet and right by the beach. We had a nice walk along the beach we were delighted with this location and accomodation. Highly recommend. We will definitely be back.
---
Nice B&B, the owner is a very rich man. He feed his dog with lamb shanks. So cool.
---
We had a one nite stop over on our way to Westport. The motel is very well positioned to the town. There is off street parking and easily accessed from the street. The room is very well layed out and has everything you need for a short or longer stay for two or three people. It is very clean and they have friendly staff, cannot fault it and would stay again.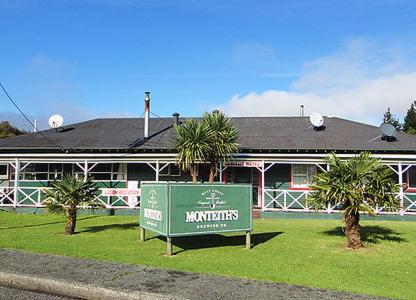 ---
On a budget... You couldn't ask for more, friendly staff, a great pub meal, our room was clean, cosy warm ...bathroom, clean, with 2 to choose from. All in all we were very happy 😊
---
Average stay. Price is a bit high.
---
5-star hotels in Greymouth
---
We really enjoyed our stay. For the price we were expecting very basic accommodation, but our room was fantastic and the lodge overall is one of the best equipped that I have come across. Fantastic decor of statues, ornaments, furniture and pictures from around the world, and a well equipped kitchen. We used the bikes which are free to hire, and paid a really small cha...
---
By far one of the best places we stayed in New Zealand. The staff was excellent and extremely helpful. The room gave a premium feel and the property overall was excellent. Everything was very well laid out and attention given to details could be seen. It was a wonderful decision that we stopped over at Coleraine. Highly recommended if coming to Greymouth. PS. The coll...
---
Traveler impressions of Greymouth
you dont need to go anywhere else in the world until you have seen and driven greymouth to panakaiki, stunning scenery etc.
A lovely place for a relaxing holiday. Or for the adventure enthusiast. If your into skiing plenty of places in the winter.
Sheryl Bennett
, Australia
lots of walks, photo op's, bush, sea and shanty town. we also recommend the hot pools at Franz Joseph Glacier.
The city is dying a slow death. The main center of town is vacant or should be condemned. Overpriced restaurants
---
Explore more travel vacation rentals
Find the Perfect Type of Accommodation
---
More about Greymouth
The largest town on the west coast of New Zealand's South Island, Greymouth sits at the mouth of the Grey River and is most often used by tourists as a gateway to the more popular attractions that surround it.
The city does have an airport, but it mostly just serves charter flights rather than regularly scheduled arrivals and departures. Instead, the best way to access Greymouth is either by car, bus, or taking the train along the scenic railway and arriving at
Greymouth Railway Station
, which is located right in the city center and within easy reach of many of the hotels in Greymouth.
One of the biggest attractions in Greymouth is
Shantytown Heritage Park
, which brings its visitors face to face with a carefully recreated pioneer town from the 1900s, complete with hands-on exhibits and activities that give people a real sense of what it must have been like to live in New Zealand during the early days of post-Maori colonization. This is a very popular destination among most tourists to Greymouth, especially since it's only about 10 kilometers outside of the city.
As Greymouth is located on the mouth of the Grey River, there are several kayaking and river rafting tours that can be arranged through most of the hotels in the city. Take an adventure tour through the rainforest, or plan a scenic flight around the beautiful coastline. Whatever the activity, most hotels or the
Greymouth i-SITE Visitor Information Center
can help arrange the perfect plan for seeing everything this city has to offer.
Find out where the rest of Greymouth's hotels, attractions, and must-see destinations are located by exploring the interactive map on this page.