11 best hotels in Manchester
Our top picks
Lowest price first
Nearest to
Best reviewed
Fast facts about Manchester, United Kingdom
| | |
| --- | --- |
| Accommodations | 1,839 properties |
| Popular hotel | Britannia Manchester Hotel |
| Popular area | Manchester City Center |
| Nightly rates from | £20 |
| Airport | Manchester Airport |
| Reasons to visit | Shopping, Restaurants, Nightlife |
Discover the neighborhoods of Manchester
---
5-star hotels in Manchester
---
I would definitely reccomended this hotel, it's stylish and has a very classy feel about it...
---
Enjoyable stay at well located hotel, have already booked our next stay here. Will use this...
---
Superb hotel, quality rooms- very comfortable. The spa is wonderful, lovely friendly staff....
---
The hotel is in central Manchester, so it's only a quick walk to local shops, bars and rest...
Emma
, Hong Kong SAR, China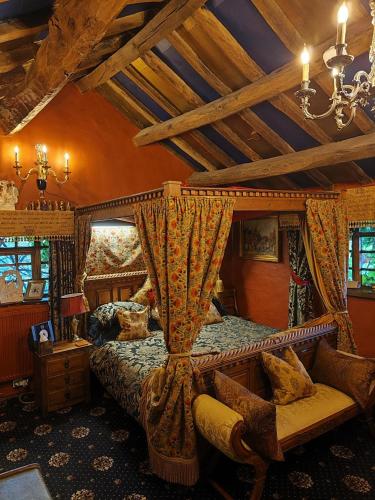 ---
This Lodge is Very Unique but Well Equipped , everything, The Owner is Telling Us The Detai...
---
Lovely. Only comment would have to be that the living room was also used as a bedroom so we...
---
Traveler impressions of Manchester
Dining and restaurants in Manchester are the best in the UK, reasonable price and tasty. all sort of food around the world can be found in Manchester
rosyzie anna
, Brunei Darussalam
City centre of Manchester is pretty small, walkable in half an hour. It has a good homey feel, good shopping and few good cultural places to see.
Manchester is a busy place to visit during the day. It has very good road and rail systems. The location of Piccadily Train station is an advantage.
1) Not much shopping to do, just a few major shops. So, if you're looking for a real shopping city, look somewhere else.
Manchester can be somewhat impersonal as you get closer to the centre of the city but I think that is the same with any major city.
A vibrant city that never sleeps. You can experience foods from many cultures and enjoy a host of activities for all the family.
NICE AND FRIENDLY . TOURIST INFORMATION OFFICE IN PORTLAND ST EXCELLENT AND VERY INFORMATIVE CENTER OF CITY VERY DIRTY LOTS OF LITTER AND BINS OVERFLOWING .
YOU SHOULD VISIT FOOTBALL CLUBS (MANCHESTER UNITED/CITY) DURING SATYING IN MANCHESTER. ALSO YOU CAN VISIT BLACKPOOL PARK FROM THEIR.
Although Manchester is rich in its culture for 2 major football clubs but besides these, the city of Manchester is actually quite a bustling city with loads of shopping going on.
Jiaquan Benjamin
, Singapore
If you are a football lover especially Manchester United or City fans, Manchester is the place to visit!
It is really full of surprises and you wont be surprised if you can stumble on a new place of interest
Manchester is a beautiful city with ever so friendly locals! A great choice of restaurants and shopping and fabulous sights to see!
The city of Manchester have loads of shopping with some of the best restaurants in the world. Rosso is one of them in the city co-owned by Rio Ferdinand of Manchester United.
Jiaquan Benjamin
, Singapore
"I was really happy with city in all.. Presentation was good, and in most part of city was excellent.
if you want to buy the scarfs or soveniors of MUFC, you'd better bargin and visit some more shops before purchase, there's lots of choices and prices are varied
KAI MAN
, Hong Kong SAR, China
Very friendly city, with a great bus ride around. The food was really nice in Manchester city center! Hope to get a chance to watch soccer game!
Great place, you can visit both Man Utd and Man City football club. Also you can go to the nearby cities , Liverpool & Leeds for sight-seeing
Tsz Shing
, Hong Kong SAR, China
People living a simple life in Manchester, trams are not as pack as those in other cities or countries.
If it is your first time then surely visit rusholme .. The curry mile.. There's food.. Cafes. cultural shops etc.
the best asian food and night life very funky clubs around the city centre do try and visit the shopping malls
Providing you do your research beforehand, Manchester has an outstanding choice of bars & resteraunts & excellent shopping centres.
I had such an amazing experience,I live in Ireland and went to manchester for 4 days , and it was unbelieveable, i would defintly go back and visit again
Manchester is a nice City with a mixture of Museums, a few historic Buildings and lots of Shopping and Nighlife Facilities.
We only stayed 1 night but found Manchester a vibrant city. There are some lovely buildings when you look hard enough and some nice developing areas along the river.
The city center is not big. Get a map, you can nearly go everywhere by walk or by taking free shuttle bus
As always, the public transportation system in the UK is absolutely fantastic, always on time, always clean, very easy to use.
Depending on what you want to do you could find a lot of things to do within the city and outside the city.
We visited Manchester and used it as a base to visit nearby cities such as Liverpool and Peak district.
uk People are generous and good mind with tourists as well as Swiss. but italian and france impolite bad manner.
Jika anda seorang kaki bola Manchester adalah tempat yang anda mesti pergi di sini beberapa stadium boleh dikunjungi dan dekat dengan Liverpool 30 -45 minit dengan bas ke sana.
---
Manchester's best hotels with breakfast
---
Frequently asked questions
What's the typical price of a property in Manchester this evening?
The typical price for a 3-star resorts in Manchester this evening is USD 101. The typical price for a 4-star hotel in Manchester this evening is USD 159. The average price for a 5-star resort in Manchester this evening is USD 201.
What are the best accommodations in Manchester next to Manchester Airport?
Verified travelers to Manchester who stayed around Manchester Airport have given top reviews to Wilmslow Lodge, Oddfellows On The Park and The Tens at Owen House Farm.
What are the best hotels in Manchester around Manchester Arndale?
Verified visitors to Manchester who stayed close to Manchester Arndale have given amazing testimonials to Royal Rooms Retreat at Etihad Sports City & Bespoke Royal Brunch Add On Available, Milverton Hotel and Abel Heywood Boutique Hotel.
What are the best places to stay in Manchester for families?
Hotels in Manchester that are widely scored by families include Britannia Manchester Hotel, Manchester Piccadilly Hotel and easyHotel Manchester.
What properties found in Manchester are well rated with respect to room comfort and quality?
Propertiesfound in Manchester that is exceptionally rated for room comfort and quality include Wizards Thatch Luxury Suites, INNSiDE by Meliá Manchester and Hotel Football, Old Trafford, a Tribute Portfolio Hotel.
What are some of the top vacation rentals in Manchester?
A getaway rental in Manchester which is very highly rated regarding service is Warm & Welcoming 1-Bed Apartment - Sleeps 4.
What are the best resorts found in Manchester that have spas?
Verified vacationers to Manchester have given out excellent reviews concerning the spas at Hotel Football, Old Trafford, a Tribute Portfolio Hotel, Velvet Hotel and Motel One Manchester-Royal Exchange.
What are the most appropriate resorts around Manchester with restaurants?
Resorts with restaurants in Manchester that are highly rated include Royal Rooms Retreat at Etihad Sports City & Bespoke Royal Brunch Add On Available, Didsbury House Hotel and Didsbury House Hotel.
Where can I find rooms in Manchester with free cancellation policy?
Yes, you'll find the majority of hotel rooms provide free cancellation rates, with which you can expect to receive a full refund if you cancel before the deadline. Filter your search by free cancellation to find flexible hotel offers in Manchester.
What's the best destination in the center of Manchester?
The best place at the core of Manchester is Manchester City Center.
What's the best area for shopping in Manchester?
Best locations for your shopping spree in Manchester are Manchester City Center, Manchester South and Old Trafford.
What are some approaching holidays in Manchester?
Holidays that are coming up in city_name consist of Good Friday on 4/7/2023, May Day Bank Holiday on 5/1/2023, and King Charles III Coronation Holiday on 5/8/2023.
Explore more travel vacation rentals
More about Manchester
The city of Manchester is located in north England, often seen as the second most well-known city in England, of course with London leading the way. Manchester is made up of seven districts, all of which feature hotels and entertainment venues to fit most needs.
The city is served
Manchester Airport
, definitely one of the busiest and most important travel hubs in the United Kingdom. The city is also served by the United Kingdom's fast and efficient rail system, with stations either at Picadilly or Victoria train stations.
The
Museum of Science and Industry
is a very popular destination for not only tourists but locals as well. Many school groups and families spend many afternoons at this museum, which houses the history of the region's railway system and many other industry exhibits.
Of course, Manchester is home to the world-famous
Manchester United Football Club Ltd
. Because of its popularity, and the rivalries with other clubs of the surrounding area, hotels near Manchester United are guaranteed to be at full capacity during match times. It is therefore best practice to book well in advance.
There's much more to see and experience in Manchester, and the interactive map on this page is a great way to find out where the attractions and hotels can be found in this exciting city.