Hotels in Oxford
Our top picks
Lowest price first
Nearest to
Best reviewed
Fast facts about Oxford, United Kingdom
| | |
| --- | --- |
| Accommodations | 701 properties |
| Popular hotel | Travelodge Oxford Peartree |
| Popular area | Oxford City Center |
| Nightly rates from | £22 |
| Airport | London Oxford Airport |
Luxury hotels in Oxford
---
An excellent stay in Oxford. The staff were attentive and uniformly friendly and helpful. E...
---
Excellent room and very unique hotel. Very friendly and helpful staff. Location is close ...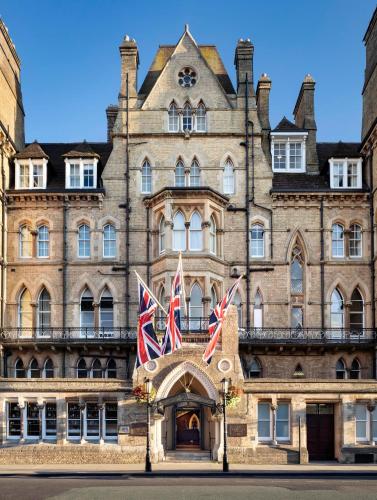 ---
This is my second stay with family. This is one of the historical place, oldest hotel in O...
---
Real reviews for hotels
Historic old university town whose buildings have been used in some of the Harry Potter films for Hogwarts setting.
The city is beautiful because of the history and architecture. However, I thought cleanliness standards had deteriorated since my last visit and there seemed to be a lot of beggars on the street.
Christina
, United Kingdom
Lots of history here. Take a walking tour. There are many different ones, the official ones are expensive.
I didn't get much of an opportunity to visit many places in Oxford, but the Ashmolean Museum is a must for first time visitors to Oxford.
Very traditional with lots of walking and go into the buildings as the outsides do not do full justice
Turf Tavern is a must go places for lunch / dinner, where many famous people visited before. The atmostphere and the food is great.
KAI MAN
, Hong Kong SAR, China
It is worth to spend some times to visit the colleges of oxford. However, as entry fee is needed for most of the colleges, hence selection of colleges to visit is needed.
Pui Chuen
, Hong Kong SAR, China
We went punting which is great fun. The city is very touristic and lots of students which is part of the atmosphere of Oxford.
---
Oxford hotels with breakfast
---
Frequently asked questions
What are the top hotels in Oxford for families?
Places to stay in Oxford that are highly scored by families include Travelodge Oxford Peartree, Mercure Oxford Eastgate Hotel and Leonardo Royal Hotel Oxford.
What properties located in Oxford are well rated with regards to facilities?
Hotelsaround Oxford which is highly rated with regards to amenities include Acorn Guest House, Cornerways B&B and Sandfield Guest House.
What resorts around Oxford are exceptionally rated for value for money?
Accommodationslocated in Oxford that is exceptionally rated for value for money include Balkan Lodge Oxford, Cornerways B&B and Sandfield Guest House.
What are the top rated wheelchair accessible accommodations around Oxford?
Wheelchair-accessible properties located in Oxford that are exceptionally rated include Sabine Barn B&B, Sabine Barn B&B, and Sabine Barn B&B.
What hotspot should I take a look at when I'm going to Oxford?
Best hotspots in Oxford include Ashmolean Museum, Oxford University Museum of Natural History, and University of Oxford.
What's the best location with nature getaway in Oxford?
A top nature escape destination in Oxford is Oxford City Center.
What's the best area for sightseeing in Oxford?
The best location with a variety of tourist destinations in Oxford is Oxford City Center.
When should I make a trip to Oxford?
Last year, Oxford accrued its most visitors during the month of October. Despite this, you may want to consider other months during which there are a fewer amount of tourists, as the most popular attractions will be less jampacked.
How long should I remain in Oxford?
In the past 3 months, tourists stayed in Oxford for 1 nights on average. The suitable duration for your visit will depend on what you want to see and explore while there.
Is proof of vaccination required to enter Oxford?
Proof of COVID-19 vaccination is not required to enter Oxford from outside the country. For more information, please speak to local authority or go to here.
Is covid test upon arrival expected for unvaccinated visitors to enter Oxford?
COVID-19 test may be required on arrival when entering Oxford from outside the country. For updated and detailed information on travel restrictons, make sure you head over to the official websites of the travel authority or government of the country you hope to visit, or go to here.
What vaccines are recognized in Oxford?
All vaccination types are currently acknowledged and accepted by the national health authority of the country that includes Oxford.
Explore more travel vacation rentals
More about Oxford
Discover the Best Season to Visit Oxford and Top Fun Facts
Oxford is a city located in the southern part of England, known for its prestigious university and stunning architecture. The city has a rich history and attracts millions of tourists every year. If you're planning a trip to Oxford, it's important to know the best time to visit. The ideal time to visit Oxford is during the summer months of June to August when the weather is warm and sunny. However, this is also peak tourist season, so expect crowds and higher hotel rates. Spring and autumn are also great times to visit, with milder weather and fewer crowds. Winter is the least popular time to visit due to the cold weather, but it's also the best time to find great hotel deals. Aside from the best time to visit, there are also some fun facts about Oxford that are worth knowing. Did you know that Oxford University is the oldest university in the English-speaking world, dating back to the 12th century? The city is also home to the oldest public museum in the world, the Ashmolean Museum, which was founded in 1683. Another interesting fact is that the Oxfordshire countryside was the inspiration for J.R.R. Tolkien's "The Lord of the Rings" trilogy.
Plan Your Trip to Oxford with Agoda.com
When planning your trip to Oxford, it's important to find the right accommodation that suits your needs and budget. Agoda.com offers a wide range of hotels in Oxford, from budget-friendly options to luxury hotels. One of the top-rated hotels in Oxford is the Bear and Ragged Staff, a charming 16th-century inn located in the village of Cumnor. The hotel features cozy rooms, a restaurant serving traditional British cuisine, and a beautiful garden. Another popular option is the Ethos Hotel, a stylish boutique hotel located in the heart of Oxford. The hotel features modern rooms with all the necessary amenities, a restaurant, and a bar. For budget-conscious travelers, the easyHotel Oxford is a great option. The hotel offers basic but comfortable rooms at an affordable price.
Exploring Oxford: Fun Things to Do and Where to Stay
Oxford is a city full of history and culture, with plenty of things to see and do. One of the top attractions in Oxford is the University of Oxford, which is made up of 38 colleges spread throughout the city. Visitors can take a guided tour of the university and visit some of the famous colleges, such as Christ Church College, which was used as a filming location for the Harry Potter movies. Another must-see attraction in Oxford is the Ashmolean Museum, which houses a collection of art and antiquities from around the world. When it comes to accommodation, there are plenty of options in Oxford. The Sabine Barn B&B is a charming bed and breakfast located just outside of Oxford. The B&B features cozy rooms with a rustic feel, a garden, and a delicious breakfast. If you're looking for something more unique, the Tree Hotel at Iffley is a great choice. The hotel features treehouse-style rooms nestled in the trees, offering a unique and memorable experience.
How to Get to Oxford and Travel Around with Ease
Getting to Oxford is easy, as the city is well-connected to other parts of the UK. The nearest airport to Oxford is London Heathrow, which is about an hour's drive away. There are also direct trains from London to Oxford, which take about an hour and a half. Once you're in Oxford, the best way to get around is on foot or by bike. The city is compact and easy to navigate, and there are plenty of bike rental shops available.
Indulge in Oxford's Food Scene: What to Eat and Where to Go
Oxford has a vibrant food scene, with plenty of options for all tastes and budgets. One of the most popular places to eat in Oxford is the Covered Market, a historic indoor market that dates back to the 18th century. The market features a variety of food stalls, including traditional British food, international cuisine, and artisanal products. Another popular spot is the Turf Tavern, a historic pub that has been frequented by famous writers and politicians over the years. The pub serves classic pub food and has a cozy atmosphere. For something more upscale, the Quod Brasserie is a great choice. The restaurant is located in the heart of Oxford and offers a menu of modern British cuisine made with locally sourced ingredients. Another great option is the Cherwell Boathouse, a picturesque restaurant located on the banks of the River Cherwell. The restaurant serves classic British dishes and has a beautiful outdoor terrace.
Expert Tips for Travelers Visiting Oxford for the First Time
If you're visiting Oxford for the first time, there are a few things to keep in mind. First, be prepared for crowds, especially during the peak tourist season. It's a good idea to book your accommodation and attractions in advance to avoid disappointment. Second, be sure to wear comfortable shoes, as the city is best explored on foot. Lastly, don't be afraid to venture outside of the city center and explore the surrounding countryside, which is full of charming villages and beautiful landscapes. In conclusion, Oxford is a beautiful and historic city that is definitely worth a visit. With its stunning architecture, rich history, and vibrant food scene, there's something for everyone in Oxford. By using Agoda.com to book your accommodation, you can find the perfect hotel for your needs and budget, ensuring a comfortable and hassle-free stay.