Discover the neighborhoods of Port Moresby
---
4-star hotels in Port Moresby
---
From what I hear from colleagues, if you can't afford to stay at Airways, this is probably the only other decent option in Port Moresby. It was fine. Not to the standards one expects from hotels in Europe, but not gross, as are at least two other hotels I've heard about from colleagues who've stayed in Moresby.
---
I booked online and gave every detail possible to ensure smooth travel. Disappointingly, I was stranded at 7 pm. Contacts provided where unreliable so as the toll free number at the information booth. I ended up taking a cab even though i knew the risk. Got to the hotel only to find out their contacts were useless and I wasn't reserved a room. Credit to the Front offic...
---
I often stay here on visits - it is reliable, good airport pickup service, nice rooms - the premier suite room is worth the extra: spacious, nice balcony overlooking sea, with good facilities - friendly, helpful staff/management, good food in brasserie, good-sized room, all facilities you need...better value than most Moresby hotels.
---
Loved my short stay. I made an email enquiry before booking and received a prompt and clear reply. The staff were equal to the best in any 5 star hotel. Free airport shuttles were brilliant. Absolutely no complaints. I should've stayed longer.
---
5-star hotels in Port Moresby
---
Room and service was fantastic. Thankful for the pick up they organised for me to travel to the Port Moresby Nature Park. Only disappointment was that the pool area suddenly closed in the afternoon for a private function. There were no signs saying that this would happen.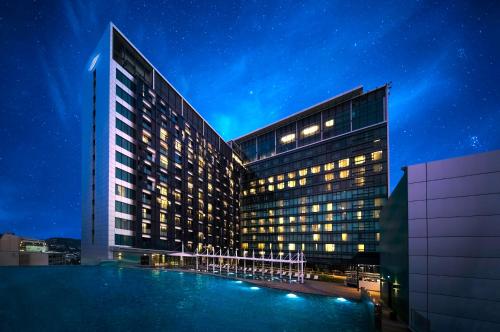 ---
Modern facilities, one of the best in Port M
---
Traveler impressions of Port Moresby
Unless you are here for business there is no reason for you to go there. It is extremely expensive, and dangerous.
---
Explore more travel holiday rentals
Other popular destinations in Papua New Guinea
---
More about Port Moresby
Gateway to Papua New Guinea, Port Moresby is a small ex-colonial city on PNG's southeastern coast. Accessible via boat or air – landing at
Jackson's International Airport
, eight kilometers out of town – Port Moresby is mainly used as a stopover point for travelers headed to New Britain or Madang for diving or for adventure seekers looking to explore PNG's largely undiscovered jungles.
PNG is rich in both indigenous culture (it's home to least 1000 different tribes) and in biodiversity. PNG's interior is one of the world's last frontiers and is largely inaccessible to leisure tourists, though visitors can get a taste of the country's native flora and fauna at Port Moresby Botanical Gardens. The National Capital Botanical Gardens inhabit 25 acres of land and feature birds of paradise, parrots, kangaroos, insects and native orchids. The gardens routinely conduct educational programs for school children and guided walks for travelers.
Another point of interest within PNG is the Kokoda Trail. Stretching almost 100 kilometers through rugged heavily forested terrain, the Kokoda Trail is one of the world's most famous treks, attracting thousands of bushwalkers every year. The trek is most popular with Australians who complete the walk in a show of solidarity for Australian soldiers who fought along the trail in World War II. A war memorial at Isurava commemorates both Japanese and Australian
soldiers. Papua New Guinea is quickly gaining a reputation as one of the best diving destinations in the world and reefs are accessible on day trips from Port Moresby, the main starting point for dive excursions to The Eastern Fields and Portlock Reef in the Coral Sea.
For more information on hotels and landmarks in the different areas of Port Moresby, click on the interactive
Port Moresby map
on the left-hand side of the page.