4-star hotels in Positano
---
Everything was just perfect. Location is nice and there were a lot of good places to eat and visit. Also parking was so great especially in Italy. All staffs were so kind and helpful. Angelo who is the most pleasant staff in Positano Hotel.
---
Rooms were quite nice, with magnificent view from balcony. Antonino (Tony) at reception was super friendly and helpful, meeting any and all requests. A very friendly and accommodating place, highly recommended. The only downside is the 500 steps to climb back up from the beach but that's the case for the majority of the hotels in Positano.
---
We have just completed a week stay at this lovely hotel in positano - before arriving I was a little apprehensive about the number of steps that you have to climb to get up to the hotel - 107 steps is quite a lot but if you take your time it is not too bad but in the heat can be a little difficult - the porters who work at the hotel are absolutely fantastic and thankfu...
---
As a hotel it was pretty good, the main problem was the distance from the main tourist areas of Positano, i.e. the beach and restaurants/shopping areas down near the beach. The breakfast at the hotel was quite good, the rooms were good and the shower was good too. The hotel has an odd layout and we had to follow a winding path down and up stairs to our room from the li...
---
My wife and I just finished 5 nights at the hotel. We had visited 10 years ago and it is still a perfect hotel. There are more luxurious hotels in Positano, but Villa Gabrisa has a great location (high on the hill), great rooms with views, a wonderful staff, and a very good restaurant! With a welcome drink, clean facilities, wi-fi, and a staff that speaks English, i...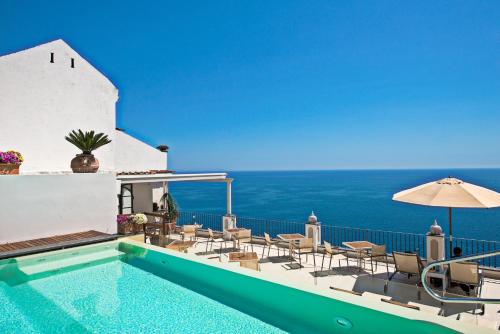 ---
Very nice staff and clean property. You will just have to take long walk going to the beach. But all in all Punta Regina is a beautiful place to stay in Positano.
---
Our suite room have balcony with sea view and hot water bath tube. The view so amazing to the sea and positano city. We enjoy so much stay in Ancora Hotel.
---
this is one of the nicest hotels we have ever stayed at and i cannot say enough good things. the view from our room was spectacular, the staff were so helpful and the breakfast and overall service was exceptional. we hope to be back some day soon. the only negative was that there was not wifi available in the rooms, however you could easily use it in reception and in...
---
Great staff with very good recommendations for local food. All rooms are suites with sea view. Avoid rooms 101 and 102 as they cut off some of the view. Great location away from the center of town, but right across from all transportation and the hotel offers free shuttle service back and forth to the town as well. A lovely 20 minute walk into town if you choose to wal...
---
5-star hotels in Positano
---
Upon arrival the hotel didn't seem much - you are dropped off at a lay-by just outside of Positano but don't let that put you off! Everything about this hotel is stunning.. each room has a balcony with sea view, every member of staff could not be more helpful! They remember the tiniest things about you e.g the first night I said I was gluten free - when I turned up to ...
---
Traveler impressions of Positano
Time spent in Positano or nearby places on the Amalfi Coast is a must for the scenery. Take time to explore the coastline by boat and visit Isle of Capri, Sorrento and Amalfi.
Very pretty town. Can be pricey. Great food and friendly locals. Good public transport to get you up the hills.
---
Discover the neighborhoods of Positano
---
Find the Perfect Type of Accommodation
---
More about Positano
Finding the cheapest price for top hotels in Positano, Italy is easy with Agoda.com. We offer a wide range of hotels to help you find the best place to stay in Positano. Popular areas are Montepertuso, Positano City Center, Arienzo where visitors can enjoy the quintessential experiences of Positano. Enjoy the history and beauty of Positano by visiting one of 3 monuments around town. Many monuments such as Spiaggia Grande are regarded as the city's heritage. There are so many things to do, you may want to stay an extra week or so to experience them all. If you're looking for a room in Positano and don't want to pay too much, Agoda.com offers hundreds of fantastic deals which are updated daily.