10 best hotels in Rotterdam
Our top picks
Lowest price first
Nearest to
Best reviewed
See all
Ibis Rotterdam City Centre
City Center,Rotterdam - View on map
"Lovely hotel overlooked an old waterway close to Rotterdam Blaak station and the Market Hall. Rooms are clean and simple with no fuss. Staff were fantastic and always went the extra mile to satisfy our needs, usually for warming up baby food or hot milk. Always happy and smiling and with great local knowledge and tips. Personally, we didn't take the breakfast as there are so many places to eat in Rotterdam and across the road at the market hall. We did enjoy the relaxed bar area for chips, coffee and a few beers. The barman David was a top guy. Overall, a lovely 4 nights at the ibis Rotterdam city centre, which I would Highly recommend"
Show more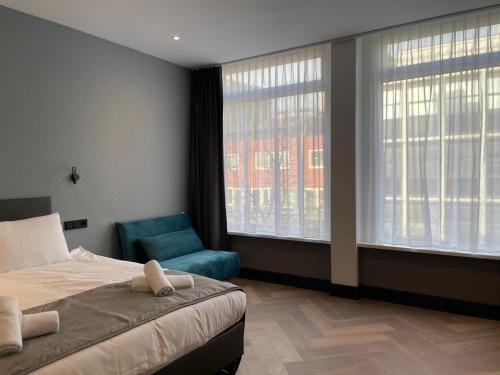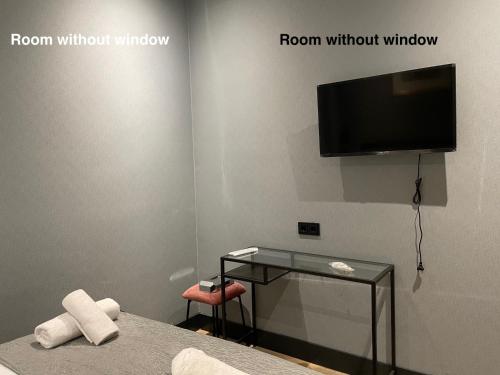 See all
See all
CityHub Rotterdam
City Center,Rotterdam - View on map
"CityHub got the best room, service, cleanliness! Especially recommended for the one who seeks for "magic" experience! They got speaker and disco lights inside the room that makes you feels like having a space travel!"
Show more
See all
Hotel Nhow Rotterdam
Feijenoord,Rotterdam - View on map
"I'd like to book NH hotels cause ist great breakfast.This one offers also good breakfast.And Location also great very easy to reach from Rotterdam central Station.But the shower room dosn't have doors so it is easy to get water everywhere after you take shower. And it is very weird that you can not set the morning call according to the instruction on the telephone in your room.But it is much mooooore weird that you informed the reception About this,so they record the morning call time for you but next day still quiet Nothing called!!!!! My phone was broken during the time i was in Rotterdam,so without Clock without morning call i can not wake up on time,it is a big Problem. So this really matters!Why the reception didn't give me the morning call???? "
Show more
Avg price per night
$ 125
See all
Rotterdam Marriott Hotel
City Center,Rotterdam - View on map
"i stayed for 2 nights in manhathan hotel and the location is excellent. this hotel is very easy to find for first time visiotrs like me to rotterdam as is right next to the rotterdam central train station. more importabtlhy, it is also next to the metro station in rotterdam. you can bascially travel to any place in rotterdam from this hotel easily. shopping is great as the hotel is the start of the stretch of shops."
Show more
Avg price per night
$ 209
See all
Holiday Inn Express Rotterdam - Central Station
City Center,Rotterdam - View on map
"This hotel is close to the Rotterdam Central Station (around 500m - 10 minutes walk with suitcases). We arrived in Rotterdam at around 10am and the friendly staff allowed us to store our luggage before we came back for check-in in the evening. There are 3 elevators in this hotel. Our room is not spacious but it is clean. Electric kettle and hairdryer are provided. Decent light breakfast is being served after 7am during weekend. "
Show more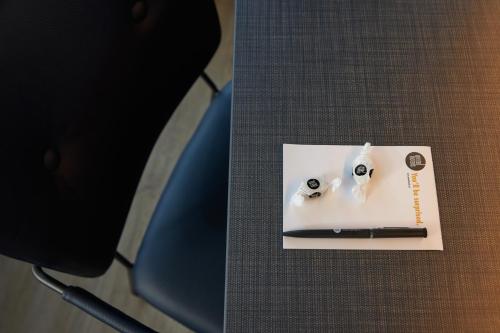 See all
Inntel Hotels Rotterdam Centre
City Center,Rotterdam - View on map
"A good hotel in Rotterdam with reasonable room rates, it's quite convient to go to downtown or Euromast/Denshaven harbour town with tram. And it's just 3 stops from central station by metro. The only pitty is the size of the standard room. But it seems to be normal in Europe."
Show more
Avg price per night
$ 133
See all
H2otel Rotterdam
City Center,Rotterdam - View on map
"We had just spent two weeks on a bargein France and Belgium and although charming, we were a bit over being cramped, taking a showers practically on top of the toilet, no room for two people to stand up and get dressed at the same time. A bit fearful that we had made the wrong choice to stay yet again on a boat. We were completely surprised by the H2otel Rotterdam! Large rooms with a mix of antique replica desk and modern bedding with a great large round window (doesn't open though). I could have held a party in the bathroom! Rooms were quiet. Dining area again an eclectic mix of leopard covered Louis XIV style chairs, modern art and a great view of the canal. Soft jazz in the background. If only it had had a tub..... My only complaint and this applied all over Europe is that the material they make the shower flooring of is EXCEPTIONALLY slippery. So just be careful anywhere you stay. I'll be back!!!"
Show more
See all
Novotel Rotterdam Brainpark
Kralingen-Crooswijk,Rotterdam - View on map
"Fantastic! Great stopover hotel for Rotterdam, within short driving distance to Kinderdijk and the surrounding sightseeing areas. Good service from friendly staff. Strongly recommended."
Show more
See all
Hilton Rotterdam
City Center,Rotterdam - View on map
"Feel good to stay in Hilton Rotterdam, worth every single cents. Hotel is located in the center of the city, 5 minutes walk to center station, nearby shopping streets, restaurants, and only 15 minutes walk to the famous "cube house". Wide selection of drinks and nice snacks offer from 6pm-10pm in executive lounge. Free wifi and computers usage in lobby and executive lounge. Great breakfast,feel like 5 star range although the service in the breakfast area is bad as the waitress are always busy and not smiling. The only negative part should be they charge euro20 for in room wifi."
Show more
Avg price per night
$ 243
Fast facts about Rotterdam, Netherlands
| | |
| --- | --- |
| Accommodations | 250 properties |
| Popular hotel | H2otel Rotterdam |
| Popular area | City Center |
| Nightly rates from | £15 |
| Airport | Rotterdam The Hague Airport |
5-star hotels in Rotterdam
---
i stayed for 2 nights in manhathan hotel and the location is excellent. this hotel is very...
---
Pros: I was a solo traveler for my visit to Rotterdam. The hotel was great. The staff were ...
---
Feel good to stay in Hilton Rotterdam, worth every single cents. Hotel is located in the ce...
---
Traveler impressions of Rotterdam
It is not too busy a place but not too quiet. We can enjoy day and night time activities. Good food, friendly people.
Very modern, architecturally buzzing port with numerous cultural and tourist attractions. Excellent transport system and wide, uncongested streets.
There are many unique buildings in Rotterdam, must walk around the city to see different views of what the city can offer.
Rotterdam is a modern city, with all modern, artistic architectures. Not very busy like other big cities, good for relax travelling.
It is big city (to my understanding, second big)of not too busy. It is not filled with tourist that hinder the view of city's beauty.
---
Rotterdam's best hotels with breakfast
---
Explore more travel vacation rentals
More about Rotterdam
The Netherlands' second-largest city, Rotterdam is a stunning city of spectacular architecture mixed with a diverse and charming Dutch culture that keeps travelers coming back time after time. The city is served by
Rotterdam The Hague Airport
, which hosts direct flights from many major European cities, and is easily reached from the city center via the city's very efficient public transportation system or by private taxi.
Although much of the city was destroyed by German bombs during World War II, the city of Rotterdam rebuilt the city not by merely fixing the destroyed old buildings but by taking the city in a new and innovative architectural direction. Today, Rotterdam is the architectural capital of The Netherlands, and the city skyline is a unique blend of the new and the old. Given The Netherlands' long and rich history of inspiring many artists, it's no surprise that Rotterdam is home to several arts museums that are conveniently concentrated at the Museumpark. One of the museums found here is the
Kunsthal Rotterdam
, which often organizes a variety of temporary exhibits spanning a wide range of styles.
The Rotterdam skyline is a uniquely beautiful attraction, and many visitors to the city take advantage of the observation center at the popular
Euromast Tower
. Hotels in Rotterdam are scattered across the city, offering travelers a great deal of choice in not only price and type of accommodation, but in neighborhood and city district that best suits their visit.
Of course, there's a lot more to see and do in Rotterdam and the best way to discover what else this city has to offer in terms of attractions, landmarks, and hotels is by exploring the interactive map on this page.