Fast facts about Tunis, Tunisia
| | |
| --- | --- |
| Accommodations | 267 properties |
| Popular hotel | Le Pacha Hotel |
| Popular area | Tunis City Center |
| Nightly rates from | £11 |
| Airport | Tunis-Carthage International Airport |
4-star hotels in Tunis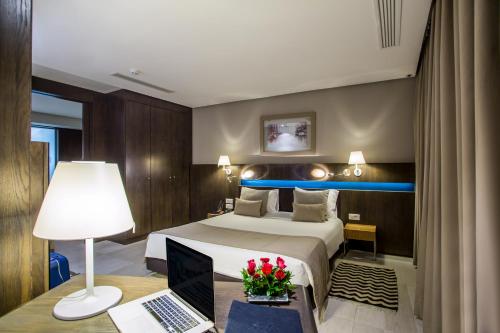 ---
Stayed there for 3 nights. Excellent service, and the staff went out of way to help us. We must show our appreciation to Mr Mehdi Fourati, Director General of the Hotel. He personally met us and is a very kind and pleasant gentleman. The breakfast had really good eggs, and the hotel offers good rates for changing money!
---
This is the first time we have been to Tunis and have very good sympathy with the city, people and Tunisia Palace Hotel. The hotel is not new and comfortable but very clean. Friendly employee. In particular, I would like to send my thanks again to the manager of the restaurant, where we usually have breakfast here. He is too great. We will come back here if we have a c...
---
A most enjoyable stay. The design of the hotel echoed the meaning of its name (Acropolis) with columns etc. . In December it was too cold to swim but the pool was beautiful. Most of the staff spoke little English, but there was always someone on duty who did. As it is a Muslim country there was no alcohol, but they had a bar with quaint cocktail names for various fru...
---
This hotel is fantastic. I highly recommend it to anybody needing a room on short notice. The staff is very friendly and professional. The hospitality is amazing, location is good, room are spacious, food is marvelous... There's nothing to complain about at all. It's easy to extend your stay or make last-minute changes. If there's a problem or you need to go somewhere ...
---
This is a new hotel located in les berges du lac; It is 15min drive from the airport. You get the comfort and service of a 4 stars. Staff is correct, wifi is working, surrondings are quite. What'else?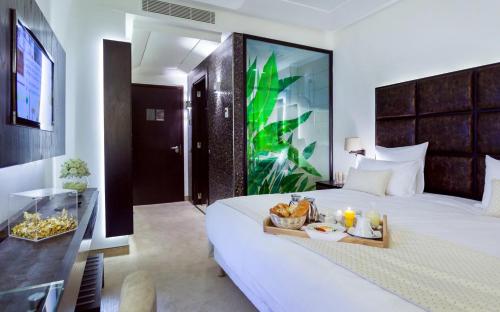 ---
The hotel staff very friendly, the room are bigger whit every thing what you need.The big problem for this hotel is the noise from the bar/top floor hotel and events floor 1. 3 nights Friday, Saturday and Sunday nights, the muzic was very loud., was impossible to sleep. The hotel staff know this problem, but do not take any action. I do not recommend this hotel fo...
---
Very good and authentic hotel just in the middle of every attraction in this city.
---
5-star hotels in Tunis
---
This was my second time and wont be my last. The staff is the major asset of this hotel. Loooking forward to my next visit. Just a side-note: prices for items taken from the mini bar are on the high side but then it's not only in this hotel that one has to pay such prices. Otherwise everything was close to perfect.
---
We reserved a junior suite at the Maison Blanche. It was a beautiful room with a sitting area, table, and desk. The bathroom was large with beautiful tile work. The breakfast was good, but not extraordinary. We ordered room service twice. The first time it was a bit slow, but the second was much faster. The food was ok. Nothing special. The receptionists at the front d...
---
For business only good thing is location if you have to travel outside Tunis, otherwise: - below avg breakfast - staff do the minimums - shower and toilet broke down in 2 different rooms - taxis picked up at hotel will try to overcharge you always (if you don't accept they will just drop you in middle of the road(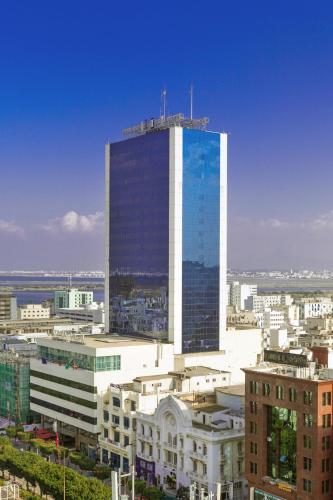 ---
the africa hotel situated in center of tunis, in boulvard habib bourguiba. near to everywere shoping center,coffe bar and all taxi and train staition,so easy to go or come from airoport tunis cartage just about 20 min and they cost you just 5 tunisian dinar maximum. you reach to hotel all the staff are good,they talk nicelly and with 3 or 4 language,arabic,french,ital...
---
Everything is totally overpriced, charging for everything, no water in the rooms, no nice little touches. The restaurant food taste so-so, the price is double the price of, for example Dar El Jeld, which is the top-notch restaurant in the Medina. Don't let the homepage and pictures fool you. Don't go there, there are so many better places in the Medina! The architec...
---
Traveler impressions of Tunis
tunisian people are very polite , cooperative and helpful . streets are clean. not too much attractive places .
كانت زيارتنا الاولى لتونس و قد كانت تجربة سيءية للغاية ،،، ليس في تونس من وجهة نظري ما يجعلها وجهة للسياحة ،، حيث لا توجد مولات كبيرة و لا توجد مطاعم عالمية او جيدة الا قليلا وهي غالية،، لا توجد مواصلات جيدة وحتى سيارات الأجرة قديمة جدا و بعضها لا تستطيع ان تفتح النوافذ ،، لا يوجد احترام للسياح في المطار و المعابر و توقع جداً ان يقوم شرطي بابتزازك و النصب عليك لانه يريد شي من المال و يختلق لك مشكلة بدل لن يساعدك ،،، الشي الوحيد الجيد في تونس هو شعبها طيب و متعاون الى حد معقول ،
---
Tunis's best hotels with breakfast
---
Explore more travel vacation rentals
Find the Perfect Type of Accommodation
---
More about Tunis
Agoda.com offers a selection of the very best hotels in Tunis, Tunisia to ensure your visit fits your expectations. We offer a wide range of hotels to help you find the best place to stay in Tunis. Many areas, each with a distinctive atmosphere, are just waiting to be discovered across the city. The city is served by 1 airports which means it is accessible from almost every major city in the world. There are so many things to do, you may want to stay an extra week or so to experience them all. Save time and money with our customer-friendly booking engine that guarantees you the lowest price on hotels.